Cynthia del Rosario has a sure-fire strategy for getting teens excited about Informatics: Listen to iSchool students.
"I really believe in the student voice," said del Rosario, the University of Washington Information School's diversity programs advisor. "If our students have an idea, let's turn it into something. It's more impactful when the students say this is something we want." 
A few years ago, she listened to Informatics students who wanted to start a hackathon aimed at high school students from underrepresented populations. The result was not only a hackathon, but a series of outreach events throughout each year that became the High School to iSchool program. High School to iSchool encourages hands-on participation in activities that introduce teens to the ways Informatics students learn to solve problems and make technology work for people.
The latest event, the Hack for Social Good in late March at the Samuel E. Kelly Ethnic Cultural Center, drew an overflow crowd of 130 high school students and 30 mentors, challenging them to design technologies that address issues of equity and social justice. The event easily could have drawn more than 200 students, and del Rosario will seek a bigger space to host it next year.
"That event really drew me in. That was the reason I applied to the major."
In recent years, as the UW has increasingly emphasized direct-to-major freshman admissions, High School to iSchool has become key to the school's outreach strategy. The events raise awareness about Informatics among students who otherwise might not have known it was an option. Del Rosario and student volunteers concentrate their outreach on high schools with large BIPOC populations and high numbers of potential first-generation college students. 
The calendar also includes a weeklong online hackathon called the FearLess Tech More Innovation Challenge and an on-campus technology-focused event called the iTech Inclusion Symposium. While it takes time to measure the impact on admissions, del Rosario has seen anecdotal evidence that High School to iSchool events are encouraging students to apply. One such student is Hannah Yi, a first-year Informatics student who learned about the major when she participated in FearLess Tech More while in high school.
"That event really drew me in," Yi said. "That was the reason I applied to the major."
Yi said the Women in Informatics student group leaders who hosted the hackathon made the process of prototyping and wireframing feel approachable. This year, she volunteered to help with the Hack for Social Good, and she will have a leadership role in this fall's FearLess Tech More hackathon.
"I wanted to do the same for other high schoolers," Yi said. "I know for me it was a big help. It really helped me learn more about the major and I wanted to do the same for others."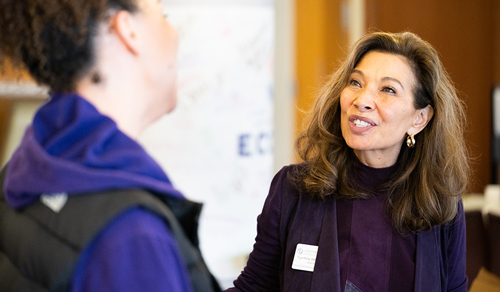 Del Rosario, a Seattle native, graduate of Seattle Central College and a "Double Dawg" who joined the iSchool in 2007, relies on the value of personal connections like the ones that inspired Yi to apply. She works closely with campus diversity organizations such as the UW's Brotherhood Initiative; the Office of Minority Affairs & Diversity (OMA&D); and the Dream Project, OMA&D's outreach program for K-12 schools. The Dream Project has participated in the Hack for Social Good since its inception in 2019.
"Because I'm from here and I've been at the UW for so long, I know a lot of people," she said. "I feel like my strength is connecting different people and different programs in ways that haven't really happened before."
The advent of the iSchool's Office of Inclusion, Diversity, Equity, Access & Sovereignty (IDEAS) in 2021 has further energized del Rosario's efforts. Del Rosario used to be the only full-time iSchool staff member focused on diversity, and the IDEAS Office and Associate Dean for IDEAS Wanda Pratt have generated more resources and support for her work. She also relies on Informatics advising and admissions staff, who help coordinate outreach to high schools, and from student volunteers, who are often the best advocates for the iSchool. 
Del Rosario credited Informatics students Bandhna Bedi and Kayla Tounalom with spearheading the Hack for Social Good. While del Rosario worked out the logistics, Bedi and Tounalom (pictured at top, Bedi at left) designed activities, planned campus tours, enlisted mentors, and made packets for chaperones and mentors, and made swag bags for students.
"We were super interested in getting to meet all of these students and give them help we didn't have, to give them a connection to a college student that Kayla and I didn't have when we were in high school," Bedi said.
Tounalom, who, like del Rosario, is a graduate of Seattle's Franklin High School, said she's made connections with Franklin students who received direct admission to Informatics. 
"We are really seeing our efforts work," Tounalom said. "There are a lot of really cool outcomes because of what we all have been doing together. We're definitely seeing an increase in interest in Informatics."
Often, del Rosario has students co-write OMA&D Seed Grant applications with her and take on leadership roles they can use to build their resumes. Student volunteers' enthusiasm is what makes High School to iSchool events work, and del Rosario trusts them to shine when they teach teens about Informatics. 
"A lot of what the INFO students do is demonstrate what they've learned," she said. "That's the fun part for them. They get to test their knowledge base and test themselves on how much they know while simultaneously making a difference in their communities."