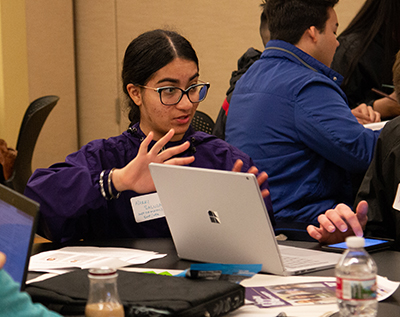 At the iSchool, inclusion and connectedness are celebrated as essential components of academic excellence. With the iSchool now offering freshmen direct admission to the undergraduate Informatics program, students with limited early-access to technology may feel they are not as competitive as those who have greater access. "High School to iSchool" programs presented by the iSchool and its student groups work to eliminate barriers created by institutional discrimination and create opportunities for underrepresented minoritized students.
We invite high school students from the Seattle area and the state of Washington to three events during the school year:
FearLess, Tech More
Fall quarter
Presented by the Informatics Undergraduate Association and Women in Informatics
High school students and mentors will engage in a 2-week online design challenge. Students will see the possibilities of using technology to create social impact and to understand how they can shape the world using the power of design. It is not about what we can do with technology; rather, it is engaging with what we should do with technology to make a positive difference in our communities and in society. 
iTech Inclusion Symposium
Winter quarter
Presented by Women in Informatics and the iSchool Doctoral Student Association
This half-day event invites high school students from all backgrounds and identities to the UW campus to experience equity and inclusion in technology. Tech station activities provide a fun, hands-on experience with technology and engage students with the field of Informatics. The event is designed to be accessible, beginner-friendly, and welcome to anyone and everyone to come as they are and see themselves in Informatics and tech.
Hack for Social Good
Spring quarter
Presented by IUGA and the Dream Project
Local high school students get the chance to design a creative, digital solution to complex problems. Students get the chance to work within a small group mentored by current Informatics students. This is designed to be an accessible, beginner-friendly event where everyone can participate.