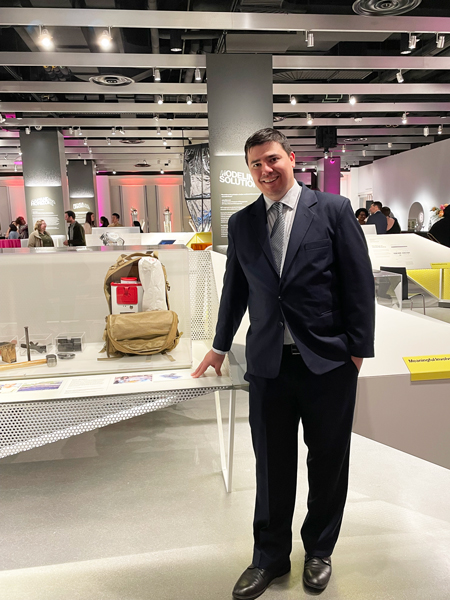 Mike Teodorescu, an assistant professor at the University of Washington Information School, has been named one of MIT Technology Review's 2023 "Innovators Under 35 Europe," an award that honors "exceptionally talented young innovators whose work has the greatest potential to transform the world."
The recognition is highly competitive, with a committee of experts from leading universities and companies selecting 35 inventors, entrepreneurs, visionaries, humanitarians and pioneers to receive it. Teodorescu and the other recipients will be honored at a gathering in Ireland in May.
In its announcement, the magazine cited Teodorescu's entrepreneurship and data science research. It noted that a startup he co-founded, SurgiBox, has developed a pioneering operating room that fits in a backpack. It has the potential to reduce loss of life by providing clean environments for surgery.
"I'm very honored and humbled to have this recognition. I think it's going to help me and the UW to grow future labs and possibly help with entrepreneurship at the iSchool," said Teodorescu, who was included on the list of European innovators because he grew up in Romania. "It gives me encouragement to continue doing my machine learning fairness work in parallel with my humanitarian entrepreneurship work."
Meanwhile, Teodorescu also was recently elected as a senior member of the Institute of Electrical and Electronics Engineers (IEEE), a leading professional organization for electrical engineers and computer scientists. The designation requires 10 years of professional experience, five years of "significant performance," several references and a vote from IEEE members.
"It's definitely something I was looking forward to for a long time," Teodorescu said of the second honor. "They look at your whole career trajectory and how you got to this point and your potential for the future."
Teodorescu recently returned from a trip to Ukraine, where he delivered 50 SurgiBox kits as humanitarian aid. Each SurgiBox kit contains a plastic bubble and battery-powered electronic equipment to maintain airflow so that surgeons can operate in a sterile environment.
SurgiBox is among the items on display at the Massachusetts Institute of Technology's new MIT Museum. It's part of the "Essential MIT" exhibition alongside items such as a prototype of the Voyager spacecraft and a Nobel Prize in Physics. The exhibition showcases groundbreaking projects and ongoing innovation.
"I was very happy," Teodorescu said of seeing his work in such a setting. "I brought my dad there. For him, it was a combination of many years of teaching me physics and encouraging me to study well and be compassionate for the sick."