Upper-level students at the University of Washington Information School were in for a treat recently, when conlangers Jessie Sams and David Peterson spoke with class. Presenting on the process of constructing new languages and the challenges of using existing software, the pair shared about their experiences creating spoken languages for shows, games and movies, including "Game of Thrones," "The Witcher," "Paper Girls" and "Dune."
Assistant Teaching Professor Jeremy Zaretzky invited the speakers to join his Informatics 442: Cooperative Software Development class for the day, and he sees potential future collaborations between his students and the conlanging community – such as a possible Capstone project sponsored by Peterson and Sams' studio.
In a talk called "The Tech of Language Invention," Peterson and Sams explained their process for inventing original languages based on linguistic patterns, existing languages and their imaginations. This process, referred to today as "conlanging," or constructing languages, has been used by researchers and writers such as Victoria Fromkin ("Land of the Lost"), L.L. Zamenhof (Esperanto) and, of course, J.R.R. Tolkien ("The Lord of the Rings").
A conference gathering in Chicago led to Zaretzky initially meeting Peterson, as he discussed language creation in the context of a large event that featured an appearance by none other than George R.R. Martin. Conlanging is a field that has a multitude of opportunities for experimentation, but is also challenging due to the piecemeal nature of language creation, translation and documentation.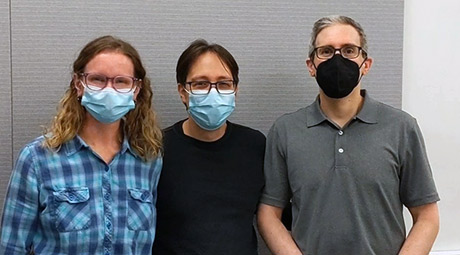 In Zaretzy's class, Peterson and Sams discussed the technological challenges they face in their work, and the ways that software development could better support conlanging at scale. At times, they need to create or expand a language for an upcoming television show with only a few months to prepare, and editing language text, often in new characters, can be time-consuming. Peterson and Sams' studio, LangTime, also records audio files of spoken lines of dialogue to help actors know how to pronounce the new words and when to take a beat. There are some existing programs that can be used to construct languages, but currently no program can be used to complete every conlanging process. "All of this stuff, it's just created with love by this community," Peterson said of the tight-knit conlangers.
Sharing language breakdowns and using emojis as examples of symbols and meaning, Peterson and Sams introduced students to the many aspects of language creation. Students enjoyed the chance to think about software development for a unique, challenging example.
"It was really interesting hearing Jessie and David talk about creating naturalistic languages and how that leads to, in the context of this class, information technology and ways of documenting and also looking at historical trends," said Jax Morgan, a fourth-year Informatics student. "Hearing about the opportunity for app development or other technology to be able to address the pain points that they experience in their day-to-day processes was super fascinating."
Zaretzky enjoys providing his students with real-world examples of ways to apply technology. Guest lectures from practitioners are among the many ways professors train students to think in terms of both theory and practice.
"I typically aim to have two to three guest speakers for each course, often including some speakers who are early-career, INFO alums, as well as mid- to later- career professionals. The goal is to give students a sense of what a variety of different career paths look like and help them envision themselves in those paths," Zaretzky said.