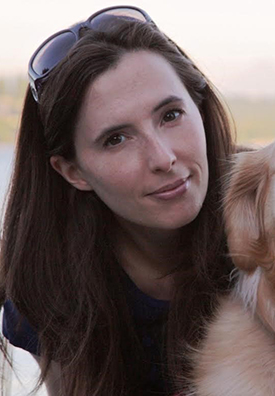 The University of Washington Information School's 2022 alumni awards honor two graduates who advocate for the rights of individuals on the internet — one from within a big tech firm and one as an outsider at a nonprofit.
Sunny Consolvo, this year's Distinguished Alumni Award recipient, works as a user experience researcher at Google, where she focuses on security, privacy, safety and prevention of abuse. Meanwhile, Gennie Gebhart, recipient of the Graduate of the Last Decade (GOLD) Alumni Impact Award, is the activism director at the Electronic Frontier Foundation, a nonprofit that defends civil liberties in the digital world.
In her role, Consolvo, Ph.D. '08, focuses on the technology experiences of people who are at higher risk of experiencing a digital attack or of suffering disproportionate harm from a digital attack. She cited iSchool Professor Batya Friedman's research in value-sensitive design as a major influence. One of Friedman's principles is to consider people indirectly affected by technology, not just those with a direct stake in it. 
"I think that's a really important thing," Consolvo said. "Not only that direct end user you're focusing on, but who else is affected and what stake they have. I try to bring that to nearly everything I do."
One project Consolvo worked on at Google was an effort to improve security warnings in the Chrome browser that encourage users to tread carefully when approaching potential danger. The research resulted in a safer browsing experience for the more than 3 billion people worldwide who use Chrome and earned Consolvo and her team the People's Champion Award at the 2017 O'Reilly Defender Awards, which celebrate achievements in the security field.
The iSchool Distinguished Alumni Award recognizes alumni who have made significant and exceptional contributions to the information field and their communities. Consolvo has also been recognized with three 10-year impact awards and numerous best paper awards during her more than 20-year career in human-computer interaction research. She tries to help technologists understand that focusing on the mythical "average user" doesn't serve all users well enough.
"The world is made up of so many different people with so many different needs and abilities," she said. "And so often, many of those people are not considered during design or development. One of the things I like to do is help technologists understand that. I believe that when you focus beyond that mythical 'average user,' you usually  produce a better design for everyone."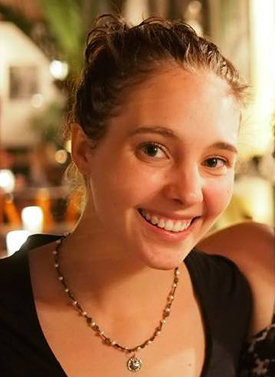 GOLD award recipient Gebhart, MLIS '16, spends a lot of her time "yelling at companies" like Google. At the Electronic Frontier Foundation (EFF), she directs a team that works to exert public pressure on companies over issues around privacy, censorship and other civil-liberties issues.
"I feel like I've made my career yelling at Facebook and Twitter and Google and Venmo and Slack. Companies big and small, of any type of use case or platform or software, I will yell at," Gebhart said. "We've gotten a lot of wins in that way."
Those wins include a successful campaign to halt a controversial plan from Apple to scan iPhone users' software and photos; legislative victories such as a landmark broadband-access law in California; and a successful joint effort between the EFF and Mozilla to pressure Zoom to offer end-to-end encryption for all calls, not only for paid accounts.
New in 2022, the GOLD award celebrates recent graduates for their contributions to the information field. Gebhart came to the Master of Library and Information Science program planning to make a difference as a librarian working outside of libraries. She was living in Thailand in 2014 when a military coup took place and opened her eyes to the ways technology could harm people.
"I very quickly went from looking at the promises of the internet and opening up information and getting a cellphone in every hand, to focusing on the perils of the internet, looking at censorship and surveillance in ways I'd never experienced before," she said.
Gebhart said librarianship values such as intellectual freedom, privacy, free speech and access to information are what she carries with her into her job. 
"It's a very short path from fighting banned books to fighting government censorship online," she said. "The MLIS and the iSchool, the whole community around that prepared me fantastically for working in advocacy. Librarians are advocates at the end of the day — advocates for their users, advocates for resources, advocates for the community that they're stewarding."