UW Information School Professor Amy J. Ko is one of eight scholars who will be inducted into the CHI Academy at this year's CHI Conference on Human Factors in Computing Systems. 
Conferred by the Association for Computing Machinery's special interest group for human-computer interaction, the CHI Academy is recognized as the highest honor in the field. Ko expressed her surprise and appreciation for the award, especially given that her research straddles numerous disciplines.
"I've never been in just one academic community and so my work often falls through the cracks and doesn't get recognized. So it was really great that one community said, 'We see all that work, even that work that is outside of the boundaries of the field and think it deserves recognition,'" explains Ko, pictured above. 
The 2022 CHI Academy scholars are highly interdisciplinary, representing a range of perspectives, backgrounds and research approaches. Ko considers this a hallmark of HCI and the CHI Academy specifically.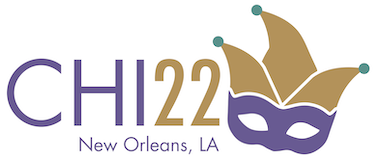 "I think that [the CHI Academy] started with and maintains a degree of humility," Ko says. "People that are in that recognized group, when they start thinking about who else to invite in, the question is not, 'Who else is like us?' But, 'Who are we missing? Which voices have we not recognized that we need to make sure are seen?'"
Ko will be formally recognized at the CHI 2022 conference, held April 30 to May 6 in New Orleans. Also being recognized at the conference are six iSchool researchers whose papers were given an Honorable Mention (top 5 percent):
Alumna Sejal Khatri (MSIM '20), for her paper "The Social Embeddedness of Peer Production: A Comparative Qualitative Analysis of Three Indian Language Wikipedia Editions" 
Assistant Professor Lindah Kotut for her paper "Winds of Change: Seeking, Preserving, and Retelling Indigenous Knowledge Through Self-Organized Online Communities" with D. Scott McCrickard (Virginia Tech)
Ph.D. candidate Xuhai (Orson) Xu for his paper "Enabling Hand Gesture Customization on Wrist-Worn Devices" with Apple Inc.
Associate Professor Katie Davis and her research partners for "Exploring situated and embodied support for youth's mental health: Design opportunities for interactive tangible devices"
Assistant Professor Tanu Mitra and her research partners for "OtherTube: Facilitating Content Discovery and Reflection by Exchanging YouTube Recommendations with Strangers" 
Ph.D. student Zhuohao Zhang and his research partners for "CollabAlly: Accessible Collaboration Awareness in Document Editing"
All told, iSchool researchers contributed to 20 total papers, many co-authored with researchers working across other academic institutions or disciplines. Additional iSchool authors include Ph.D. students Erin Beneteau, Stefania Druga, Anastasia Schaadhardt and Mingrui "Ray" Zhang; Informatics student Raveena Rao; alumni Jenny Liang (Informatics '21), Richard McGovern (MSIM '19) and Jason Portenoy (Ph.D. '21); and faculty members Anind K. Dey, Alexis Hiniker, Amy J. Ko, Jevin West, Jacob O. Wobbrock, and Jason C. Yip.
The iSchool is one of six academic units contributing to a total of 51 accepted papers from University of Washington researchers at CHI 2022. As in years past, the UW is one of the most prolific institutions at the conference, this year contributing the second highest number of accepted papers. 
Learn more: