It was March 2020, early in the pandemic, and the rideshare driver was taking a risk with every fare. He picked up a woman whose face was covered in a mask.
"Where did you get that?" asked the driver, an older fellow who wasn't exactly a digital native.
"I ordered it online," she answered.
"Online? How would I get that?" he asked.
He was in luck. His passenger was Tracie D. Hall, '00, executive director of the American Library Association (ALA), and she wasn't going to get out of the car without helping him find the information he needed. She gave him a quick course in information-seeking, showing him how to use his phone for more than, as he described it, just navigating the streets of Chicago and calling his wife. She pointed him to a nearby church that was handing out PPE.
"We're talking about an issue of life and death, and the thing that can change the game for him in terms of possible COVID-19 exposure is digital information," Hall says.
That's Hall. Energetic, dynamic, passionate about putting the power of information into everyone's hands.
To Hall, broadband access is a human right and one of the things that motivate her as she leads the 55,000-member ALA. Digital equity is a matter of justice, she says, as are her other top priorities for the organization — diversifying the field of librarianship and advocating for resources to allow libraries to fulfill their central role in the life of their communities.
Hall took the helm of the 145-year-old organization in February 2020, barely getting time to settle into her chair before COVID-19 hit. Far from making her change course, the pandemic only reinforced her mission. At a time when many basic services went online, the lack of broadband access — especially among lower-income, rural and senior populations — came into sharp focus. Parents looked to libraries to help educate and entertain their children. Adults who were suddenly jobless turned to libraries for help filing for unemployment and searching for new jobs. All of this at a time when a recession was hitting and libraries, already underfunded for years, were forced to move their staffs and services online.
"I knew that we needed to reclaim the national satellite space and public perception about what libraries do. That's what I was fixated on," Hall says. "Then comes the pandemic and whatever I have been thinking there, we have to do that times three!
"Everything now is about how we support online access to education, employment information, and even key services; who's going to play that role? For people in communities where they don't have digital access, who's going to provide that? The answer often comes back to libraries. I think that rather than the pandemic taking me completely off my square, it actually has lent more urgency and more immediacy."
* * *
Libraries became Hall's passion, but they weren't her first career choice. After growing up in the Watts neighborhood in Los Angeles, she went to UC-Santa Barbara to earn bachelor's degrees in law and society and African American studies. She went on to Yale University to earn her master's in international studies, with hopes of working in Sub-Saharan Africa. While she was at Yale in 1992, though, a jury acquitted four police officers accused of using excessive force in the arrest and beating of Rodney King. The acquittals set off a weeklong uprising in the south-central Los Angeles neighborhood where Hall grew up. The episode set her life on a different course.
"In my mind, I felt like I could make the most difference in communities where there were these huge resource and infrastructure gaps," she says. "I had been looking at working in Sub-Saharan Africa, yet in my own community there was this need for care and commitment."
After graduation, Hall returned to L.A. to direct a youth homeless shelter. As she introduced clients to resources and services, she discovered libraries in a new way. She became enamored with the power of libraries to give people a sense of agency. At the homeless shelter, she had only a few tools to help people, but the library had a whole toolbox. People without homes, people returning from incarceration, people who had recently immigrated to the United States — they all found help at the library.
"I really feel that I got a multipurpose master's degree and exposure to ways of thinking about how ideas and resources can be organized that I have called on again and again."
Hall saw a job listing at the Seattle Public Library, looking for someone who could blend reference services and social services, mostly focused on at-risk youth. She jumped at the chance to work at SPL and soon learned that many of her colleagues were UW graduates who encouraged her to pursue her master's in library science there. Meanwhile, the ALA was starting its Spectrum Scholarship program to increase diversity in the librarianship profession. In 1998, she applied and was accepted to both.
At the UW, where the Graduate School of Library and Information Science was transforming into the iSchool, Hall studied under faculty who would have a lasting influence on her. Spencer Shaw treated storytelling as an art and children as an audience that deserved high standards. Efthi Efthimiadis encouraged her to think about how technology could help people not only find information, but also help them discover things that surprise them. Allyson Carlyle's concepts on cataloging shaped her thinking on how to organize information, inside and outside of libraries.
"I can connect a lot of the thinking that I draw on today to those courses," she says. "I really feel that I got a multipurpose master's degree and exposure to ways of thinking about how ideas and resources can be organized that I have called on again and again."
* * *
Along with the iSchool, SPL was a formative experience, Hall says. In the late '90s, Seattle was taking off as a hub for technology, and she saw the workforce changing along with the city. Blue-collar workers were coming to the library because they needed to apply online for jobs for the first time. Students were coming in to submit homework assignments online. The experience convinced her that everyone needs digital literacy skills and connectivity — beliefs at the core of her work at ALA now.
"I cut those ideological teeth at Seattle Public Library," she says. "We are all dependent to some degree on information access and on digital platforms. We have to begin to think about broadband as an essential resource for everyone."
After earning her MLIS, Hall wanted to return to the East Coast, so she relocated to Connecticut, working at the New Haven and Hartford Free Public Libraries. In 2003, she moved to ALA to head its Office of Diversity and administer the Spectrum program. Since leaving that post in 2006, she's made numerous stops in the academic, corporate, government and nonprofit worlds. From 2014-16, she served as deputy commissioner of Chicago's Department of Cultural Affairs and Special Events, overseeing visual and performing arts. Most recently, before rejoining ALA, she directed arts and culture grant-making for the Joyce Foundation, a Chicago-based philanthropic organization.
Hall faced a raft of challenges when she took over as executive director at ALA: an office relocation, the onset of the pandemic, and an unexpectedly daunting financial picture.
"She's been very disciplined," says Mary Mackay, ALA's interim senior associate executive director. "No excuses — we just have to implement some things to make sure we position ourselves strongly for the future, with a big focus on membership and getting people engaged."
Mackay says the current challenges haven't restrained Hall's ambitions on initiatives such as universal broadband and diversification of the field. Since her arrival, Hall has worked to get the sprawling association working toward those same goals. Hall has her "eyes on the prize" and an inspirational leadership style.
"It's hard not to feel more motivated to adhere to your own personal values when you've got someone leading you whose personal values are so much the bedrock of what she's trying to do," Mackay says.
* * *
Veronda Pitchford has seen Hall's leadership from several perspectives, inside and outside of libraries and now as assistant director at Califa, a nonprofit consortium representing 230 California libraries. She describes Hall as "really fun" and "very intense."
"She's always thinking about the next step. Even if we're talking socially, it's like, 'Oh, that reminds me how we should do this.' I'm here to drink my latte and we're having this deep conversation," she says with a laugh.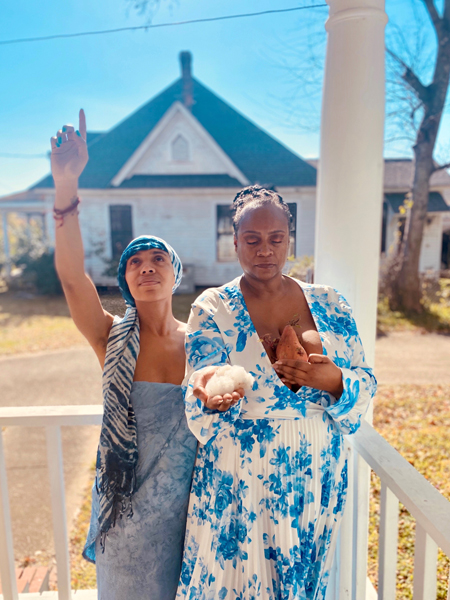 Hall brings that same intensity whether she's in a boardroom, at a breakfast table, or helping a young person get their foot in the door, Pitchford says.
"I have personally witnessed her in this current role give the same care and feeding to library school applicants as she would the biggest funder of ALA," she says. "It is the same kind of energy, time, precision and professionalism."
Joslyn Bowling Dixon was working in libraries when she met Hall at an ALA Annual Conference in Chicago in the early 2000s. At the time, she said, it was unusual to spot another Black attendee at a national conference, so when she saw the striking-looking woman with a shaved head, she decided she had to introduce herself.
"She didn't have to talk to me. She didn't have to be nice. She was an officer, and I didn't even have my MLIS yet," Bowling Dixon says.
Yet Hall became a fast friend and mentor, introducing Bowling Dixon to her network and encouraging her to get her master's in library and information science. Bowling Dixon was working and raising a child as a single, divorced parent at the time, but Hall convinced her the investment in herself was worth making. Now, as director of the Newark Public Library in New Jersey, Bowling Dixon still looks to Hall as an inspiration, particularly for women of color in the library world.
"When I started in librarianship in the late '90s, I always felt othered," Dixon says. "If there was something for people of color included in any kind of mainstream training, conversation, display or purchase, it was either accidental or non-existent. As a profession we're not done, but we've made strides. Now I can see a person who looks like me at the top. That means everything.
"It's hard to describe how affirming it is to see somebody who looks like you in the decision-making seat and know that your concerns and interests will be there."
* * *
In describing Hall, Pitchford looks to a line from a Derek Walcott poem: "Feast on your life."
"She really does that in her work and in her personal life. In her work, it's total drive and energy to get things done on behalf of the organization. That same joie de vivre, zest and fire is in her personal life as well," she says.
That's evident in Hall's other passions, which include creative writing and visual art. In recent years, she has gravitated toward the art world, and she stays connected as a member of Chicago's Cultural Advisory Council. In 2016, she fulfilled a dream of founding her own art space, Rootwork Gallery, dedicated to showing art from folk and Indigenous traditions. Along the way, she's returned to her own art practice.
"Ever since I became a librarian, I have walked with a sense of purpose about my work."
In art exhibitions, she frequently connects the works on display to text from writers she feels have been underread or forgotten. She tries to connect the dots for visitors so they can immediately understand the point she's trying to convey. The skills are right out of her librarianship toolbox.
"When I leave this place, I want my tombstone to read, 'artist and librarian,'" she says. "I think those are the two main definers of the kind of work I've tried to do. In both of those places, that's where I have found my greatest meaning and freedom."
Friends say Hall's other talents include interior decorating and cooking. Not surprisingly, she throws an excellent party. You just have to be prepared; an intense conversation about how to improve community infrastructure or how to address generational poverty could break out at any moment.
While Hall has her other passions, the librarian wheels in her brain are always turning.
"Ever since I became a librarian, I have walked with a sense of purpose about my work. I absolutely cannot imagine working in a field or a space or profession where I don't feel that," she says. "I feel that every day."