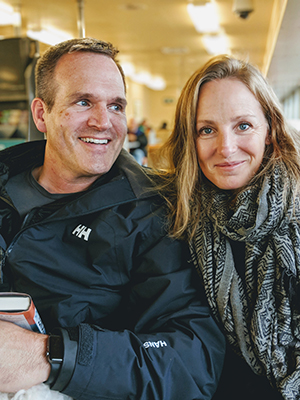 Mark Mader loves seeing people have "unlock moments" — when a lightbulb goes on and they realize they're capable of more than they thought possible.
The Smartsheet president and CEO hopes to inspire those moments with the establishment of a new scholarship at the University of Washington Information School. The Mark and Jaimee Mader Term Scholarship in Informatics will cover part of recipients' tuition costs, beginning with three incoming freshmen this fall.
Much like when someone unlocks the solution to a problem using software, they can get a feeling of exhilaration when they find success in the classroom, with long-term benefits, Mader said.
"That feeling of, 'I didn't know I could get a scholarship, I thought I was completely boxed in,' and all of a sudden that flips – that is a huge accelerant for people," he said. "That's not a temporary feeling; it can affect somebody for many years. That's something we wanted to cultivate."
Mader, a member of the iSchool Founding Board, said his own experience was one reason he wanted to fund the scholarships. He graduated from college without accumulating debt and wants to see more students have the same opportunity.
He was also motivated by a desire to broaden the talent pool for technology companies such as Smartsheet, which offers businesses a suite of software for collaboration and work management. The scholarship is intended to address systemic racism and grow diversity in tech by addressing the cost barrier, which is faced more frequently by people from historically minoritized groups.
"I think there's been a growing awareness in the last year of an 'advantage gap' that exists, and I believe people have a duty to empower others," Mader said. "There's still much work to do, and many high-potential people who can be better positioned to thrive, who don't have the means and may not know that there is capital interested in investing in them."
Smartsheet employs about 10 iSchool alumni and is a frequent sponsor of Capstone projects, in which students tackle a project in collaboration with sponsors from the private or public sectors. In a field where talent is in demand, the Informatics program is ideal for investment because it produces graduates who are able to contribute from day one, Mader said.
"The performance of the iSchoolers we've had at the business so far motivated me to fund this with Jaimee," he said.
A spirit of giving runs deep in Mader's family. His mother, Eva, was a longtime crisis-line operator for LifeWire, helping people find shelter from abusive situations. Jaimee Mader's mother, Dixie Jo Porter, was a leading fundraiser for the Seattle YWCA and her father, W. Thomas Porter, was a passionate supporter of UW Athletics who led fundraising efforts during the $54 million Campaign for the Student Athlete of the late 1990s. He passed away recently at age 87.
The three inaugural Mader Scholarship recipients — Nawal Dhabar, Jessica Mendoza and Nadia Sheikh — are all incoming freshmen who received direct admission to the Informatics program. Dhabar wrote that she is interested in a career in user interface design, Mendoza expressed her interest in information technology management, and Sheikh intends to concentrate on biomedical informatics.
In a letter expressing her gratitude for the scholarship, Dhabar wrote that it was a "blessing" that would allow her to pursue a career in tech without imposing financial stress on her family. "Thanks to this scholarship, I will be able to pursue my goals of working in the UI design field and breaking barriers as a Black Muslim woman in the field of tech," she wrote.
Sheikh, who said the Biomedical & Health Informatics track was appealing because it combines health and technology, will be able to hit the ground running in Informatics without having to work during the school year. "This scholarship will help me with achieving my goal because it lets me focus more on school," Sheikh said. "It takes a whole lot of weight off my shoulders."