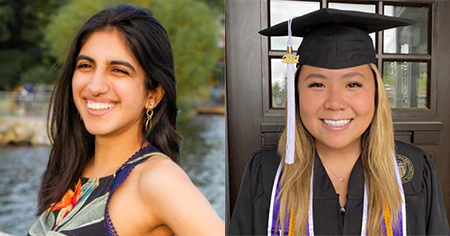 Graduating Informatics students Kiran Pradhan and Akoly Vongdala represented the Information School as gonfalonieres — banner carriers — at the University of Washington's Commencement ceremony on June 12.
Gonfalonieres are selected by their program advisors and exemplify undergraduate education at the UW. At this year's online ceremony, they led their school's graduates during the commencement procession.
Pradhan, whose studies concentrated on data science, wrote: "I chose Informatics because of the inclusive and welcoming community and the great opportunities available for undergraduate students, like being a teaching assistant and contributing to major-wide decisions! Informatics also allowed me to explore the intersection of my two passions—medicine and technology."
Vongdala, a double-major in Informatics and Psychology, advised incoming students: "Use these four amazing years to create and maintain connections that will last your lifetime. I promise you, it's worth it."
Katie Goulding, '19, and Kartik Rishi, '14, represented the iSchool as alumni volunteer Guardians of the Gonfalon. In a typical year, the Guardians watch over the banners during the ceremony itself. Both Goulding and Rishi are part of the iSchool's Alumni Advisory Board.