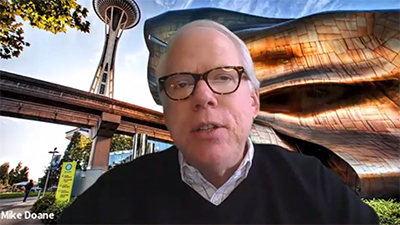 A year after many of them crowded into an office in downtown Seattle for World IA Day, dozens of professionals and students gathered on Zoom to celebrate and learn about information architecture at the 2021 edition.
While it may not have been as cozy, the Seattle version of this year's event on Feb. 27 attracted speakers from leading companies such as Oracle, Starbucks and PACCAR for presentations and panel discussions that dug into the nitty gritty of information architecture. They took on topics such as data governance, semantic tools and job hunting.
Information School Associate Teaching Professor Mike Doane was part of a panel discussion on present and future uses of information architecture. He was joined by Ali Mokdad, a professor with the UW Institute for Health Metrics and Evaluation, and Andy Fitzgerald, a Seattle-based information architect and content strategist.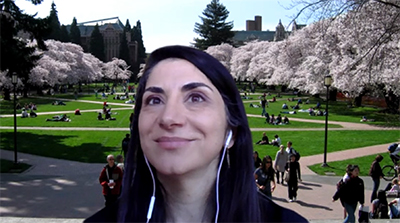 iSchool Associate Professor Hala Annabi provided the closing keynote, a presentation on success factors for diversity, equity and inclusion. Her presentation focused on how organizations can implement successful DEI strategies by setting clear goals that meet their talent needs, improve their performance, and reflect their customers and society. The iSchool was the event's program sponsor for accessibility and equity.
World IA Day Seattle attracted 84 attendees, including 22 students, according to Kylie Snyder, a taxonomist at Factor who helped organize it. Like the majority of event organizers, Snyder is an iSchool alum, having graduated in 2020 from the Master of Library and Information Science program.