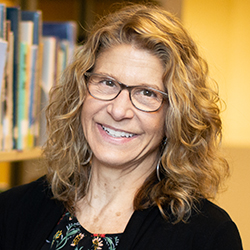 UW Information School faculty member Cindy Aden was recently honored by the Federal Communications Commission for her work to bridge the digital divide in response to the COVID-19 pandemic.
Aden is among the inaugural recipients of the Digital Opportunity Equity Recognition (DOER) awards.  She was recognized by the FCC for her efforts last spring when, as the Washington State Librarian, she worked alongside multiple companies and nonprofits to provide free broadband access across the state. The project involved 600 drive-in Wi-Fi hotspots, including the Washington State University campuses and almost every public library, along with their branches.
The DOER Program acknowledged many Americans' efforts to close the digital divide in communities without access to affordable, reliable broadband.
While at the Washington State Library during the COVID-19 outbreak earlier this year, Aden collaborated on a project to ensure that families had the high-speed internet connections for distance learning, remote work, telemedicine, and essential day-to-day services. She was honored along with Russ Elliott, Washington State Broadband Director; Monica Babine, senior associate for the Washington State University Extension's Program for Digital Initiatives; and Mike Gaffney, Drive-in Hotspots project co-leader and director of the WSU Extension's Community and Economic Development Program Unit.
Other partners such as Microsoft and NoaNet donated routers and program management capacity, which helped the project succeed. The Information Technology Disaster Resource Center was another partner that did router installations across the state.
"I was surprised to be named — for my team was nominated without my knowledge — and I was so pleased because this particular award is about addressing broadband inequity in the very challenging early months of COVID," Aden said.
Aden is in her first year as the Distinguished Practitioner in Residence at the iSchool. This position is funded by a 10-year $1.4 million grant from the Bill & Melinda Gates Foundation and brings people with practical knowledge to the iSchool's scholarly pursuits. The two-year appointment involves teaching iSchool courses, helping to shape curriculum in the Master of Library and Information Science program, and conducting research related to the future of libraries, a key iSchool initiative.
Aden plans to focus on broadband equity issues of access and the role of libraries in her research project as a professor of practice.