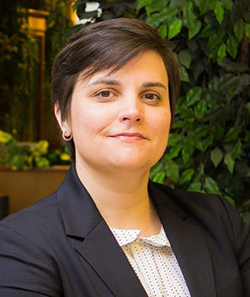 Carla Wale's new job directing the UW Law Librarianship program comes with two offices. One is in the iSchool, the other in the School of Law. The iSchool administers the small but prestigious program and issues its specialized Master of Library and Information Science degree. The Marian Gould Gallagher Law Library administers the students' internships.
The program — consistently ranked No. 1 by U.S. News & World Report — turned 80 years old this year.
"I plan to build on the program's history of innovation and excellence," says Wale, who graduated from the UW program in 2011, part of a class of eight students. The high-energy alumna is full of ideas for revolutionizing law librarianship training and producing new cohorts of tech-savvy leaders to serve law library users: academe, the bar, the bench, legislators, private and public sectors. 
She'd like the program to adopt the quick-paced culture of the iSchool.
"The iSchool is incredibly progressive and technology-oriented. That's the culture. They understand where the profession is going and provide unparalleled training for tomorrow's information leaders. Law librarians should be skilled in specialized and interdisciplinary research, information management and systems, data analysis, technology implementation, and instruction, among other things, and UW's iSchool is uniquely positioned to meet those demands."
Wale was in law school when she first considered law librarianship as a possible career. As a student research assistant, she was assigned to work with a librarian at the Loyola University New Orleans School of Law, where she earned her J.D. Her mentor was a graduate of the UW Law Librarianship program and she found his work at the law library interesting, peppering him with questions about the program. "I thought the profession and the UW Law Librarianship program would be a good fit for me," says Wale.
After graduating from it, she went on to become a highly respected law library leader. Her last role was Associate Dean for Law Library and IT Services at the University of the District of Columbia's David A. Clarke School of Law.
"Carla has worked at a variety of law schools, leaving each one in better shape than when she joined. She is attuned to the changing landscape of the profession," says colleague Emily Florio, Senior Research Services Manager at Hogan Lovells in D.C. and president-elect of the American Association of Law Libraries.
Wale's vision and passion for the UW program made her a standout candidate for the position, says School of Law selection committee chair Mary Hotchkiss, co-director of the program from 2018 to 2020. 
"Carla Wale's passion for the profession is boundless and infectious," says Hotchkiss. "She sees Seattle and the UW as technology hubs with unlimited potential for partnerships and innovation. Her vision includes expanding the program and engaging interested iSchool students in policy and advocacy work, copyright reform, data privacy issues, and public interest technology."
The long-lived UW Law Librarianship program is sui generis, one of a kind. It's the only one in the nation to require an American Bar Association-accredited law degree for entry. It is extraordinarily rigorous, squeezing a two-year MLIS program into 10 intense months of schooling and interning, with additional summer fieldwork. Graduates — who receive their MLIS degrees with a law librarianship certificate — are highly sought after. 
Wale herself is one of a kind. "Nothing about me screams librarian," she says during a Zoom interview. "I did not spend my childhood tucked away in the library. I was a rambunctious, outdoorsy, sports-playing kid whose parents always told me to go run off the energy." She is animated and funny and frank, with hints of a Southern drawl left over from her childhood in Georgia. 
She is also wicked smart. In August, she'll graduate with an MBA from John Hopkins University; her focus is organizational leadership. "There is no better opportunity to use these skills than leading the UW Law Librarianship program into a new era," she wrote in her letter of intent to the UW search committee.
Directors have typically held the position for long periods. Marian Gould Gallagher — trained by the law library's first director, Arthur Beardsley — managed the program for 37 years. Penny Hazelton, Gallagher's former student, led it for 31 years. Wale, Hazelton's student, also plans to see the historic program into the future, pushing it to continually meet evolving information challenges. "My goal," she says, "is to ensure we remain the preeminent program in the country."