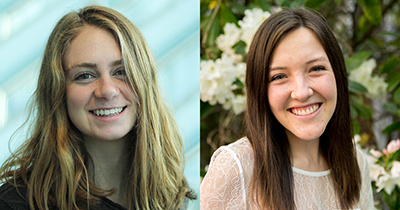 Graduating Informatics students Autumn Derr and Hayley Younghusband will represent the Information School as gonfalonieres — banner carriers — at the University of Washington Commencement ceremony on June 13.
Gonfalonieres are selected by their program advisors and exemplify undergraduate education at the UW. At this year's online ceremony, they will lead their school's graduates during the commencement procession.
Derr, who focused on data science and human-computer interaction and served as co-president for the student group Women in Informatics (Winfo), reflects fondly on her iSchool experience.
"I was especially inspired by the Informatics program's emphasis on community, leadership, and breadth of learning in technology," she said.
Younghusband, who served alongside Derr as co-president of Winfo, cultivated a deep interest in coding and diverse approaches to technology while in the Informatics program. It has not only led her to a career in product management, but also sparked a desire to serve others.
"I love giving back to my Informatics community and following my passions for teaching and advocating for women in tech," she said.
Two iSchool alumni, Norah Abokhodair, MSIM '11 and Ph.D. '17, and Beck Keller, MLIS '16, will also represent the school as alumni volunteers.
Alumni volunteers known as Guardians of the Gonfalon — a tradition that has been around for more than 20 years — are responsible for watching over the banners during the ceremony itself.
Abokhodair, a senior program manager at Microsoft, came to the iSchool as a Fulbright scholar from Saudi Arabia after receiving the Science Award. She currently serves on the iSchool's Alumni Advisory Board. As a student, her favorite class was the value sensitive design course taught by Batya Friedman and David Hendry.
Keller is a content librarian at Echo Services for Microsoft Library. She also serves on the Alumni Advisory Board, as well as the Student-to-Alumni Mentorship Program. She was also the school's Guardian of the Gonfalon in 2019.
To the Class of 2020, she has a few words of advice:
"Be open to new opportunities — just because something doesn't have 'Library' or 'Information Management' in its title doesn't mean you're not qualified for it! Stay in touch with your professors and classmates — you may end up working with them someday."