DubsTech, a UW student organization and technology community that is led by several Informatics students and whose events attract many iSchoolers, recently hosted its eighth successful user experience hackathon — the Protothon — the first to be held completely online.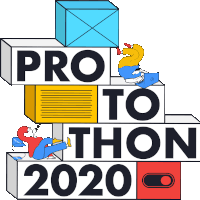 "I am extremely happy with the turnout," said Zoshua Colah, Dubstech director and Informatics '19 graduate, during the closing ceremony. "We had six different continents in total participate, with 300 participants and 81 team submissions."
Founded by Colah in 2017, the Protothon is intended to offer designers a space to showcase their skills without the pressure of coding that is often expected at hackathons. This Protothon asked participants to design solutions from one of three tracks — classic, health and enterprise. Teams worked together to understand the problem, sketch out solutions and prototype their ideas for judges to review.
The event, which was originally intended to be held in person, underwent a swift transition when it was first announced that all large events would have to be held remotely in light of the COVID-19 pandemic. In this completely online version, designers joined one main Zoom call to attend presentations, workshops, information sessions, team-building opportunities, one-on-one feedback sessions, and even happy hour events.
"We jumped all in," said Lauren Ng, Protothon's sponsorship assistant director and an Informatics student. "We quickly restructured and put a ton of effort into advertising the event — not just to UW students, but students all over the world and at all different stages of life. We reached out to design groups, high school groups, college groups, and even Subtle Asian Networking (a Facebook group). The event quickly started to gain traction and in a matter of days, we had gone from 150 participants to over 500."
Dubstech organizers were pleasantly surprised at how much simpler planning a virtual event could be.
"One of the most difficult aspects of organizing these events is setting up rooms and getting food," explained Shane Martin, the president and co-director of the event, as well as a current Informatics major. "Not having to deal with this gave us all a lot more time to focus on making a solid schedule and building out our prompts."
Communication could be streamlined, he added. "The best new 'discovery' from this whole process was realizing the benefit of a central chat through Slack. With a Slack channel split up by announcements, prompt questions, judging rooms, and more, communication was not only easier for us but clearer for the participants."
From a user standpoint, the virtual Protothon was also received quite well.
"We're in a more relaxed environment, whereas in person it feels more stressful," Informatics student Vanessa Sugiharto said during the event. "We are working on Figma (a collaborative interface design tool), so even in person, we basically did the same thing as in previous hackathons, but the only difference is that we can't paper prototype beforehand."
Several Informatics students participated in Protothon, where they thought critically about how they might ease user experience in their designs.
Jayson Edwards, who is quite experienced with hackathons, chose the classic track, which asked participants to redesign the website for Coding with Kids, an organization that teaches coding skills to K-12 students and has an increased demand to offer online classes.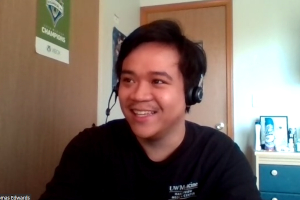 Edwards said the track appealed to him because he has worked with children a lot as a camp counselor and believes coding skills are valuable for them. While designing, he paid special attention to the types of people who would access the website.
"I'm noticing from their website that a lot of information can be really overwhelming at times for people, especially if they're not super techie," Edwards said. "I'm trying to really focus on the users right now, because I notice that although a lot of these websites are catered towards kids, the parents will be using them too."
Sugiharto and her teammate, Ryan Lee, who is also an Informatics student, took second place in the health track for their submission TestQuick, an application intended to streamline COVID-19 testing.
"There's not enough resources to go around, in terms of people and medical supplies, and usually hospital wait times are horrendous, especially given the overload," said Lee. "So, we have each patient make an account, put in their symptoms, and then make an appointment at a hospital of their choice. The hospital will say how many spaces they have open for that day, how many open beds they have, and then the hospital will receive that appointment request, which will then be put in a queue that all of the nurses can see. The queue will prioritize patients who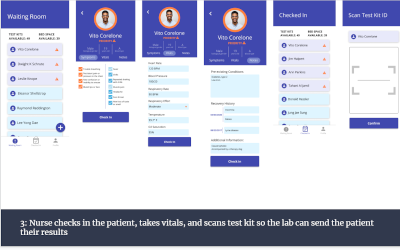 have the four most severe symptoms."
Protothon overall had wide-reaching success. Dubstech is looking to keep certain online elements in its future hackathons, even after the pandemic subsides.
"I think it went really well and much better than I expected," said Colah. "I received over 30 messages on LinkedIn thanking me for organizing the event and our approval ratings were through the roof as compared to the last hackathon. Our judges loved it and even asked if we could make it a weekly event."
The iSchool was among the sponsors for this Protothon. Event organizers also included current UW students and recent graduates Michelle Wong, Anastasia Bequette, Vishank Rughwani, Shray Arora, Ashmann Syngle, Ranjith Ramkishore, Zubin Chopra, Grace Sturlaugson, Vera Drapers, Alan Enriquez and Ashten Alexander.