The University of Washington Women in Informatics group (affectionately known as Winfo) gathered on a Saturday in December for its 11th annual hackathon. In a ballroom at the Husky Union Building, 190 students in 50 groups developed unique projects as part of the event. Students designed apps that offer a variety of benefits, such as letting users learn more about different cultures, protecting older adults from cyber attacks, and accessing telemedicine from remote areas.
The event was the first in-person hackathon Winfo has hosted in three years. Dean Anind Dey attended and said, "Winfo deserves a lot of congratulations for the amazing event they put together this year, especially since most had never attended an in-person Winfo Hackathon themselves. The energy of the participants, the exciting projects, and the inspiring theme of the hackathon resulted in a fantastic event!"
The student leaders who organized the event recruited sponsors, judges and mentors, and helped group students into teams of three or four. Winfo student leaders include Hackathon Director Emiri Nishizawa and Outreach Director Lucy Lin, along with officers and committee members Roshni Srikanth, Melina Perraut, Trushaa Ramanan, Bhavya Garlapati, Kayla Tounalom, Kelly Wang, Alyssa Vo and Bandhna Bedi. The theme they chose for the hackathon is "Reframe, Build, Innovate Onwards," which reflects a desire to learn from the challenges of the pandemic era and to make improvements based on this learning.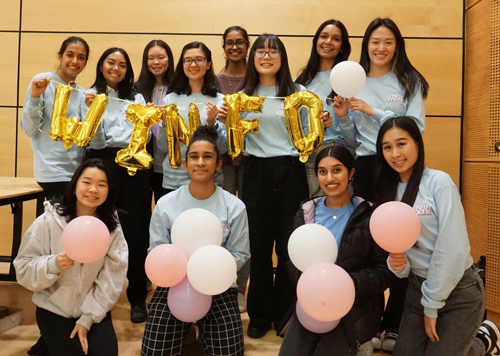 While many student groups contributed novel and prize-worthy concepts, the judges selected three winning teams. Best Design went to Jinyu Wu, Aruna Srivastava and Grace Kim for their project Menufacture. The team said, "Since COVID, restaurants have been adapting digital PDF menus that are neither legible nor user-friendly." To solve this problem, they built an easily editable platform for restaurants to share and update their menus in an accessible way.
The Best Impact award was given to the Periodically team of Lilly Jeffs, Esha Bantwal, Caroline Wills and Selena Ando. The team designed Periodically to address unequal access to menstrual products, enabling users to locate free pads and tampons nearby, track their menstrual cycles, and sign up for a customizable period subscription box.
The team behind BeeSafe won the Best Overall award at the hackathon. Student winners include Sloane Shea, Emily Eckey, Victoria Zhuang and Liya Hutchison, who designed BeeSafe to make dating safer. Their app's features include a background check for potential dates, location sharing with friends during the date, and a way to trigger automated calls and text messages if an unsafe situation occurs. 
Judges based their selections on the impact of each design, technical innovation, market potential, pitch and demo, and collaboration.
Locksley Kolakowski served as a judge in the Best Impact category. "The most exciting part about the Hackathon was hearing from participants who were initially uncertain about attending, before being encouraged by someone in the iSchool community to go," Kolakowski said. "Students had the opportunity to be exposed to hackathons for the first time, network with sponsors, and work on teams."
An important aspect of the Women in Informatics Hackathon is that it is beginner-friendly. All University of Washington students were invited to take part, and Winfo leaders conducted significant outreach to the student body.
Participating students were able to hone their app development skills and benefit from professional skill building. Representatives and alumni from leading companies held mentoring sessions and asked generative questions to aid the teams as they developed their projects. All projects were required to be newly created at the hackathon, though participants were welcome to bring their ideas.
Other projects include DubWrapped, a spending tracker that shows a visually appealing summary of where students spend their money, and Borrow Buddies, a way to share tools to help people try new hobbies.
Emiri Nishizawa, the hackathon director, shared with participants, "Women in Informatics and the iSchool community strongly believe in learning from the past in order to improve the future. Bringing together our diverse experiences and backgrounds allows us to design a future that incorporates all bodies and strives to be more inclusive. As we look around us, we examine problems from various perspectives to reframe our preconceptions, build better products and services, and innovate to make the world a better place."
Check out this year's Hackathon projects, courtesy of Winfo. Photos by Gisele Fox.