Jacqui Howell's path to the iSchool started at a challenging time in her life. She was laid off from her job in marketing and, unexpectedly, needed to decide what was next in her life. Her daughter had recently been born and she knew she didn't want to return to her former career. It was a good time for a transition.
She did a lot of thinking, reading and exploring as she looked for a career that would be personally and professionally fulfilling. As she explored the ideas, she began to realize that they all came back to one thing: building community.
"I realized then, 'You know what, I think the library is the place that does all of these things.' They show films, they have community space. As a literature and film major, these are all things that I love," Howell said. "And it's a solid civil service career. Once I got into that mindset, everything kind of fell into place."
Once she'd decided that she wanted to become a librarian, Howell — who lives in Snohomish County — was delighted to discover the iSchool in her own back yard.
Even before she was accepted to the iSchool, Howell started working toward her new life. Scarecrow Video, a nonprofit, was looking for a volunteer to do a kids' storytime. Previewing the movies was a joy, and she loved getting to know the kids who came back again and again. She also began volunteering at the Edmonds Library and the Seattle Art Museum's Education Resource Center.
Howell choose to do the online option for the Master of Library and Information Science program. It was a bit of a last-minute decision, but one that she's glad she made. Commuting to the UW campus, while possible from Snohomish County, would have taken a lot of her time. With two kids at home, doing her course work remotely gave her the flexibility she needed. It also gave her time for valuable internships and work, including 15-20 hours a week in the Sno-Isle Libraries system, that have allowed her to put the skills she's learned into practice.
A few weeks before classes started, Howell's decision to attend the iSchool was affirmed when she went to listen to Supreme Court Justice Sonia Sotomayor speak at the University of Washington. Sotomayor talked about her life and the value she had found in the local library during the challenges of her childhood.
After the event, Howell waited in line to have a chance to shake Sotomayor's hand and thank her for serving the country.
"When it came to my turn, she asked me what I did for a living and I told her I was studying to be a librarian," Howell said. "She actually stopped what she was doing, looked me straight in the eye and said, 'You're going to become a librarian? Thank you so much!" That's one of the most important jobs you can do."
Howell was overwhelmed with gratitude, and with the conviction that she'd made the right decision by going back to school to start a new career. That certainty was further reinforced when she was awarded the Nancy Pearl Endowed Fellowship for Public Librarianship, which supports students studying to become public librarians.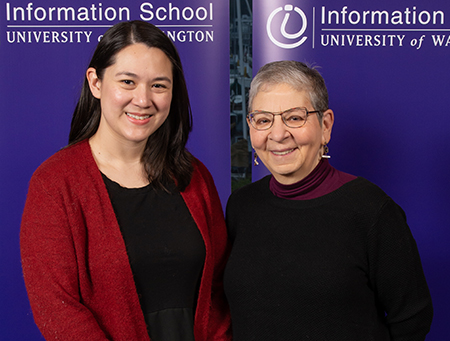 Nancy Pearl — an author, former iSchool lecturer, a member of the iSchool's MLIS Advisory Board and the model for Archie McPhee's Librarian Action Figure — endowed the scholarship along with her husband, Joseph Pearl.
Howell's commitment to community made her an ideal candidate for the scholarship, Pearl said.
"When I met her, I thought, 'This is the perfect person for this scholarship. Here is someone who is interested in working with the public, someone who has the kind of personality that would allow people to come to her and ask her for what they needed."
Pearl said that Howell's experience so far already shows that she has the skills and mindset she needs to be a successful public librarian.
"Twenty-first century librarians know how important it is to build community by opening the library to all sorts of programs and events," Pearl said.
Howell has already shown she knows how to do that. In addition to her work at Scarecrow, she gained experience in several areas since starting at the iSchool. She had a summer internship at the Edmonds Public Library, where she helped with the weekly summer film series, which showed all eight "Harry Potter" films. She has also worked at the UW Health Sciences Library and with Washington Talking Book and Braille Library.
Howell is grateful for her education at the iSchool, and appreciative that the scholarship is helping her graduate without debt. That's especially important for her because it allows her to save for her children's education.
"To be named a Nancy Pearl Scholar was such a huge honor. She is a personal hero of mine; she has done a lot to draw attention to libraries," Howell said. "Also, earning the scholarship was such a confidence builder that the iSchool supports what I am doing. They are putting their money where their mouth is. They are helping me get ready to do this work."