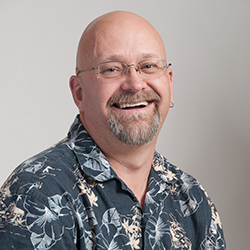 When the University of Washington went to fully remote instruction in March, faculty and students might have had visions of a fire drill. But it was quite the opposite at the Information School, thanks largely to its secret weapon: an experienced and knowledgeable Learning Technologies Team.
The four-person team helps faculty negotiate the technical challenges of teaching online and optimize their courses for remote learning. While it would be nice if faculty could simply deliver the same courses online that they would in person, the reality is more complex. Moving a class online means that each lecture has to be reimagined for computer screens; the approach to in-class collaboration is much different using online breakout rooms; and an instructor doesn't have the benefit of looking students in the eye to gauge their engagement.
The fact that students may be scattered all over the world means that many lectures are delivered asynchronously — meaning they are recorded so students can watch when it's convenient for them. But most classes also include synchronous elements that give students a chance to engage with one another or with faculty in real time.
The iSchool's experience running an online Master of Library and Information Science program gave it a head-start on the transition this spring, said Randy Orwin, who leads the Learning Technologies Team.
"We already teach a fully online program, so we already know what to expect and know what to plan for," he said.
The team — composed of Orwin, learning technologies manager Putri Hiendarto, and learning technologies specialists Sue Morgan and Tim O'Neill — helps students get the most out of learning online by smoothing out the rough technical edges for faculty and helping them design their courses for an online platform. The iSchool's team has become a resource for the entire UW campus, posting popular how-to videos for faculty about teaching on Zoom that have been viewed more than 26,600 times this year.
"All three of my team – Putri, Sue and Tim – they're very creative, they're very good at coming up with ideas to enhance the engagement of students," Orwin said. "If a faculty member wants to do something more interesting, they ping us and we say, 'Yeah, we'll help you out.'"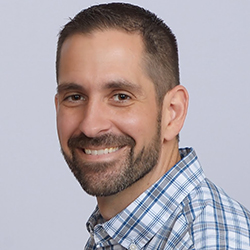 One faculty member who has relied on Orwin's team is Senior Lecturer Andrew Reifers, who is teaching two courses in the Master of Science in Information Management program in spring quarter. He consulted with the Learning Technologies Team to figure out which tools would suit his course and went over them to learn tips and tricks.
"If I have an idea for an exercise, they'll let me know if there is a good way to go about it," Reifers said. "You could potentially spend hours banging your head off the wall trying to figure out how to make a tool fit one specific task, and they're going to be able to tell you right away."
Teaching during the global COVID-19 pandemic adds another layer of factors that instructors have to consider. For his IMT 540 "Design Methods for Interactive Systems" course, Associate Professor David Hendry surveyed students and quickly learned that they would be scattered all around the world, with only about half in the Pacific time zone. He settled on an asynchronous format with several short lectures each week and students interacting on discussion boards. Above all, as Hendry took his course online, he wanted to be sure it reflected a set of core values, including flexibility, focus, perspective, and observing social distancing.
"I shared with the Learning Technologies Team throughout the process," Hendry said. "I made sure they were aware of the values I was emphasizing, and Randy weighed in on things. All of that was very collaborative and helpful. It's been very supportive to me to know that they're there to answer questions and weigh in with their expertise."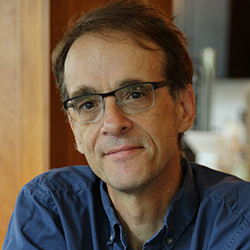 As a first-time online instructor, Hendry worried about a lack of polish in his videos, but Orwin assured him that students are more interested in authenticity than production value.
"When I watched them, they were no different than many of our faculty who have taught online for years," Orwin said. "Students appreciate that their professors are human and make mistakes."
The key to successful online learning, Orwin said, is connection. Students do best when they build a personal relationship, speaking with instructors directly over video. While he encourages faculty to make their lectures available asynchronously, he also urges them to build synchronous components such as live meetings and office hours into their classes.
Staying connected remotely is nothing new to Orwin, who has worked full-time for the iSchool for nearly a decade from his home in a small tourist town called Rainbow Beach, a few hours' drive north of Brisbane, Australia.
"It's actually been a really positive thing for the iSchool. People have had to learn how to use communication technologies to meet with me." Orwin said. Over the years, he has played a role as the iSchool embraced widespread use of virtual participation in meetings. "We've gradually moved the whole iSchool to where we do faculty meetings, staff meetings, we do every meeting streamed. I think that culture has really helped us now that we're in this current situation."