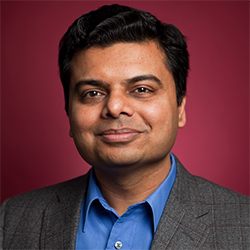 Chirag Shah, an associate professor at the University of Washington Information School, was honored recently as the latest recipient of the Karen Spärck Jones Award, a career achievement award in the field of natural language processing and information retrieval.
Shah is the 11th recipient of the award, given by the British Computer Society Information Retrieval Specialist Group in honor of an influential computer scientist and pioneer in the field who died in 2007. The award, which is sponsored by Microsoft Research, goes to a thought leader in either academia or industry who has made their mark on the field.
"Chirag is a well-recognized thought leader in the areas of collaborative and social information seeking," the group said in its award announcement. "He has been a trailblazer in collaborative information retrieval and social information retrieval, effectively having defined and shaped these disciplines and established himself as a leading world expert in these areas."
Shah is best known for his work in interactive information retrieval systems, which work to understand the task a person is doing and provide proactive recommendations. He joined the iSchool in 2019 after nearly a decade on the faculty at Rutgers University, bringing the InfoSeeking Lab to the UW with him. In the lab, he and his students investigate issues related to information seeking, human-computer interaction, and fairness in machine learning. Last fall, Shah and Yongfeng Zhang of Rutgers received a $500,000 National Science Foundation grant to develop useful ways to improve the transparency of search recommendations.
He said the award was a special honor, given that it's named for a widely admired figure in Spärck Jones.
"It was my great privilege to meet Karen once when I was a master's student. She was such a towering figure in the field. And now it's a tremendous honor to receive this award with her name," Shah said.
Shah gave the keynote address at the European Conference on Information Retrieval earlier this month. Originally slated for Lisbon, Portugal, the conference moved online this year due to the COVID-19 pandemic.
In his talk, titled "Task-Based Intelligent Retrieval and Recommendation," Shah discussed how to provide proactive help to users by understanding them and the tasks they are trying to accomplish. He likened the future of search to the movie "Minority Report," in which technology can be used to predict things before they happen. Only with search, he sees a more optimistic future than the one envisioned by the movie.
"Once you know enough about a user and the task they're doing and the context in which they're working, you can start helping them in ways that weren't possible before," he said.
Watch a recording of Shah's speech: