The student group Women in Informatics (Winfo) recently hosted its eighth annual hackathon, bringing together a diverse group of prospective and current Informatics students as well as others from across the UW to develop technology-based solutions for a broad array of issues.
This year's theme, Driven by Difference, emphasized innovation that promotes equity. Over the course of 12 hours on Jan. 18, more than 270 students split into teams and designed projects that addressed problems such as climate change, health and accessibility.
Since the hackathon attracts many prospective Informatics students, Winfo sets out each year to make the event appeal to a wide range of experience levels.
"We really try to make this a fun starting experience for a hackathon," said Eva Perez, director of diversity efforts for Winfo and a senior in Informatics. "We try to get a diverse crowd and we throw events ahead of the hackathon so people don't feel like they're coming in unprepared."
"I think the fact that it is meant to be a very inclusive event and for people who are beginners takes away that scary factor," added Hayley Younghusband, a Winfo officer and senior in Informatics.
One team of freshman Informatics students worked on an app to tackle a common challenge with household recycling.
"Oftentimes, we find we have more recycling than we have space in our recycling bins," explained Rachel Kinkley, one of the freshman team members. "We wanted to create an app that connects people in their neighborhood to one another so that those who may have more space in their recycling bin on a certain week can share their resources so that the overflow doesn't go into the trash."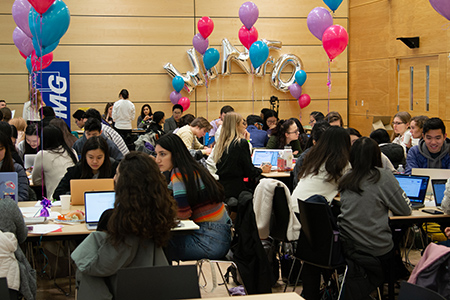 Overall, the team was excited to have the opportunity to design solutions for communities and to do it in a low-pressure environment.
"It's a really good experience getting to know other people while working together on a project, putting to use the things we learned in INFO 200 and actually doing something on our own outside of academics," said John-Luke Dokupil.
For senior Allison Le, a previous Winfo annual hackathon played a major role in her decision to pursue the Informatics major and fueled her desire to participate in future hackathons.
"I think it was a very low-barrier way for me to learn what a hackathon was, because coding is not required for people who come here, and it's also a space for women to come and feel like they're welcome," said Le.
The event's emphasis on diversity reflects the broader mission of Winfo as it relates to the iSchool and the information technology field.  
"We want to represent the iSchool as an inclusive and diverse place for students to share their ideas and collaborate with each other," said Akoly Vongdala, the hackathon project manager and a third-year Informatics student.
"I feel like Winfo really aims to push populations that typically aren't in the tech field to go pursue tech, because we believe with these diverse perspectives you get better results and very cool innovation," said Autumn Derr, a Winfo officer and senior in Informatics. "We really want to encourage people who might not have ever thought of technology to do that, to come to the hackathon and try it out."
The hackathon concluded with three teams winning awards for Best Impact, Best Design and Best Overall. Best Impact was awarded to Kenny Nguyen, Lauren Krieger, Bely Lor and Gabrielle Isaguirre, who designed a mobile app called Pura to track potentially unsafe pollutants preventing coastal communities from fishing and harvesting. Best Design was awarded to Soham Hinduja, Tongxi Liu, George Ma and Daoyi Lu for their concept College Park, an app that can view information on nearby parking spaces and rent nearby free parking spaces. Lastly, Best Overall was awarded to Precious Stowers, Raveena Rao, Amanda Ki and Lauren Ng for the Humble app, an idea to allow small local organizations to connect with each other across the U.S. to help ship overstocked items to other local charities who need them.
The event was sponsored by KPMG, Okta, PricewaterhouseCoopers, ExtraHop, Best Buy, Ticketmaster, Visa, Deloitte, Liberty Mutual Insurance, Sage Bionetworks, Microsoft and Google. Several individuals from these companies served as mentors to students seeking feedback on their projects.
Pictured at top: Winfo officers Autumn Derr (left) and Hayley Younghusband.