With more than 400 people packed into the UW HUB's South Ballroom, Jevin West started off with a puzzle. The Center for an Informed Public's inaugural director showed side-by-side images of two women's faces and asked the crowd which image was real.
Only about half got it right, illustrating one of the challenges ahead for the CIP. Modern technology has made it increasingly easy to manipulate information and increasingly difficult to discern the truth.
The Dec. 3 event, which featured the presidents of the University of Washington and Washington State University, celebrated the launch of the CIP with the announcement of a new statewide partnership to battle misinformation.
"This is all about our democracy," UW President Ana Mari Cauce said. "There's nothing more important than that.
"If we care about common goals — things like safe communities, justice, equal opportunity — we have to care also about facts, truth and accuracy," Cauce said. "Misinformation can be weaponized. It has been weaponized to divide us and to weaken us."
Cauce and WSU President Kirk Schulz (pictured at top) signed a document committing both institutions to working together on the misinformation issue. Schulz noted that WSU's highly regarded Murrow College of Communication and its presence in rural communities across the state make it valuable partner for the CIP and UW's efforts.
"WSU is uniquely suited particularly to assist in (addressing) the urban-rural divide, which we read so much about and really is pervasive," Schulz said.
The CIP, an interdisciplinary center housed in the Information School, will use applied research to engage with the public through community partners such as libraries to confront the misinformation epidemic. Along with West, an associate professor at the iSchool, its leadership team includes iSchool faculty members Chris Coward and Emma Spiro; Ryan Calo from the School of Law; and Kate Starbird of the Human Centered Design & Engineering department. Those researchers all took part in the event program, as did Sam Gill of the John S. and James L. Knight Foundation; and Mike Caulfield of WSU's Murrow College.
The UW established the CIP after the Knight Foundation announced a $5 million investment in July. It's part of a $50 million Knight Foundation effort to better understand how technology is transforming democracy and how we receive and engage with information. The CIP also received substantial initial funding from the William and Flora Hewlett Foundation.
Gill spoke to the Knight Foundation's investments in promoting the health of democracy amid new threats and rapidly evolving technology. He pointed to a key question for the foundation: "How can a democracy remain informed when, on the one hand, we have access to more information than at any time during human history, yet on the other, the authority behind facts is unclear and destabilized, and when the production and dissemination of information no longer rests solely in the hands of journalists and editors, but is distributed among the billions globally with internet connections?"
The event featured a panel of researchers, during which Caulfield joined Calo, Coward, Spiro, Starbird and moderator Anind Dey, dean of the Information School, to talk about some of the issues the CIP will address and how it will approach them.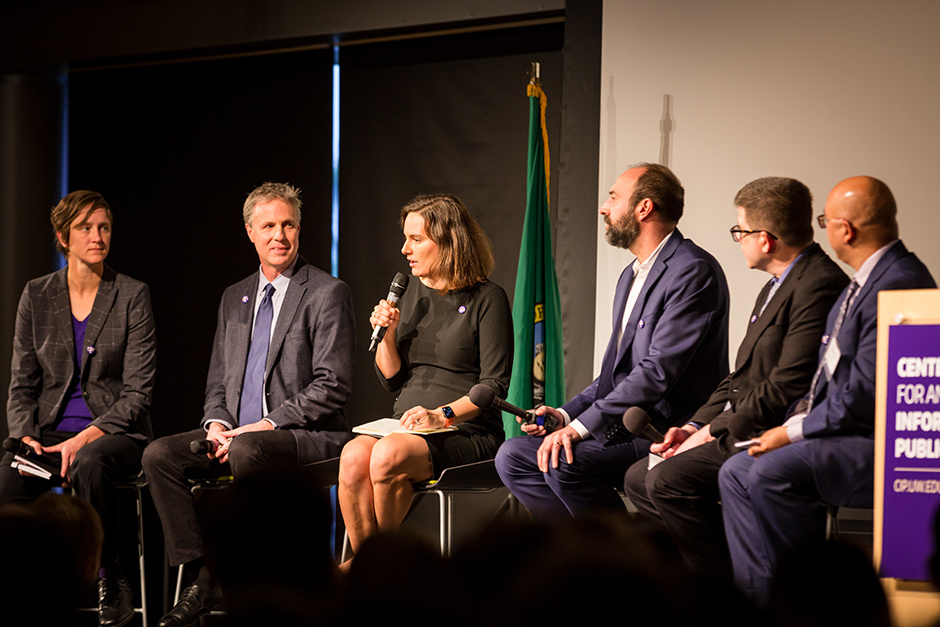 "We are all vulnerable to misinformation and disinformation," Starbird said. She listed some of the research questions the CIP will explore: better understanding how and why misinformation and disinformation spread; measuring its impact; and what kinds of policy changes, technologies and education initiatives can help counteract it.
"When I say education, I don't mean K-12. I mean K-99," Starbird said. "I think all of us need to be better educated about this so we can become healthier engagers in information spaces of all kinds."
West concluded the event by revealing a T-shirt under his suit, split down the middle with UW and WSU colors and logos. It illustrated his hopes for a true statewide effort.
"We're not going to make progress if we just do this in Seattle," West said. He noted that a series of town hall events are planned across the state in the coming months, starting with one Jan. 23 in Seattle. "The town hall isn't going to be about us speaking to the public. It's about listening to them and using that as a way of engaging our research and engaging our education curriculum."
Watch the event as it unfolded on our livestream: