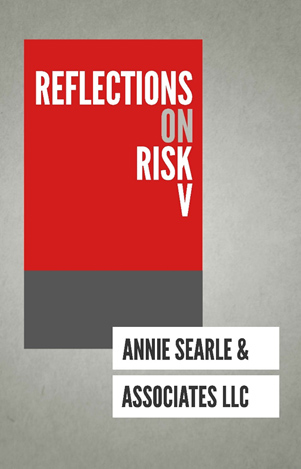 iSchool Senior Lecturer Annie Searle's ASA Institute has released "Reflections on Risk V," a new collection of essays on topics such as emerging information technology challenges and governance failures.
The book consists of 24 research notes from 19 contributors who wrote the notes while students in the UW Information School's undergraduate Informatics program, its graduate Master of Science in Information Management program and other UW graduate programs. 
The volume is edited by MSIM 2011 graduate Emily Oxenford, who organized the research notes into four sections: Information Infrastructure, Information Integrity and Privacy, Incident Management and Response, and Targeted Organizational Risks. The series is designed to be readable by senior executives as well as subject matter experts.
"As they leave the university with their degrees and become part of a new generation of practitioners, I expect [the authors] to begin to reshape public and private sector understandings of risk frameworks, ethics, policy, strategy and opportunity," said Searle, who recently released a new edition of "Advice from a Risk Detective."
Research note authors in "Reflections on Risk V" include Catherine Bahn (MSIM); Elizabeth Crooks (MSIM); Blake Franzen (Informatics); Alexander N. George (MSIM); Lukas Guericke (Informatics minor); Beth Hutchens (LLM, School of Law); Phoebe Keleman (MSIM); Bruno Langevin; Jeff Leonard (MSIM); Miranda Lin (Informatics); Kyle McNulty (Informatics); Nicolas Montgomery (Informatics); Malory Rose (Informatics); Mikhail Savvateev (Informatics); Kate Schenot (MS, HCDE); Lee Segal (Informatics); Zhuo Shan (Informatics); Kyle Simpson (Informatics), and Emily Ye (Informatics).
The book is available at Amazon.com.