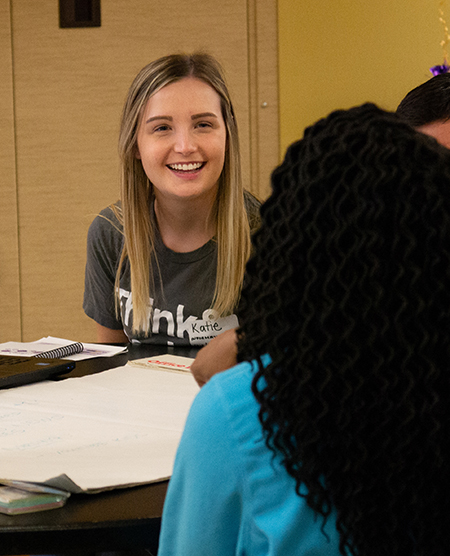 Information School students brought 11th- and 12th-graders from the UW Dream Project to campus May 24 for a "Hack for Social Good" hackathon.
The event, organized by iSchool student leaders and staff, prompted the high schoolers to design information and technology solutions to real-world problems.
Informatics Undergraduate Association diversity officer Katie Goulding, 2019-20 diversity officer Eva Perez, and iSchool Diversity Programs Advisor Cynthia del Rosario led the hackathon. They partnered with the UW Dream Project, which seeks to promote college readiness in local middle and high school students from lower- to moderate-income backgrounds.
In their work with diversity at the iSchool, Goulding and del Rosario have found that students from underrepresented minority groups often come from lower socioeconomic communities where access to technology is extremely limited. With the iSchool now offering freshmen direct admission to Informatics, these students are not as competitive for the major as those who have greater access. Goulding and del Rosario decided to launch a program for Dream Project students that would promote a clear understanding of Informatics and careers within tech, as well as offer the tools needed to become strong applicants. They were awarded an Office of Minority Affairs Seed Grant of $1,800 for their project proposal.
"The inspiration is to increase diversity populations within Informatics and increase awareness of the program through the Dream Project's already existing relationships with these schools," Goulding said.
Perez noted that awareness of Informatics as a major at the UW tends to be higher among individuals already at the university or to high schoolers with older friends in the program.
"We were worried about the cycle," she said. "If you only hear about Informatics by word of mouth, it's just going to be the same friend groups sharing this program with each other, and that's not creating diversity."
Harshitha Akkaraju, one of the kickoff event organizers and the diversity director for Women in Informatics, added, "A lot of [high school students] seem to think computer science is the only pathway to tech. That's just not true. Informatics opens up so many different careers — UX design, consulting, web development, software engineering, data science."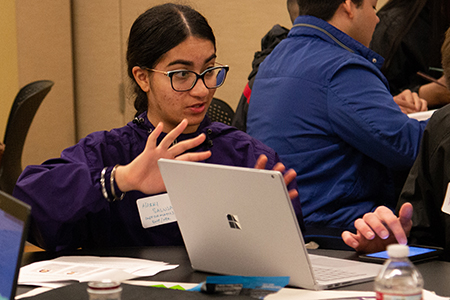 The hackathon is the first event of the "Hack for Social Good" program, and students hope to make it an annual event. With Informatics students serving as mentors for several teams of high school students, the hackathon fostered an inclusive and collaborative environment to brainstorm, design solutions, and share creations with one another. Groups either made up or chose from a selection of issue areas such as the school-to-prison pipeline and improving access to menstrual products for women and girls.
Megan, a high school junior, shared her team's choice and described how their design for an online application could be a solution.
"The problem we are addressing is water usage, specifically how to monitor the average amount used in households. Our application is going to track how much water is used and will set limits for how much can be used per day per household," she said.
One student, Aaron, decided to focus on the national trend of high school students funneling out of schools and into the criminal justice system.
"Many of these children usually suffer from learning disabilities, poverty, abuse or neglect that can influence this pathway," he pointed out.
During the brainstorming process, his teammate, Jesus, added that they wanted to design a solution that pinpointed the underlying causes of juvenile incarceration.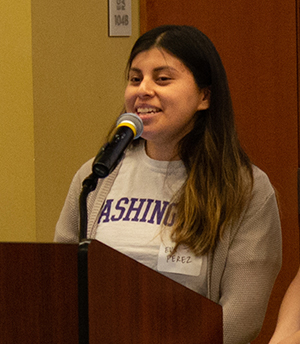 "Instead of trying to move the problem somewhere else, we're trying to directly address it," he said.
Overall, the high school students appeared to enjoy the experience and recognize its benefits. Phyllis, a junior, reflected, "Getting to be hands-on and think about problem-solving is really important. It gives us a different view of Informatics because you get to work with real people, talk about real problems and try to solve them."
Regarding underserved communities, this type of opportunity is especially important for raising leaders within those communities to have a seat at the table when addressing challenges that directly impact them.
Del Rosario spoke to the critical intervention the program represents for Dream Project students interested in Informatics and technology. "The earlier you hear and earlier you get connected, the stronger the applicant you can be. We really need to diversify our program because the people who are information professionals are the people who will be making decisions about what policy, admissions, hiring, funding and products look like," she said.
The "Hack for Social Good" team hopes to not only continue with future hackathons, but to implement a tech symposium for the fall that would introduce students to specific Informatics topics such as 3-D printing, virtual reality, cybersecurity and gaming.