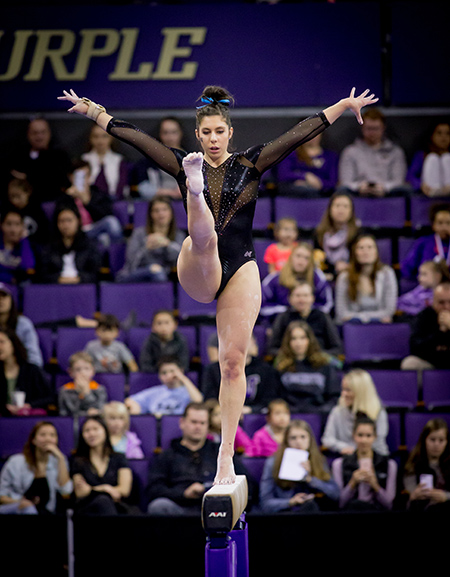 Ask Malory Rose about her love of gymnastics, and she'll give you all the customary answers. She'll tell you how much it means to her to be a part of a team, how thrilling it is to perform feats of physical skill that only an infinitesimal percentage of humans can achieve, and how proud she is to have been part of a UW squad that ended a 19-year NCAA Championships drought — then returned to the title meet again the following season.
Our conversation for this article lasted nearly 40 minutes. All of that was covered in the first five.
It's when Rose starts talking about her interests outside of gymnastics — in particular, the degree in the emerging field of Informatics that she will receive this June, and the senior Capstone project to which she has dedicated the last five months of her life — that she turns from the standard (though no less engaging) one-paragraph responses that she has probably given dozens of times to media and friends, and starts expounding with the depth and detail of a true zealot.
When Malory Rose talks about gymnastics, she's talking about an interest. When she talks about Informatics, however, she's talking about a passion.
So, what is Informatics?
"Informatics is the relationship between people, information and technology," Rose says. "I like to think of it as a cross between business and computer science. You learn some of the technical skills of coding, but also system analysis, risk management and design thinking."
A specific degree within the UW Information School — or "iSchool," as Rose and her fellow students call it — Informatics has been offered as a degree program at UW since 2000, when it was spun off from the Library and Information Science program.
As Rose describes, the program focuses on the intersection of people and technology, and specifically the ways in which people use technology to communicate, analyze and store information. Phrases like "design thinking," "entity relationship diagrams," "workplace connectivity," "toolkits" and something called "SEQUEL", or "SQL" (I confess, I had to Google it — it's a coding language) come up here and there throughout our conversation, hints at a deeper understanding of a world that nearly all of us interact with on a daily basis, but few of us ever truly consider.
It's a world of interfaces, databases and infographics, placing graduates into diverse professional fields.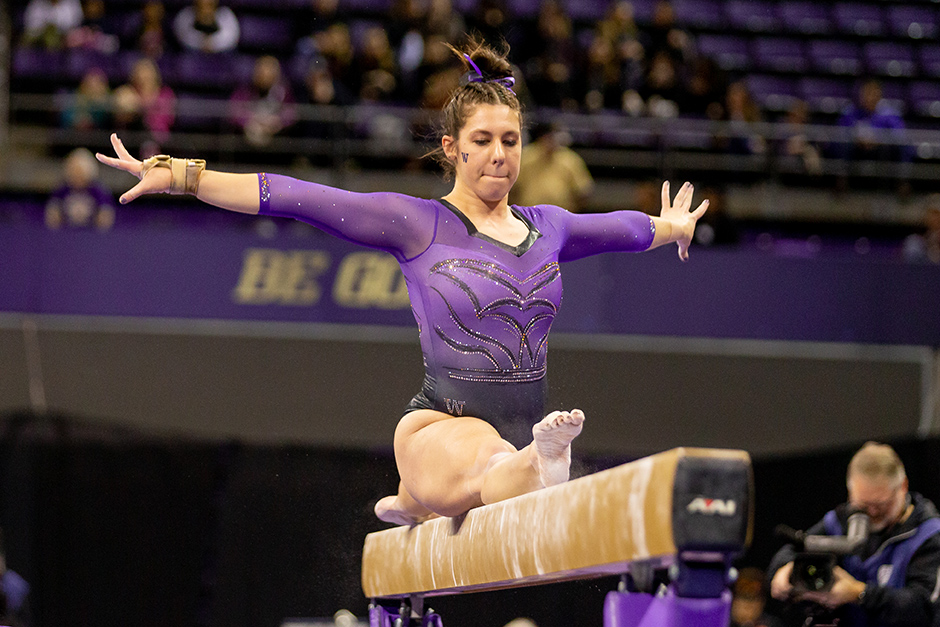 "The Informatics program prepares students to meet all the human technology needs of the state and nation," explains Dr. Matthew Saxton, the iSchool's Associate Dean for Academics. "The faculty come from the broadest range of science and social science professions — as varied as biology, philosophy, law, education, information science and engineering. People go into a variety of careers, ranging from project managers and program developers, to consulting, website design, interface design, information security, analytics, visualization ... It's a huge range of careers."
Perhaps it's no surprise then that, over the past decade, Informatics has emerged as the most popular minor at UW, with over 400 declared minors each year. In addition, the program receives approximately 800 major applications each academic year, of which only around 200 are accepted, so as to keep class sizes small and allow faculty to work more closely with undergraduate and graduate students.
When Rose first arrived on the Washington campus back in 2015, she had never heard of Informatics. Indeed, growing up in Orlando, Fla., where she first began honing her tumbles and twists and the age of 3 before following in her older sister's footsteps and joining an elite local gymnastics academy, Brandy Johnson's Global Gymnastics, Rose had always set her sights on a business degree, deciding as far back as middle school to make that her chosen path. After excelling at the junior level and earning a scholarship to Washington — "I loved the culture of the school, the athletic department, the culture of Seattle. I just fell in love with everything about this area," she recalls of her recruiting visits — she began focusing on classes that would help earn admission to the UW's famed Foster School of Business. That's when she first heard about Informatics.
"It just sounded so cool, and so relevant to any industry nowadays, because technology is being integrated into all fields," she says. "I felt that not only was it very interesting and cool, but it would set me apart from just having a business degree.
"I hope that everyone, whatever their passions are, are able to fulfill them and put all of their energy into them, like I'm doing with mine."
"I really liked my introductory database class, and design thinking, where we learned to apply different design methods to solve community problems," she continues. "For example, we found that a lot of rural high school graduates weren't pursuing higher education. So, we designed a prototype mentorship program and created all of these documents that an academic advisor could potentially use to connect students with community business leaders in fields or industries they were interested in, to get them excited or inspired to fulfill a higher education. That was really cool and fun."
To complete her degree, Rose was required to conduct a senior Capstone project, in which students work in teams to identify an information problem or need, then use the interdisciplinary skills accumulated in their four years of learning to develop a solution. Students spend the winter quarter researching their problem and mapping out their potential solution, then implement their plan during the spring quarter.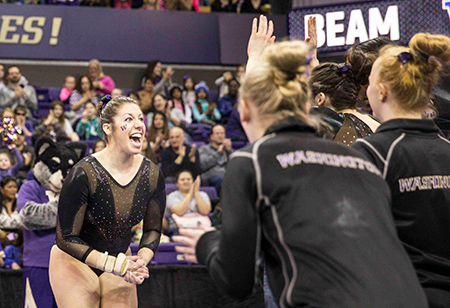 The six-month effort concludes with Capstone Day, where students gather with faculty, family, friends, sponsors and others to present their projects and celebrate the culmination of their Informatics journey. It's the most-anticipated part of an Informatics student's academic career, a chance to show off and implement all they've learned.
For Rose, though, there was a problem — the Capstone class meets weekly on Fridays, which conflicted directly with her Husky gymnastics meet schedule.
Dr. Saxton, who oversees the Capstone project, offered Rose a solution — take the graduate-level version of the Capstone class instead. With smaller teams, and less oversight and interaction with faculty — plus a higher level of expectation — it would be a bigger challenge than that faced by her fellow undergraduates. But, the more flexible schedule would allow her to participate in the project, while maintaining her vital position in the Huskies' rotation on the balance beam.
"The undergraduate program is more heavily scaffolded; it's a more structured experience," Saxton says. "The fact that Malory was willing to step up and participate in the graduate Capstone impressed me, because it's a different level of expectation."
From Rose's perspective, it was a no-brainer.
"I was very fortunate that they were willing to work with me to find an alternative," she says. "I will say that I think the undergrads are all certainly capable of doing graduate-level work, because the types of projects we do in Informatics teach us all the skills we need to do graduate-level projects. There's just less guidance from a professor, so the expectations are a little higher."
Saxton helped pair Rose with a graduate student, Caitlin Maloy, and the two of them set to work finding a problem to solve. Rose has always had an interest in the health field — both of her parents are chiropractors (a useful profession for parents of two elite gymnasts) and Rose is pursuing a minor in nutrition, so she found herself naturally drawn to something in health or fitness. It didn't take long before she came across a study conducted in 2015 to determine the value that Washington state health-care practitioners placed upon HEALWA, an online, on-call library of studies, journals, toolkits, databases and other useful resources for health-care professionals. The study found that only 20 percent of respondents were using HEALWA, but that a high percentage of those that did found it valuable, and thought it increased the quality of patient care within their practice. Of those that did not use the website, most either didn't know it existed, or had used it once or twice a few years ago, then forgotten about it. What can we do, Rose and Maloy asked, to not only raise awareness of HEALWA among health-care professionals in Washington state, but also to turn into a resource that they want to come back to again and again?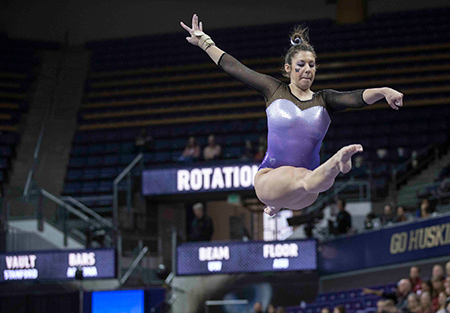 Rose and Maloy set to work interviewing health-care professionals to learn what would make them more likely to use HEALWA, and developed three main areas for improvement: making the toolkits on the site (currently organized by health specialty) more uniform, adding the ability to sort the site's resources by major health care topics (like cancer, opioid addiction, etc.), and increasing awareness of HEALWA within the Washington health community.
The first step, she says, is reorganizing the site's existing toolkits — essentially, portals from which health-care practitioners in specific fields can locate journals, eBooks and other resources pertaining to their field.
A lot of the toolkits aren't laid out the same; we want to have everything all in one toolkit for that profession, so if you're a chiropractor, you'll have all of the resources related to chiropractic services in one location," Rose says. "We are also recommending adding professions that are currently left out, like sports medicine and physical therapy, which will increase the reach of HEALWA and make it more valuable and useful.
Second, Rose and Maloy recommend adding an additional layer of organization — that is, the ability to sort the site's resources not only by profession, but by topic as well.
"Right now, there is a lot of information on the site about diabetes, suicide prevention, et cetera, but it's all scattered across different parts of the site," Rose says. "Giving each of these topics their own separate section will make it much simpler for a health care professional who is looking for information on a specific topic, so that they can take care of their patient more effectively and efficiently."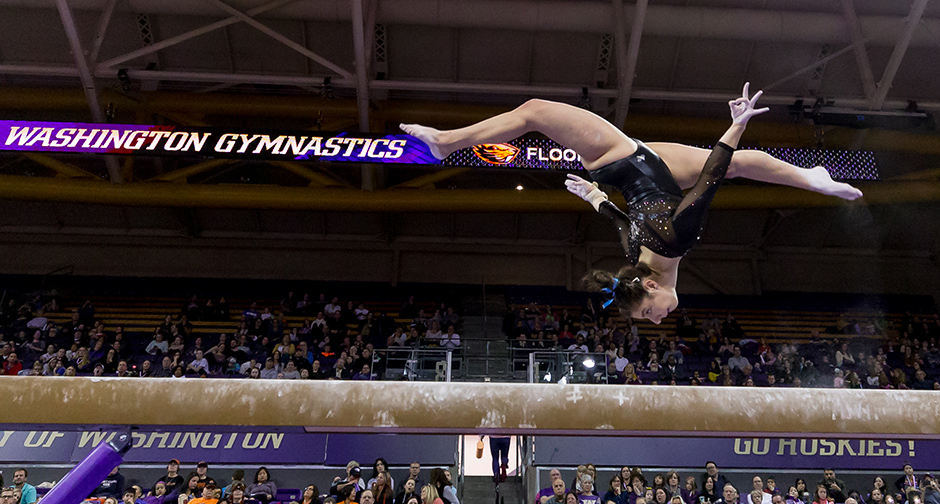 Lastly, the duo are focused on making sure that Washington's health-care practitioners are aware that this valuable resource exists.
"Part of the licensing renewal fee that a licensed health-care professional pays each year goes to fund HEALWA, so one of our interviewees recommended that HEALWA be introduced more overtly when they renew their license, whether that's adding a pamphlet or some kind of marketing paper that comes with their license, or something else along those lines," Rose says. "So, that is something we are recommending as well."
Throughout the process, Rose and Maloy have coordinated with a sponsor within the HEALWA team, who has expressed nothing but support for the duo's recommendations.
Indeed, it's possible that some of Rose's recommendations could be in place as soon as the next few months, with both short- and long-term impacts that could improve the efficiency and effectiveness of Washington's health care system for years to come.
"This specific project has the potential for a tremendous impact among practitioners," Saxton says. "We can see a real impact from making these sorts of resources available to those who are working in the field. It also extends what's currently in place, by adding more to the toolkits and enhancing the nature of what those toolkits are. It's an exemplar for people to follow."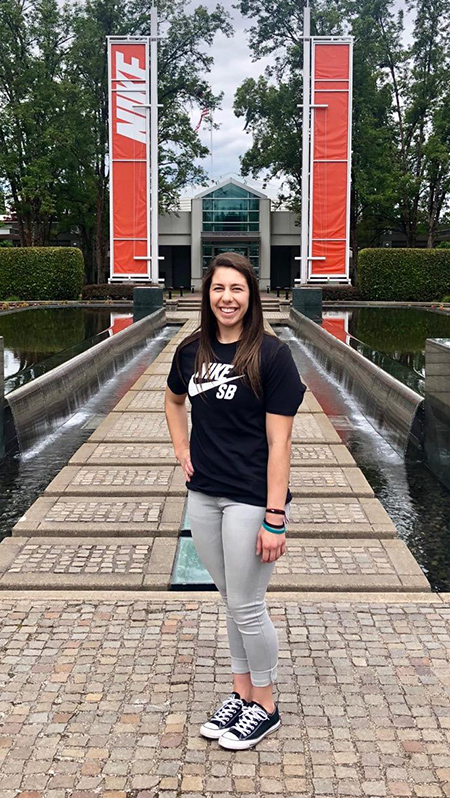 In March, Rose completed her Husky gymnastics career, capping a senior season that was her best to date, including a career-high 9.925 score on beam vs. UC Davis, and a team-leading 9.850 on beam at the NCAA Regional Championships. In June, she will complete her Informatics degree, presenting her final recommendations to the HEALWA team and exhibiting with her partner at Capstone Day, before donning her mortar board and walking in graduation ceremonies later that month. (This is as good a time as any to mention her impressive 3.64 grade-point average.)
As for what comes next — well, with an Informatics degree, the world really is your oyster. Rose was one of just 238 applicants of a field of 35,000 selected last summer to intern at Nike, where she was able to blend her passions for Informatics and health in ways that stimulated her development and sparked all kinds of exciting ideas. While she'll happily embrace any job that allows her to combine her two interests, she'd love to find herself back on the Beaverton campus.
"The Nike culture and the experience that I had there were amazing," she says. "I would love to work in product management or data analysis there. That would be cool."
Rose says that she's learned over the last four years not to be afraid to follow new pathways — they just might lead to unexpected places.
"I hope that everyone, whatever their passions are, are able to fulfill them and put all of their energy into them, like I'm doing with mine," she says.
If only we all had that much energy.
This story was originally published in GoHuskies Magazine. Photos courtesy of UW Athletics.