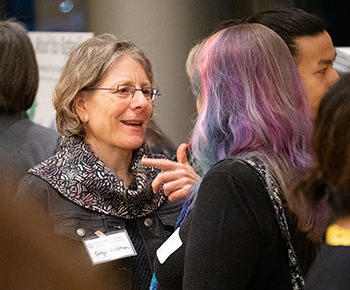 Dozens of researchers from the Information School were on hand March 14 for the 2019 iSchool Research Fair in the HUB on the University of Washington campus.
The annual showcase for iSchool research included poster displays of 65 projects, many of them accompanied by the faculty, staff and student researchers who are working on them. The displays highlighted the iSchool's research efforts in areas as varied as data science and analytics, digital youth, health, human-computer interaction, indigenous knowledge and librarianship.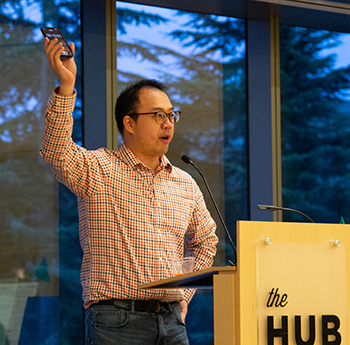 New at this year's edition of the Research Fair was a series of lightning talks by faculty members. Assistant Professor Clarita Lefthand-Begay spoke first about the importance of tribal water security, an area on which she focuses in her research. Jason Yip followed with a talk about what makes technology turn "creepy" for kids. And Assistant Professor Jaime Snyder talked about her work studying how data visualizations of personal data, like those commonly used in popular activity trackers, can have unintended impacts when used by marginalized populations, such as people with bipolar disorder.
Another new feature this year was the addition of markers on research projects with opportunities for student involvement. Those projects are also flagged in the event program.
At top, Ph.D. student Luke Rodriguez explains one of his projects from the iSchool DataLab. See more photos from the Research Fair in a gallery on our Facebook page.