The Information School welcomes two new faculty, both joining as lecturers working across disciplines.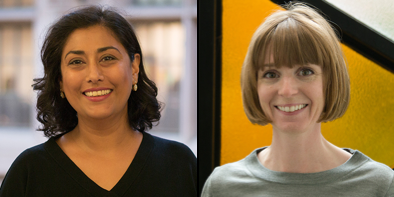 Aubree Ball (Master of Design, UW)
Ball specializes in design research within human-computer interaction, and has a background in industrial design, architectural design and product development. Her research interests focus on user-centric design methods (autobiographical, maker methods, participatory design, etc.) in relation to pervasive computing and tangible interactions. Ball will teach INFO 360 Design Methods, and support courses outside of the iSchool in Human-Computer Interaction + Design, Human Centered Design & Engineering and the School of Art + Art History + Design.
Meena Selvakumar (Ph.D., Stony Brook University)
Selvakumar is a museology professional with in-depth experience in public engagement, strategic partnerships, and science education. During her four-year term as Acting Vice President for Strategic Programs at Pacific Science Center, she implemented an award-winning science communication program and provided training of the same to a network of museums around the country. Selvakumar serves on the Board of Directors for Town Hall Seattle. She will be teaching in the UW's Museology Master of Arts program, supporting courses related to Grant Writing and Community Engagement.