Learning at the iSchool starts in the classroom — but that's just the beginning. Much of the learning takes place beyond the classroom, and those experiences can set students up for success in their careers or further education. One of the ways iSchool students can gain practical, hands-on experience is by working with professors on research. 
"It's a way for them to see research done — what it looks like, why it's exciting, where it can go wrong," said Katie Davis, an associate professor in the iSchool who often works with graduate and undergraduate students on research. "Research gives students a better connection to the iSchool. It's another way to connect with faculty and build a relationship that will last outside of the classroom." 
Yini Guan, who is working on her Master of Science in Information Management, is among the iSchool students participating in research. Guan is focusing her studies on user experience and has found that research opportunities are giving her the skills she needs to pursue a career in UX research. She's getting real-life experience before she graduates. 
Guan has worked on a few projects during her time at the iSchool. She worked with Saba Kawas, an iSchool Ph.D. student advised by Davis, as part of the NatureCollections research seminar. NatureCollections is an app that uses image curation to test whether technology can get kids more engaged with nature.
Through her work, Guan gained a better understanding the research process, including logistics and ethical standards. She's also learned skills such as how to carefully craft questions to avoid accidentally biasing the findings. 
Guan has also collaborated with iSchool Assistant Professor Jason Yip as part of the research group KidsTeam UW, in which children help shape technology and learning experiences for other kids. Yip is interested in participatory design, and Guan worked directly with kids to learn more about the process.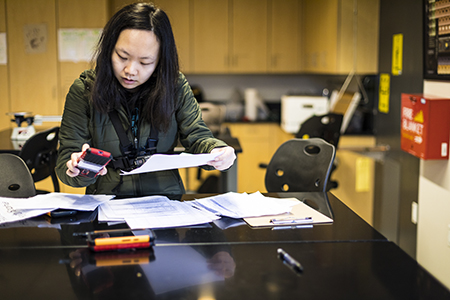 In Guan's research, she was trying to learn how best to treat children as equal partners in the design process. It was fun and interesting work. She made mazes with kids and then took turns walking through the maze blindfolded. In one session with kids, she used something simply called the "bag of stuff," which was a bag full of things such as glitter, tape and paper. She'd offer kids the bag of stuff and then sit with them and ask them to design the future of clothing. 
"I was honestly amazed how creative the kids were," Guan said. "As adults, you think of limitations. For kids, it's very intuitive and straightforward."
Guan knows her experiences with research will be valuable additions to her portfolio and resume after she graduates. And she says it's given her a richer experience at the iSchool.
"In the quarter system, you don't get to carry out the whole process. You don't get to see how what you create sits with real people," she said. In working on faculty projects, she was able to spend more time on concepts and try different iterations. "Research really complements your classes," she said. 
Jevin West, an assistant professor at the iSchool and co-director of the DataLab, knows that research is a powerful addition to students' education. He also thinks it's vital for professors. 
"Students are the engine of the research machine," he said. "They do most of the work. They spark new conversations. They ask interesting questions." 
West says that the opportunity to do research is a huge benefit for iSchool students, and can really give them a world-class education. 
"Research teaches you how to critically think about questions and how to solve them. It gives you a set of methodologies to find answers," West said. "That's a useful skill when you get a job."
While students are learning, West is also getting benefits.
"I learn as much from the students as I teach them," he said. "They come with fresh ideas, with different assumptions about the world. They bring energy and skills and work effort. When we write papers, students are often the first author. They are integral to the process. Without them, research would still be done but at a lower level. Students bring up the level of research and make it top class." 
One of the students West worked with on research was Cole Chamberlin. Chamberlin worked with West in the DataLab on projects analyzing large datasets from written publications and wrangling them into relational databases for other research projects in the lab. 
"More than any of my classes, my time as a research assistant honed my data science skills and taught me to be scrappy and pick up skills quickly," Chamberlin said. "I learned to manage my deadlines and project goals, which has been invaluable in my first job out of school. … It was great to work alongside the other researchers. Those relationships helped me flourish as a data scientist." 
Chamberlin is currently working at a startup and plans to return to academia and earn an advanced degree. The experience of undergraduate research is what convinced him he'd like to continue his education. 
"Students are the engine of the research machine. They do most of the work. They spark new conversations. They ask interesting questions." 
"It really cemented in my mind that I want to go back to school," he said. "I want to continue exploring those concepts in greater depth."
Lia Kazakova, an Informatics and Computer Science major who graduated in June 2017, also worked with West in the DataLab. Kazakova worked on the Viziometrics project, which aimed to determine whether a computer could find the visual element that demonstrated the central point of a research paper. After using an algorithm to identify the presumed central figure, Kazakova needed to determine whether what the computer had come up with was accurate. She sent out surveys to academics asking them to identify the key figures in their paper, to help determine whether the algorithm had worked correctly. 
Kazakova said participating in the project allowed her to work with smart, hard-working people. She also had a poster and paper on the subject accepted to the InfoVis conference. Spending time working on research helped her learn to make decisions when there wasn't a clear path forward. 
"It's good preparation, even for those who are not going into academia," she said. "Even in industry, the most exciting jobs are those where you have to be creative and think about the problem and no one really knows the answer." 
At top: Informatics student Nicole Kuhn works on the NatureCollections research project.