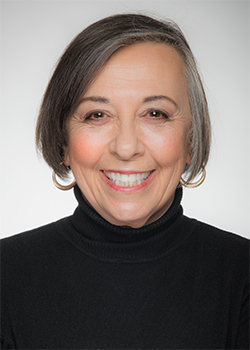 Rivkah Sass believes that public libraries are vital to a healthy community, a belief she has put to work over a long career as a librarian. Sass, a 1978 graduate of the University of Washington Information School and the library director for the Sacramento Public Library system, has been named the iSchool's 2018 Distinguished Alumna.
"I am incredibly grateful for this tremendous honor," Sass said. "I'm sure that not a week goes by that I don't talk about how grateful I am to have gone to the University of Washington and how much that education meant to me."
Sass took leadership of the Sacramento Public Library, the fourth-largest library system in California, in 2009. Prior to that, she was director of the Omaha Public Library and has served in a number of roles throughout a long career in libraries, including as a children's librarian, a continuing education coordinator and a reference and information services coordinator. She received a bachelor's in political science from Sonoma State University in 1974 before going on to earn her Master of Librarianship at the UW. Sass was also honored with the iSchool's Notable Alumna award in 2001. In 2006, the Library Journal named her Librarian of the Year.
When Sass took the job in Sacramento, the library system was struggling. She welcomed the challenge, and now leads a library system that is nationally recognized for its innovative programs. She describes her job as being the CEO of a nonprofit with a budget of $48 million, 28 locations and about 300 employees. But much more than the numbers, she sees her job as supporting the community.
Sass has led the library as it created a number of innovative projects, including a lending library for items as varied as GoPro cameras and pressure washers. She's particularly proud of a program she began called Let's Talk About, which encourages civil conversation on topics such as homelessness, bullying, racism and suicide.
She's proud that the Sacramento Library is growing and changing to meet the needs of the community.
"Libraries are about creating opportunities for people," she said. "I love that it's a place that has evolved as much as society. Libraries have gone from being a place only for books to a place that can help adults learn to read or help refugees settle into America. … We still fill the traditional roles of a library, but we do so much more, too."