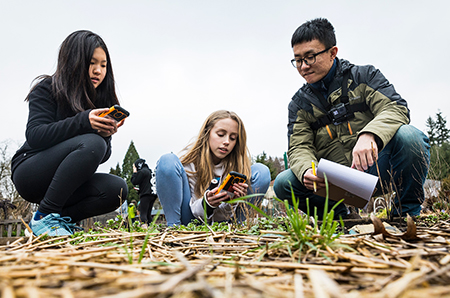 NatureCollections, an app developed by researchers at the University of Washington Information School and School of Environment and Forest Sciences, has been a hit with parents and kids during trials. Now it's taking a step toward reaching a bigger audience.
The team behind the app recently won a $50,000 award to explore its commercialization potential. The Population Health Innovation Award, funded jointly by UW CoMotion and the Population Health Initiative, supports entrepreneurial innovations that seek to improve people's health and well-being. The funding is intended to bridge the gap between grant-funded academic research and the level of development needed to attract seed funding from investors who are looking to make a commercial or social impact.
iSchool Assistant Professor Katie Davis, who is leading the research project, said the funding will allow her team to do market research and identify the best ways to reach potential users of the app, which encourages kids to connect with nature by allowing them to build photo collections in categories such as plants, birds and landscapes.
"From the beginning, we knew that we wanted the app to be more than just a prototype and we wanted to make it available to the general public," Davis said. "We didn't specifically think about commercializing it; we just knew we wanted a way to be able to get it out there."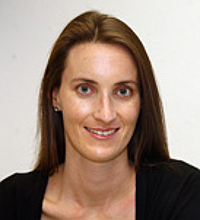 She turned to CoMotion, which works to support innovation and launch startups at the UW. Davis applied for funding through the CoMotion Innovation Fund, which gives projects a chance to compete for funding based on their market opportunity and probability of making a social or commercial impact. After a presentation to CoMotion and local investors, NatureCollections was among this spring's nine winning teams. Others include scientific advancements such as a non-invasive device that monitors blood circulation and a method of removing fluoride and arsenic from drinking water.
NatureCollections researchers are in the midst of a three-week deployment study during which they have loaned smartphones loaded with the app to children ages 8-13. In addition to Davis, the team includes iSchool Ph.D. student Saba Kawas; Environmental and Forest Sciences Professor Josh Lawler and Ph.D. student Sarah Chase; and numerous students from the iSchool, the College of Education, Human Centered Design & Engineering and other UW programs.
"Everyone seems to be super invested in this project, so we have a lot of students who want to continue working on it through the summer," Davis said.
Initial funding for the project came from a $400,000 UW Innovation Award in 2016. The added funding won't immediately put NatureCollections in the App Store, but it's an important first step toward a broader audience. It improves the chances that more kids will use the app down the line, creating more connections between kids and the outdoors.
"I'm really excited by the prospect of getting my work out there and having it used by the public, and seeing my work benefiting kids and their families," Davis said.
Learn more at the NatureCollections website.