"Surviving and thriving in the era of tech disruption" was the theme of iAffiliates Day, the Information School's annual showcase for engagement with corporate and community partners. The event took place on May 3 at the Intellectual House on the University of Washington campus.
iAffiliates Day began with a welcome from iSchool Dean Anind Dey and a series of short talks on innovation from Professor Jacob Wobbrock, Master of Science in Information Management student Laura Blanford and Informatics student Isaiah Barhoum.
Wobbrock discussed the concept and implications of "radical personalization," the increasing emphasis on personally tailored experiences in consumer culture.
"AI, machine learning and big data are going to make radical personalization of products, services and customer experiences widespread. We're talking far beyond just targeted ads," Wobbrock said. He noted that this level of personalization is in extreme tension with privacy, but is still bound to happen because consumers demand better, more tailored customer experiences.
Blanford, who is in the mid-career MSIM program, focused on the proliferation of beauty bloggers and how they have disrupted the market for beauty products. With millions of people posting videos on the topic on YouTube and putting photos on Instagram, some have become extremely influential, she said. Barhoum discussed how blockchain ensures security by distributing transactions across a vast data network. He explained how businesses will feel its effects.
Vanessa Pegueros, vice president and chief information security officer at DocuSign, delivered the keynote address, which focused on how security needs to be part of the innovation process. Pegueros talked about the constant race between cybersecurity professionals and cybercriminals.
"Through our innovation, we are creating new targets for the cybercriminals," she said. "If you don't develop security as part of that innovation, you're fueling them." She said the threat of cybercrime is a huge threat to technological advancements such as the Internet of Things, and even a threat to democracy, given the risk that elections can be hacked.
iSchool Associate Professor Hala Annabi led a panel discussion on diversity and inclusion in tech. Panelists included Raymond Chan, managing director of digital platforms at Accenture; Jen Guadagno, senior inclusive hiring manager at Microsoft; and Jon Jenks-Bauer, director of recruiting at BECU. The panel highlighted inclusion initiatives and their efforts to recruit and retain people of color, women, people with autism and others who are underrepresented in workplaces.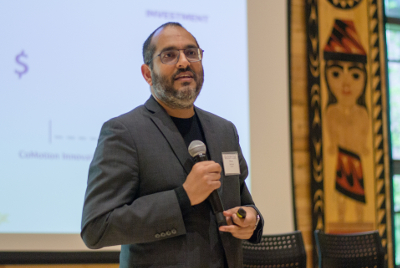 Vikram Jandhyala, the UW's vice president for innovation strategy and executive director of CoMotion, spoke about the startup culture at the university and CoMotion's role as an incubator. The event concluded with presentations by a trio of teams working on innovative Capstone projects at the iSchool.
Master of Library and Information Science students Alice Erickson, Cynthia Graff and Kelly Chandler spoke about their work involving children in participatory design at the Columbia City branch of the Seattle Public Library. Their project involved a series of sessions intended to explore the use of 3D printing at libraries.
MSIM students Dania Tanzil, Manas Thakre and Timothy Pace spoke next about their Capstone project, in which they are partnering with T-Mobile to classify advertising traffic on the mobile network. In the coming years, Tanzil said, "Mobile traffic and mobile users are going to become the primary target for fraud advertising and malicious bots." Using machine-learning techniques, the team is able to identify advertising traffic on the network with a high degree of certainty, an important first step for T-Mobile in policing such traffic in the future.
The day's final presentation belonged to Informatics students Omar Khan and Ruihe Li. Their Capstone project focuses on creating smoother sharing of medical records while still complying with federal laws that protect patient privacy.
The iSchool's iAffiliates program is designed to connect strategic partners with faculty and students. The school tailors engagement plans to partners' goals and provides ways for them to participate in the school's intellectual community, recruit students and take part in other activities. Partners make a monetary investment that furthers iSchool teaching and research.