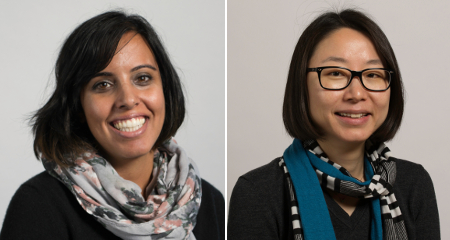 Public libraries have always been places to let your imagination run wild. A good book or a DVD can take you on an adventure to another world.
So, too, can virtual reality, where you can put on a headset and feel as if you've been transported anywhere on Earth – or even beyond.
That would seem to make public libraries and VR a perfect match – with the right training and programming for users. That's where Information School researchers come in. Led by Assistant Professor Negin Dahya and Associate Professor Jin Ha Lee, an iSchool team is investigating how libraries can make the most of VR's potential to help people learn and explore.
The researchers will study the deployment of VR in six public libraries that are part of a Washington State Library pilot program. The Washington State Library is funding the $177,000 study through a partnership with Oculus VR, a Facebook-owned company that has a large and growing presence in the Seattle area. When Oculus approached the state library about donating VR gear, State Librarian Cindy Aden, an iSchool alumna, brought up the idea of conducting research to learn best practices for libraries.
"I decided we needed to do something that was really going to get results," Aden said. "So that's when I talked to them about involving the iSchool, and starting with a six-month pilot so that we could really get some data about how VR was working and how people responded to it before we did a rollout across the state."
"Oculus was very excited" about the idea of a research project, Aden said. The company will donate a total of 50 VR headsets to Washington's libraries, with the bulk of them distributed after Dahya and Lee complete their research this summer.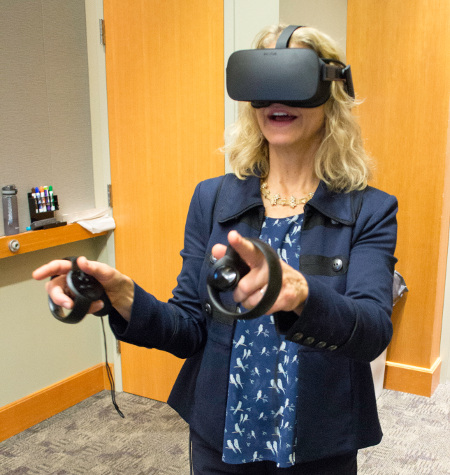 The libraries taking part in the pilot program are in a mix of urban, suburban and rural settings, with a diverse population of users. They include six libraries and branches in Tukwila, Federal Way, Puyallup, Mount Vernon, Hoquiam and Shelton, plus a seventh site, the King County Library System's Youth Services Center. Aden said every public library in the state will be able to provide users with a chance to experience VR, with some smaller libraries sharing the equipment.
Dahya said the iSchool team is starting by working with librarians to identify programming that is suitable within each individual library setting. Users have to be at least 13 years old and will be given 15-minute blocks in which to learn how to navigate in VR and explore a virtual environment such as the White House or the International Space Station.
"I think there's something about VR that really invites you to dream and envision a technological future in a way that feels like science fiction but is happening now," said Dahya, an expert in digital media and learning. "We have to be thinking carefully about which of the experiences they can dive into with minimal training, while still doing something that is going to be interesting."
Dahya said the researchers hope to work with librarians to incorporate the other resources at their disposal to enhance VR's potential.
"If we were to use an ocean program, then maybe the librarians would also draw on their oceanography or marine life resources and have some kind of display or activity – something that would not separate VR from what the library already has to offer," she said.
Dahya, Lee and iSchool graduate students will conduct field research at the pilot sites, observing users and surveying them to gauge what types of experiences will be most engaging and educational for users.
"We're planning to talk to these librarians and really learn about the libraries' context, who their users are, what works and what they need," said Lee, who has extensive experience studying gaming. "We're trying to find the VR experience that works best for them."
Professor Carole Palmer, the iSchool's associate dean for research, said the project illustrates the iSchool's leadership in promoting and studying the evolution of libraries. The future of libraries is among the school's key research focus areas.
"It's really distinctive and the research outcomes will potentially be quite valuable," Palmer said. "The results will make a contribution to the field at large in determining the best ways to use these kinds of technologies for learning experiences, and for recreation as well."
Once their study is complete, the researchers hope to share their results widely to help more libraries take advantage of VR's potential. Aden, the state librarian, will then have the data to help make Washington a model for bringing the technology to public libraries.
"We're so perfectly positioned here in Washington state, to have the iSchool and to have two principal researchers, one who has a background in gaming and one in education," Aden said. "They're the perfect people to be doing this project. It's really a delight to work with such creative and competent individuals in such a path-breaking project."