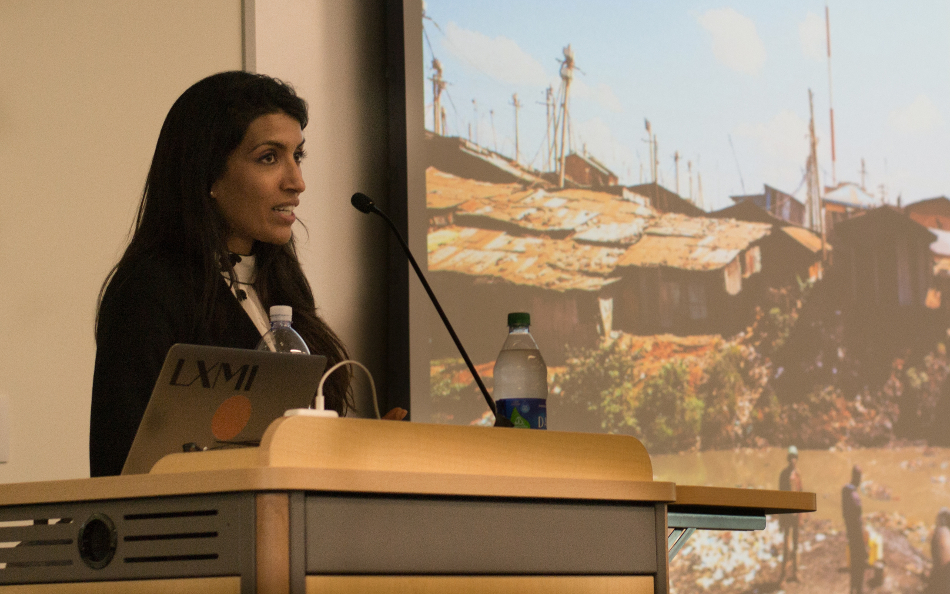 Tech entrepreneur Leila Janah is on a mission, and while speaking at an iSchool Research Symposium on Wednesday, Oct. 18, at the University of Washington, she encouraged everyone to join her cause.
"I think that when we unleash human potential by giving work, we can change the world," she told the audience at the HUB.
Janah is the founder and CEO of Samasource, a nonprofit that works to move people out of poverty by connecting them with technology-related jobs. She discussed the concept of "giving work": providing jobs in poor countries as an alternative to traditional forms of charity.
Janah said that despite efforts by the United States and others to send monetary aid, richer nations have made little impact toward lifting people out of poverty in places such as sub-Saharan Africa. Instead, governments and middle men capture the bulk of the money and the benefits, she said.
"What is the most effective way to give someone cash? It's to give him or her a job that not only provides the short-term benefit of a cash infusion, but provides many of the ripple effects of a job, including a psychological benefit of going to a place of work every day," she said.
She described how Samasource has been able to provide jobs at a living wage in poverty-stricken countries such as Kenya and Haiti. Jobs lead to growing tax bases that in turn force governments to become more accountable for how they spend taxpayer money, Janah said.
"Even if that system is far from perfect, that social contract can be a very powerful force for change and civic action," she said. "It's what gets people angry when the government doesn't resolve their local problem."
Janah has been profiled in the New York Times, Fast Company, Wired, Forbes, Glamour, Real Simple, and Inc. and was named one of Fortune's "40 Under 40" this year. Her new book, "Give Work," describes how businesses can take a significant step toward fighting global poverty by including economic diversity in their supply chains.
iSchool Research Symposia are held periodically throughout the academic year and are open to the public. Janah's appearance was co-sponsored by the DUB Group and the Allen School of Computer Science & Engineering.