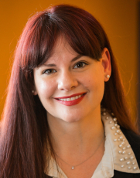 MLIS law student Elizabeth Manriquez has earned the 2017 Earl Borgeson Research Award in Law Librarianship for her paper, "Stronger Together: Embracing Google and Linked Data in Law Libraries." Manriquez's paper will be published in the journal Legal Reference Services Quarterly. The honor carries a $1,500 prize.
In her paper, Manriquez evaluates the use of linked-data technology in law libraries and argues for its widespread adoption. Linked data is a method of publishing structured data so it can be interlinked and made more useful through semantic queries. Manriquez said a lecture from iSchool Associate Professor Allyson Carlyle sparked her interest in finding out whether linked data is viable for law libraries.
"I was drawn to the technical side of library services very early on in the program and wanted to choose a topic that would allow me to explore an area of law librarianship that most people don't think about: the data behind the documents," she said.
The Borgeson Award was established in 2000 to encourage scholarly research in the field of law librarianship. Each year, students in the iSchool's top-ranked law librarianship program write a major paper about an important contemporary topic affecting the profession. These papers are submitted to a panel of nationally renowned law librarians who select the best piece.
The judges this year were Michael Chiorazzi, UW Law Librarianship (MLIS Law 1981), Director, Law Library and Professor of Law, University of Arizona College of Law Library; Richard Danner, Rufty Research Professor of Law and Senior Associate Dean for Information Services, Duke University's J. Michael Goodson Law Library; and Marguerite Most, UW Law Librarianship (MLIS Law 1977), Reference Librarian and Senior Lecturing Fellow, Duke University's J. Michael Goodson Law Library.
Earl Borgeson, MLIS Law '49, served as president of the American Association of Law Libraries (1968-69) and was professor of law and librarian at Harvard Law School. He died in 2010. With the help of alumni and friends of the Law Librarianship Program, the Borgeson Award has now been endowed, ensuring that it can be awarded every year in perpetuity.