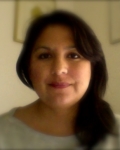 Sandra Littletree, a Ph.D. candidate at the UW Information School and member of the Diné/Navajo Nation, was among five researchers to receive the inaugural Cobell Summer Graduate Research Fellowship.
The aim of the program is to support American Indian and Alaska Native student researchers who might not otherwise have access to funds to conduct research and related activities during the summer months.
Each will receive a cash stipend to defray costs associated with summer research, a faculty mentor on their campus, access to the Director of Research and Student Success at Indigenous Education Inc., and opportunities to network with the other Cobell Fellows.
Littletree, whose research interests include indigenous librarianship and indigenous systems of knowledge, says she plans to use the funding to continue her research on the history and development of tribal libraries.
"I hope to be able to visit some tribal libraries with this funding, and to use archives that hold some of the historical records of tribal library development," she says.
The Cobell Scholarship is named in honor of Elouise Cobell (Blackfoot Confederacy), a banker and activist who in 1996 filed a class-action suit demanding back payment of funds from the Bureau of Indian Affairs. Thirteen years later, the federal government settled for $3.4 billion, the largest settlement in U.S. history. A portion of those funds, $40 million, was set aside in the Cobell Education Scholarship Fund to benefit American Indian students.
Cheryl Metoyer, iSchool associate professor emerita and adjunct associate professor emerita in American Indian Studies, sees a strong connection to iSchool values and the Native North American Indigenous Knowledge initiative.
"Elouise Cobell recognized inaccurate information, sought to correct the record, and knew that information could positively change Native American lives," says Metoyer.
"Happily for us, Sandy Littletree is among those honored by receiving a scholarship that recognizes the intelligence, skill, wisdom and persistence of an extraordinary Native American woman."