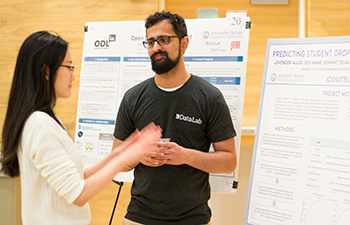 Information School researchers got a chance to celebrate and share their work at the 2017 iSchool Research Fair.
The March 9 fair featured 64 posters and exhibits representing the breadth and depth of research at the iSchool. The exhibits addressed topics such as how rumors spread during a crisis, open data initiatives at libraries, accessibility efforts in teaching and computing, and dozens of other projects undertaken by iSchool faculty, students and research staff.
During her remarks at the event, Carole Palmer, Associate Dean for Research, lauded the "extraordinary collective of accomplishments and impact" on display. She noted there were 45 percent more demonstrations and posters than at the same event two years ago.
"All this vibrancy of all these ideas, and the resolve that we have to solve problems and improve people's lives. All of the tangible evidence that we have in front of us, the progress of actually doing that and contributions here … I find that really uplifting," Palmer said.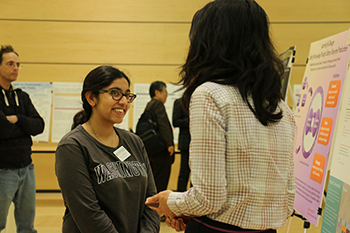 She cited the influence of iSchool Dean Harry Bruce in the growth of the iSchool's research efforts. Funding for research has grown four-fold during his 11 years as dean. Bruce is stepping down after this academic year.
"I think we have the fullest rendering of our research that we've ever seen, and really it's not just the intellectual life of our school. I really think it's the research spirit of the iSchool as it has been transformed by Harry Bruce," Palmer told the crowd at the HUB.
In his remarks, Bruce said the Research Fair was an illustration of the school's growth and a sign of even greater things to come.
"You look at the tremendous variety of expressions research and scholarship that are now present within the school," he said. "Here we have this powerhouse of potential."
See the full list of projects in the Research Fair program or see photos from the event on our Facebook page.