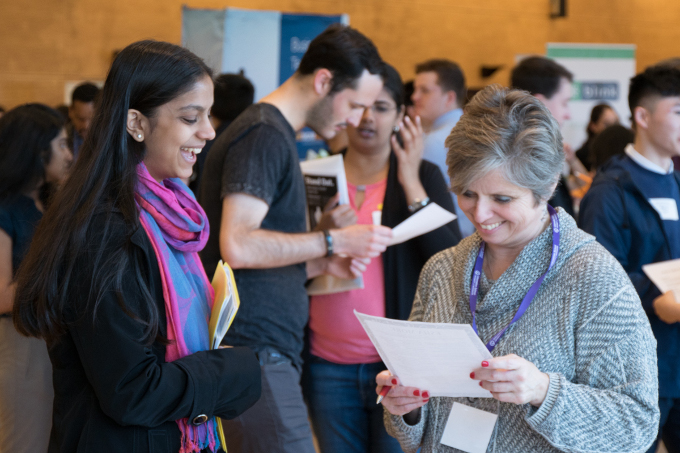 Armed with resumes and elevator pitches, hundreds of students from the Information School and across the University of Washington visited with recruiters from dozens of employers at the iSchool Career Fair on Jan. 31 at the UW HUB.
For students, the annual event is a chance to meet with potential employers or line up possible internships. For employers, it's a chance to pitch their companies to future information professionals who will be in demand when they graduate.
Among the recruiters was Holden Stegman, who graduated with a degree in Informatics last year. Stegman now does software development at Azuqua, a Seattle-based startup that specializes in software integration. He eagerly volunteered to represent the company at the career fair.
"I landed the job at this same career fair last year, so I jumped at the opportunity to come back," he said. "It helps that I was a T.A. at the iSchool, so seeing my students walk around, it gives you kind of a leg up to say, 'Hey, I know you. Let's talk and see if Azuqua might be a fit for you.'"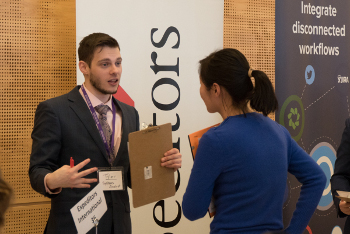 Tyler Fruichantie, an alumnus of the iSchool's Master of Science in Information Management program, was there representing Expeditors International, where he works as a systems analyst.
"It's different being on this side of the table versus being a student growing up here, giving my spiel," Fruichantie said. "I have some familiarity with projects and classes and where they might be a good fit. I kind of know what they're looking at."
Khiem Nguyen, a full-time MSIM student, said he found an internship with G.E. through last year's career fair. This year, he was looking for potential landing spots after graduation.
"I want to work for a company where the product they have matches my interests. Does it have a vision that I can align with? Are they solving problems for consumers?" he said. "And the culture is important: Does it have a culture where I can see myself?"
With 43 employers represented at the fair, there were plenty of opportunities to explore. Among the companies were fair sponsors Avanade, BCG Digital Ventures, Deloitte, Microsoft and LabKey Software.
Along with tech companies, libraries were well-represented at the fair, with employers such as the King County Library System, the Oregon State Library and Sno-Isle Libraries.
"We're interested in students who are interested in directed fieldwork or Capstone opportunities," said Marian Mays of the Washington Talking Book and Braille Library. The library was particularly seeking students for high-priority projects such as a book list and website resource list for adults who want to learn Braille.
iSchool students got the first hour of the career fair to themselves, with hundreds more UW students flowing in throughout the afternoon. In all, 830 students attended, including 395 from the iSchool.