A little more than a year ago, Mano Barkovics didn't know much about virtual reality. He thought it was interesting, sure, but didn't believe in its ability to truly immerse a person in a virtual world.
That all changed with a class at the University of Washington's iSchool and a project to create a virtual reality underwater submersible.
Barkovics, who intends to major in Informatics, took INFO 466 with Lecturer Ran Hinrichs. The class is conducted entirely in the virtual world, using the Second Life platform.
"I learned how much I loved VR in that class," Barkovics said. "It gave me a passion that has turned into a hobby and into my life's work."
He enjoyed it so much, and has such an aptitude for the skills needed, that he now helps teach the VR class as a teaching assistant to Hinrichs.
To conclude the class, students tackle a real-world project. Barkovics and his team found a particularly intriguing challenge with OceanGate, a company based in Everett, Washington, that has created a small ocean submersible called Cyclops.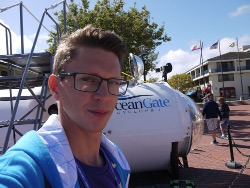 Barkovics and his team wanted to see what they could do with a VR submersible.
The students visited Cyclops and documented it carefully. They also interviewed the Cyclops team.
The students then created a 3-D model of the sub using Maya, 3-D animation software, and exported it into Second Life. In about two weeks, the students had created a virtual submersible that could navigate the virtual oceans, making a user feel like they were exploring Puget Sound.
The project was well received by OceanGate and fellow students.
Hinrichs was impressed, but not surprised, by how quickly the students brought the project together. He says the collaborative, immersive abilities of VR make it easy for teams to create a project quickly.
Additionally, by working with a real-world customer, students gained valuable skills, Hinrichs said.
"When they take on a customer like this, they have to think holistically," he said. "They have to think of all the elements: Design, marketing, script, filming, uploading. They tend to form little micro companies."
The knowledge the students already had from their time in the iSchool also helped them pull the project together.
Barkovics said two classes were particularly helpful: Design Thinking and User Experience / Information Architecture. Those classes taught him how to carefully reflect on ideas before starting design work, and then, after the design is finished, to include time for careful analysis and reworking.
For the OceanGate project, that meant the team started by building simple objects, just to see how they appeared in the virtual underwater environment.
"Our original submersible was nothing but an oval wooden shape, but it truly helped us to plan our concept from sticky notes to 'reality,'" Barkovics said
For the final project, the students took their audience on an expedition in the virtual Cyclops. They explored shipwrecks and undersea volcanoes. They observed marine creatures and fixed the leak on an underwater pipeline.
Christian Sarason, the executive director of OceanGate Foundation, a non-profit partner of OceanGate, was invited to observe the presentation. Sarason wasn't involved in the students' initial work and didn't know what to expect.
"I thought, sure, that sounds interesting. I'll hang out and watch and give feedback on what it looks like and whether it could be useful. It seemed like a really intriguing project," he said. "So I got online and started watching and I was blown away."
Sarason said the students did a great job of tying the different pieces together. It made him look at virtual reality in a new way.
"I had never thought of using a virtual world as a way to do that kind of outreach," he said.
Sarason's job and passion is to get other people excited about oceans. He says virtual reality could be a powerful way to reach people.
"One of the challenges we have overall in oceanography, across the board, is it is really challenging to have people understand the size and breadth of the ocean and the impact that the ocean has on life on Earth, he said. "I saw what they had pulled off and started thinking about the ability to use virtual technology as a way to get better engagement with students around ocean issues."
Around the same time iSchool students were working on their virtual reality project, Sarason was working with Seattle Central College students who were building a 360-degree camera to show what a trip in Cyclops looked like. Those students submitted a proposal and were invited to present at the Oceans16 conference.
Sarason also invited Barkovics and Hinrichs to join them at the conference. Barkovics presented on a panel about the project.
Sarason said it was exciting to see virtual reality presented in a new way for oceanography. He said he can see virtual reality becoming an extremely powerful tool for team building and problem solving — beyond its already powerful use as a way to scientifically visualize a specific process.
Sarason said the teamwork of the group impressed him. It was clear to him that team members made the most of every member's strength.
"It really speaks highly to the culture that Ran is building and the freedom he gives the student teams. They're all taking it seriously and doing a great job," he said. "It's pretty clearly that the skills that they are getting, or already have, are going to be in high demand."
Hinrichs agrees that virtual reality skills are going to be valuable for students, and he also stresses that just as important is having a wide base of knowledge, like students are gaining in the iSchool.
"Virtual reality skills are going to bring in top dollar, but you have to be able to do it all: Learn many different software packages almost instantly, design with a client in a collaborative environment, and of course have that wacky skill — the one where you'll build a submersible in a virtual world."