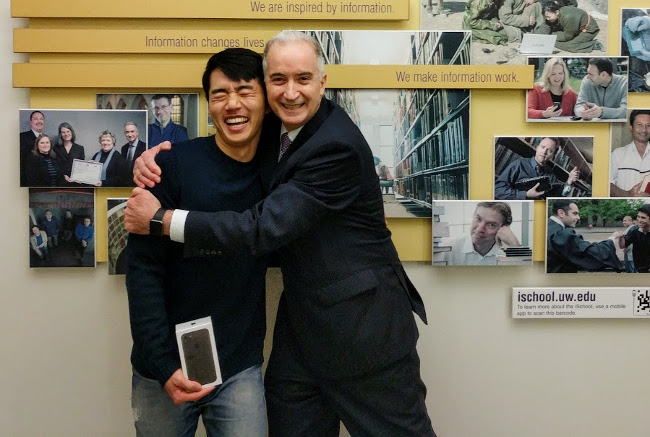 Sang Ouk Kim, a senior Informatics major, recently won InfoSys's nationwide "Join 2 Dots" social media contest, earning an iPhone 7.
For the contest, InfoSys asked entrants to connect two dots in a creative way, showing that while artificial intelligence can do almost everything people can, imagination remains the realm of humans.
Kim's entry, a continuous line depicting a light bulb, earned 257 likes on Instagram, making him the winner.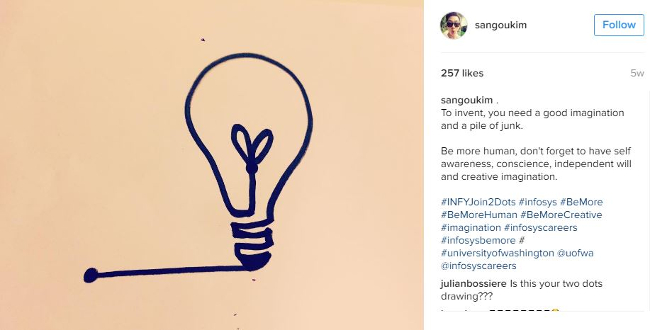 "When I was brainstorming my drawing ideas, I first thought of Thomas Edison," Kim said. "He is one of my favorite inventors because so many people were able to benefit from the light from his invention, an incandescent lamp. I believe that if we develop the technology focused on human and improving human life, I think our future is very bright."
iSchool Dean Harry Bruce presented the prize to Kim, who said several factors drew him to the Informatics major, including the curriculum and fellow students in the program.
"I really liked how UW Informatics program's curriculum is so diverse and how every class teaches about interesting topics related to humans, computers and technology," he said.