Past Student Experiences
The talented middle and high school attendees of the 2021 FearLess Tech More Innovation Challenge created the projects shown below, with no prior experience in design or prototyping prior to the Innovation Challenge. They used their mentors, the videos and resources provided, and their amazing on the spot thinking skills to produce high level prototypes on a topic meaningful to them and society.
"I participated in the FearLess challenge as a senior right around when I was starting to apply to colleges, and it really helped me solidify my interest in UX design and Informatics as a prospective major. I loved the format of the event — how you aren't just thrown into designing something on your own, but instead have the first couple days to learn about concepts and view tutorials on software before actually applying those learnings over the next few days by creating your own prototype with a team. It gave me a lot of insight into both the Informatics major at UW and Informatics as a whole in a very fun and casually competitive way — I'd strongly recommend it to anyone who's interested in pursuing Informatics or just wants to explore the skills it involves in any way!"
— Neha Venkatesh, Redmond High School; 2021 FearLess Challenge
Student Projects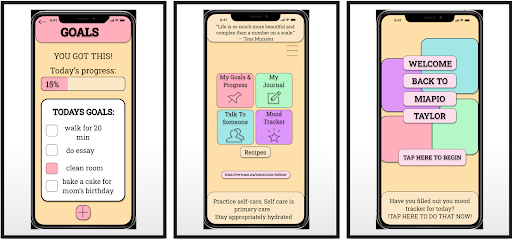 Above are a couple of screenshots of a winning project. These students were trying to solve a problem dealing with teenage body image. "Teenagers who face body issues do not have real solutions to combat these issues that do not involve therapy. Therefore these teens don't try to overcome their issue." To combat the problem they identified, they created a Figma prototype, showing how technology can help them solve problems for social good. "Our solution is to create a safe place for someone who is trying to recover by giving ways to express themselves to a safe and healthy community, not only that they will have things like a journal, goals and progress, a mood tracker and a discussion room, in order to keep track of their progress."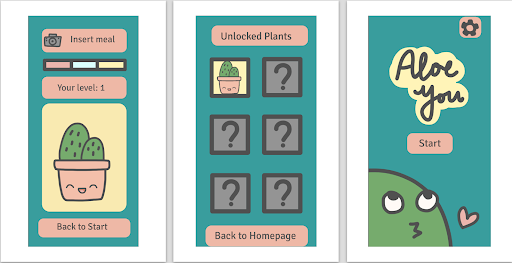 With their project, as shown above, this team's chosen problem space had to do with providing a supportive environment for others. "Many people do not have a friend or a support system to check up on them and make sure they have eaten. Nutrients in food maintain your body's everyday functions and support the activities of day-to-day living. However, many individuals have the unhealthy habit of skipping meals, whether they skip meals because of insecurity of weight gain or happen to be too busy to fit certain meals into their schedule, skipping meals is an issue that needs to be resolved but is often dismissed. Skipping meals can cause individuals to have poor performance during school/work, restricted brain function, complications with blood sugar, heartburn, and more."
Their Figma prototype design solution was aimed at creating a game focused on self care. "For plant lovers or individuals who have the unhealthy habit of frequently skipping meals, this app serves as self-care in the form of a game. 'Aloe You' provides users with support to refrain from skipping meals and aims to motivate users to consume enough food to minimize health risks and provide fuel for the users' favorite activities. Users will begin with a default level 1 cactus and can submit images of their meals for a certain number of continuous days before they can 'level up'. As users level up, plants will grow and eventually let users unlock new plants. If a user does not submit images of their meals for a period of time, motivational messages could show as notifications to remind them that they are valued. (The plant will not die)."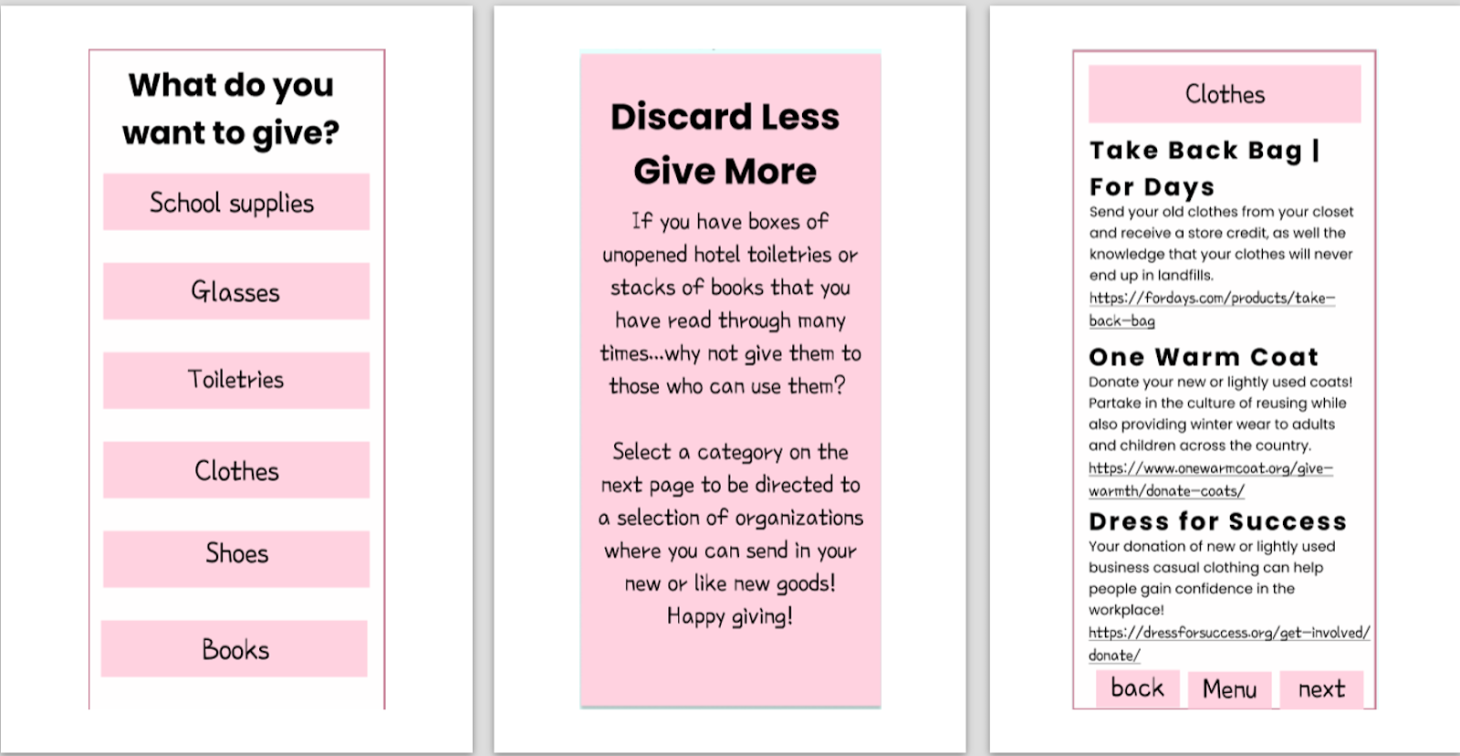 "We were trying to address a common problem that we saw in the world; while there is tons of waste being produced (often items are thrown out simply because they are old, but have not lost functionality), there are still people who do not have the basic necessities they need to survive. Also, often when people are looking for places to donate, they may not have enough time to vet the organization adequately and feel discouraged, especially if they are busy (in the process of moving, for example). We wanted to make a tool that would make it easy to donate things people didn't know they could donate, like old glasses, books, and shoes. This would make their lives easier because they can donate things that work well but that they don't have a use for anymore, and also help those who receive the donated goods. This would help bridge the information gap and make it simpler to give back. Our solution was to create a central database in which people could find reliable nonprofit organizations to donate their items. This would allow people who have a hard time finding good places to donate their items to do it quickly and easily. We were cognizant of the fact that including too many organizations might be counterproductive, but too few would mean that people wouldn't find a good fit. We settled on organizations that were reputable and accepted a relatively wide range of products, so everyone would find what they were looking for. Hopefully, this easy alternative would encourage people to donate old and used items like books or clothes to charity rather than throwing them out, and allow these goods to continue being of use for more people."
Students have the potential to bring change and shape the world around them using the power of technology. The FearLess Tech More Innovation Challenge intends to expose middle and high school students to the different disciplines in technology and how they can gain exposure to the opportunities in store for them in Informatics and other tech majors.