Your Support Matters
Information changes lives. It drives economic development, builds community, equalizes opportunity and sparks innovation. By offering top-tier academic programs and conducting trailblazing research with social, cultural and organizational impact, the UW iSchool develops solutions to today's most crucial information challenges and produces graduates who will address challenges not yet imagined.
Private support has never been more important. Every gift makes a difference to the quality of the education we can provide and the research we conduct. We are deeply grateful for the continuing support of our alumni and friends, whose contributions are creating opportunities and providing much-needed resources.
Our top priorities
Center for an Informed Public: Your gift will support the interdisciplinary research and outreach center's mission to resist strategic misinformation, promote an informed society and strengthen democratic discourse.
iSchool Fund for Excellence: Your gift allows the dean to respond quickly to emerging opportunities for our students, faculty and programs. This includes creating unique learning opportunities for students, recruiting and retaining excellent faculty members, and participating in community events that impact the information field. In 2020, the fund is being dedicated to students' emergency needs in response to the COVID-19 pandemic.
INFO 20 in '20 Scholarship Fund: Join us in celebrating the 20th anniversary of the iSchool's Informatics program by supporting the next generation of INFO students. By making a gift to the INFO 20 in '20 Scholarship Fund, you will be supporting tomorrow's information leaders and will be ensuring greater diversity, equity and inclusion in the tech industry.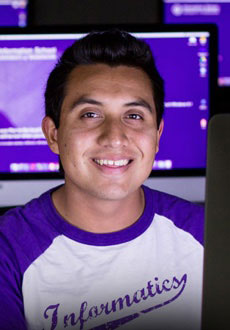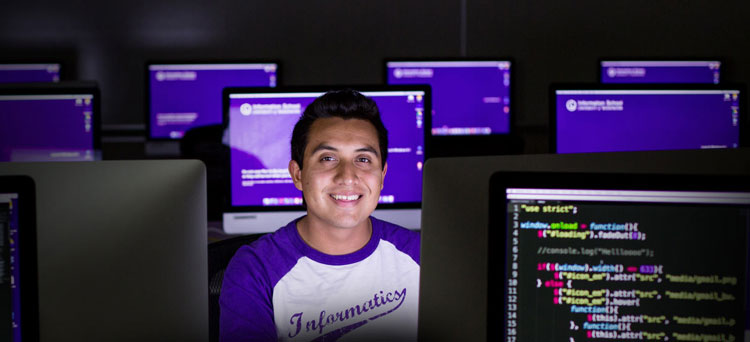 Impact of Scholarships
A first-generation college student from Kent, Washington, Stephen Ramirez, '15, always wanted to give back to people. He grew up watching his grandmother spend her life in public service, volunteering and working on behalf of others — it's part of what inspired him to help others better do their jobs as an application developer at Starbucks.
Read More