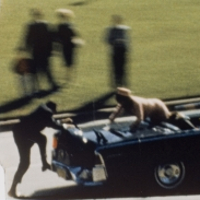 Zapruder Film, 1963
November 13, 2013
The 26.6 seconds of color film shot in Dallas on Nov. 22, 1963, became the most widely known, discussed and analyzed bit of film in history.
Transcript
Where were you when you first heard? Every generation seems to have their version of this. Where were you when the Space Shuttle Challenger exploded? Or on 9/11? Or when men walked on the moon? Those moments not only bring us back to a specific time and place, they're also inscribed on our minds as they were recorded and repeatedly seen: an orange flash in the distant sky, the impossible plane impossibly flying horizontally into the perfectly vertical building, Armstrong and Aldrin bouncing like marionettes.
For many people, though, that question can mean only one event, one year, one day. Even many decades on, it resonates, saddens, infuriates, and confuses. And while there are many accounts and images from that time, and myriad explanations and theories about what those accounts and images mean, one stands out. A film that's silent, yet which has spoken to so many, recording the moment at which an era ended, the reservoir of memory and lodestone of controversy, to this very day.
I'm Joe Janes of the University of Washington Information School. It almost didn't happen; Abraham Zapruder, Russian immigrant, Kennedy fan, and owner of Jennifer Juniors, a dressmaking business in Dallas, left his movie camera at home that November morning. The day dawned cloudy and it looked like a bad day for filming, but then it cleared, so he went home to get it. And since the view from his office window was poor, he went outside, trying several angles before perching himself and his Bell and Howell 8mm Model 414 PD camera, serial number AS 13486, on a concrete block, about 65 feet from the middle of Elm Street, his secretary steadying him from behind because of his vertigo. Then at 12:30 the motorcade came by, and then....
It's little surprise that we know all these minor details about the Zapruder film; if it's not the most scrutinized motion picture ever, it must have the greatest ratio of eyeballs to frames of all time. In reality, it's barely a "film" at all: only 486 frames, not counting the family scenes and test shots at the beginning, covering just 26.6 seconds. Assuming, that is, that you believe the "official" timing based on analysis of the camera speed, one of hundreds of details that at least somebody disputes about every aspect of the Kennedy assassination investigations. Researching this is an exercise in "know your sources;" lots of seemingly responsible-looking works turn out to be deeply conspiratorial at heart and almost anything here will get you an argument.
Zapruder witnessed the assassination through his viewfinder, in fact magnified by a telephoto lens, and his film is the only known complete recording of it. He was so shaken by what he saw that he started screaming, and then wandered, dazed, around the plaza for a few minutes. Thus began an odyssey for the rest of that afternoon and into the night, featuring a number of reporters, police, FBI, Secret Service, photographic lab technicians, his office staff and family and more. By the end of that day, he's been interviewed on television, sheparded all over town to get the film developed and printed, three copies made with varying processing settings, getting notarized affidavits of authenticity from technicians along the way, and the film gets its first two showings, in the Dallas Kodak lab to his business partner and a newspaper reporter, and at home to his wife and son-in-law that night. The next day, the print rights are sold to Life magazine for $50,000 (to be followed by an additional $100,000 2 days later for all additional rights, that's at least $1 million in current dollars).
By all accounts, the most shocking part, the image that symbolizes the whole day, is what's now known as Frame 313. This is the frame that shows the bullet striking the President's head and pulverizing his skull, a chunk of which flies off. It's a yellowish, reddish burst on the top of his head, obscuring Jackie's face, though her iconic pink jacket and pillbox hat are instantly recognizable behind the gore. It's hard to look at still, and was seen as so shocking at the time that everybody agreed, from Zapruder to Life magazine's publishers, that it shouldn't be seen, on the grounds of dignity and good taste; with seemingly almost no concern at the time for the "public's right to know." It wouldn't be widely seen until the first nationwide television airing of the film by Geraldo Rivera in 1975.
That was only the beginning. Over the years, the saga continued, as numerous copies and copies of copies and copies of copies of copies are made, and the originals make their way from hand to hand, from the Secret Service to the FBI, to the Warren Commission, to the National Archives for safekeeping. Time, Inc., the parent of Life, sold the rights back to the family for $1 to settle a copyright suit based on the Rivera program. Oliver Stone pays $85,000 to use it in J.F.K., one year before an act of Congress declares the film and other materials as "assassination records" and thus official property of the government. The family fights back, but it's seized under eminent domain in 1998, and the family is paid $16 million. They retained the copyright, however, which they donated to the Sixth Floor Museum, located in the Texas School Book Depository, in 1999. The government copies reside in the National Archives, and the film was placed on the National Film Registry by the Library of Congress in 1994, the same year as Invasion of the Body Snatchers, The Manchurian Candidate, and The African Queen.
All of this raises a couple of document-y questions. With all that copying going on, of a celluloid film, perhaps transferred to video, each successive copy will get more and more degraded, so at what point would an nth-generation copy no longer "be" "the" Zapruder film? If it were natively digital, this wouldn't be an issue, since any digital copies would likely be perfect, but it might also be susceptible to even more claims of subtle manipulation. And—when does an artifact, of any description, become so important, so historically relevant, that private ownership is beyond the pale? If a new "original" manuscript version of the Bill of Rights or Gettysburg Address surfaced, would those get seized too?
There are other films and images of the assassination, though none as complete, and more might yet emerge. According to some sources, at least 32 photographers were taking images around that time (one film surfaced in 2007); the Sixth Floor Museum says that at least 3 remain unidentified, their pictures as yet unseen.
And despite—or perhaps because—of all the scrutiny and examination of the Zapruder film, it's a source of controversy itself. The full gamut of opinions are in play here, ranging from how it conclusively proves that Oswald acted alone, to how it conclusive proves exactly the opposite, with, naturally, a segment who believes the film itself to be tampered with, manipulated, or even completely faked. It's evidence of something, to everybody, just not necessarily the same thing. Just think, too; if we didn't have it, if it was never taken—would we be better or worse off?
Only 2 days later, Oswald's shooting on live television by Jack Ruby provided another image, still debated. Since then more have joined it, from the Rodney King beating to the emergency plane landing on the Hudson River to...something yesterday, no doubt. The ubiquity of recording devices today, and, crucially, also the means of instant sharing, mean that fewer phenomena now will go unrecorded. Cell phone videos of plane crashes, tornadoes, explosions, and the like are routine. This is largely to the good, providing evidence and documentation of important events. It also means, though, that new versions of Frame 313, once too appalling to be shown, will become more and more commonplace, and likely more disputed, in the days and years to come.
References
Beaujon, Andrew. (n.d.). Rodney King, dead at 47, sparked citizen journalism that's now commonplace | Poynter. Retrieved November 11, 2013, from http://www.poynter.org/latest-news/mediawire/177521/rodney-king-dead-at-47- sparked-citizen-journalism-thats-now-commonplace/
Fetzer, J. H. (2003). The Great Zapruder film hoax: deceit and deception in the death of JFK. Chicago: Catfeet Press.
Frequently Asked Questions | The Sixth Floor Museum. (n.d.). Retrieved November 13, 2013, from http://jfk.org/go/about/faqs
The man who shot the Zapruder Film. (n.d.). CBS News. Retrieved November 13, 2013, from http://www.cbsnews.com/8301-3445_162-57607086/the-man-who-shot-the-zapruder- film/
Vågnes, Ø. (2011). Zaprudered: the Kennedy assassination film in visual culture. Austin: University of Texas Press.
Wrone, D. R. (2003). The Zapruder film: reframing JFK's assassination. Lawrence, Kan.: University Press of Kansas.
Zapruder film. (2013, November 9). In Wikipedia, the free encyclopedia. Retrieved from http://en.wikipedia.org/w/index.php?title=Zapruder_film&oldid=580534015
Zapruder Film Time Line | The Sixth Floor Museum. (n.d.). Retrieved November 13, 2013, from http://www.jfk.org/go/collections/about/zapruder-film-chronology