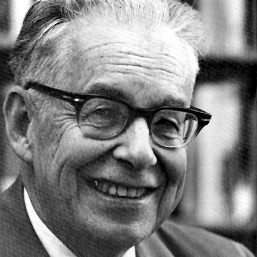 Richter Scale, 1935
August 13, 2015
As the study of the movement of the earth became more systematic, attention began to focus on ways of measuring the actual size of an earthquake. This is where Charles Richter comes in. His work, tedious and exacting, by hand, with a slide rule, led him to the insight that the amount of shaking reduced as you get further from the site of an earthquake, and moreover that this relationship could be represented on a single curve.
Transcript
"Did you feel that?" When the earth moves, that's usually the first question, followed almost immediately by, "How big do you think that was?" It seems we're hardwired to try to quantify natural phenomena; consider the Saffir-Simpson scale for hurricanes, the Modified Fujita scale for tornadoes, decibels for sound, and so on.
Having lived through exactly one earthquake, the Nisqually quake of 2001, the 6.8 magnitude was less important to me at that moment than trying to decide whether or not I should turn off the clothes dryer. (I didn't, and we both survived.) The Nisqually still gets referenced when people in the Puget Sound region talk about seismic preparations, though honestly way more attention gets been paid to the so-called "Beast Quake," the Marshawn Lynch touchdown run that cemented the Seahawks' improbable comeback win in the NFC Wild Card game here in 2011, because the noise and vibration generated in the stadium after that play set off a local seismograph.
That 6.8 qualifies as a "strong" quake, which works for me; in an understatement for the ages, anything over about an 8 is called "great," though is described using words like "destroyed", "collapse," and "permanent changes." The genesis of all this, the source of those numbers and the way we derive, react to and think about them, was a paper written by a unique man, an inadvertent seismologist with many idiosyncrasies, who might have been perfectly positioned to feel his way toward creating a way of thinking about the earth that nobody had before.
I'm Joe Janes of the University of Washington Information School, and if this episode doesn't want to make you go buy a month's worth of survival supplies, I'm losing my touch. Each year, about 50,000 earthquakes big enough to be detected occur, about 100 of which are big enough to cause damage if near population centers. The first known device to measure them, the precursor of today's seismographs, was invented by Chang Heng in China in 132, a cylinder festooned with 8 dragons' heads holding balls; an earthquake would dislodge a ball, causing it to fall into a waiting sculpted frog's mouth below. Clang. Scales to rate quakes based on their intensity date back to Europe in the 18th and 19th centuries, leading to what's now known as the Modified Mercalli scale ranging from Roman numeral I "not felt" through VII "difficult to stand", IX "general panic" and XII "damage nearly total."
Those scales, though, were based on perception and effects. As the study of the movement of the earth became more systematic, attention began to focus on ways of measuring the actual size of an earthquake. This is where Charles Richter comes in; his original interest was theoretical physics, but he drifted into seismology by accepting a research assistantship while in his doctoral program at Caltech. He began by making precise measurements from many quakes to help in determining their location. This work, tedious and exacting, by hand, with a slide rule, led him to the insight that the amount of shaking reduced as you get further from the site of an earthquake, and moreover that this relationship could be represented on a single curve.
That led to his development of a simple scale to quantify the amount of energy released by a quake, which he was first to refer to as "magnitude," perhaps borrowing the word used to describe the brightness of stars, an echo of his childhood interest in astronomy. The scale is logarithmic, meaning that an increase in magnitude from 5 to 6, say, represents 10 times more energy released – a suggestion from a colleague, Beno Gutenberg, which somehow never quite got fully recognized in the press or certainly in the naming of the scale, a point of contention for many. Richter never named the scale for himself; that appears to have started with an press interview by another colleague, Perry Byerly, who actually suggested a usage like "a Richter of 5" but that didn't catch on.
The scale itself has no maximum or minimum and in fact can take on negative values. A -0.2 is equivalent to the energy released by lighting 30 matches; +0.2 to a large hand grenade. The Oklahoma City bombing was roughly a 3, the Chernobyl explosion not quite a 4, the bombing of Hiroshima a 6, and the largest earthquake yet measured, the Valdivia quake in Chile in 1960, a 9.5. It's estimated that the meteor impact that wiped out the dinosaurs was about a 13, and the release of energy from an ultracompact stellar corpse detected in 2004, 50,000 light years from earth, was rated at a 32, something called a starquake, which sounds for all the world like a bad '80s science fiction movie.
Richter was using the scale by 1932, though the paper wasn't published until 1935, the same year as Social Security, Porgy and Bess, radar and nylon, as the Hoover Dam and the Golden Gate Bridge are being built, Mao is on the Long March, and Germany is preparing, building the Luftwaffe and imposing the Nuremberg Laws. The data presented in that paper also lays out the frequencies of quakes of various sizes, leading eventually to the understanding that not only are large quakes less frequent, but that the smaller ones don't release that much energy and thus don't mitigate the strain that is always building up; this would take decades to prove but he just seemed to know it from the numbers and tossed it off in the last paragraph of the paper. Years later, in an unpublished note, he further seems to have recognized long before anybody else that one quake can trigger another remotely at much greater distances than the familiar aftershocks.
So we all know the Richter scale, sort of: 6 is big, 3 is small, and 8 is really bad, and all these interpretations are due to him. But if you listen very carefully to seismologists today, you won't hear its name anymore. Because they don't use it. Richter himself was clear that he was developing a scale specific to Southern California and for that matter to a particular kind of instrumentation. It got widely adopted and used, yes, but by the '70s it had largely been superseded. The U.S. Geological Survey implemented a policy in 2002 officially preferring the more general if prosaically named Moment Magnitude Scale, while quickly acknowledging that all subsequent work had been designed to be consistent with Richter's original scale. So it goes.
Charles Richter was one of the handful of people responsible for coalescing seismology into the scientific discipline it is today, and later in his life was a leading voice in awareness of earthquake preparedness and improving building codes. He was also a nudist. And a poet. And kept a seismograph in his living room. And appears to have had multiple affairs. And, if his biographer is to be believed, probably had Asperger's syndrome. He was certainly awkward and socially uncomfortable, intensely personal, with a small circle of friends, few students, and no children, to the point of preparing long remarks, never finished and never read, for the retirement party he deeply didn't want to have.
It's easy to cast him as a kook or a weirdo who had a great idea, but I think that does him an injustice. I think there was something about him, in the way his mind worked, that was perfectly suited for this work: the laborious calculation, the observation and understanding of large amounts of data, long before sophisticated tools for analysis, visualization or display. After spending some time with him, I get the sense that he was sensitive to all of this; a sensitive soul who was perhaps far better attuned to the rumblings of the earth and the nuances of the numbers than to the norms and strictures of a world he never fully understood.
I got all this way without talking about the Big One. Yes, those of us who live in seismically active zones know that it's coming, that it's only a matter of time. Arguably, this paper is also the Big One, not just because of the scale and the technical prowess that led to it, but because it marks a clear before and after – it moved thinking about quakes from impact to energy, from perception to reality. Richter gave us the numbers and the feel for what the numbers mean, and even though his name is no longer there, that feeling goes on today.