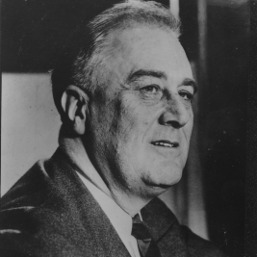 FDR Thanksgiving Proclamation, 1939
November 25, 2015
Thanksgiving is, reliably, on the fourth Thursday of November. Except that it wasn't always; it wasn't always in November, it wasn't always on a Thursday, and it wasn't even on the same Thursday for a couple of years, now largely forgotten, that divided a nation, broke up families and threatened to shake the very foundations of one of our most cherished institutions before our brief national nightmare was put to rest.
Transcript
What date is Thanksgiving this year? All holidays move around, because 365 doesn't divide evenly by 7, so days like New Year's and your birthday, creep their way through the week as the years go by. And holidays that are pegged to particular days of the week, such as Labor Day, fall on different days of the month. Some religious holidays also float because they're tied to the complication of the lunar cycle; that's why Easter and Jewish holidays move around within a several week period, and why Islamic holidays, determined by an entirely lunar calendar, march through the months.
But Thanksgiving is, reliably, on the fourth Thursday of November. Except that it wasn't always; it wasn't always in November, it wasn't always on a Thursday, and it wasn't even on the same Thursday for a couple of years, now largely forgotten, that divided a nation, broke up families and threatened to shake the very foundations of one of our most cherished institutions before our brief national nightmare was put to rest.
A document that changed the world: A presidential proclamation, #2373, titled "Thanksgiving Day", issued by President Franklin Roosevelt, 1939
I'm Joe Janes of the University of Washington Information School. Thanksgiving for many people is the quintessential American holiday, honoring the English Pilgrims who celebrated a harvest festival in the autumn of 1621 with the Wampanoag Indians, sharing turkey and gravy and that weird cranberry sauce in a can. Not quite – it's likely the menu was largely provided by the Wampanoag and consisted of venison, fish, eels, and vegetables, as the men fired off guns and ran races. Hmmm. The first recorded celebration, however, was in 1578 in what is today Newfoundland in Canada; Canadian Thanksgiving is now celebrated on the second Monday in October, presumably because it's just too darned cold in November.
The first Congress asked President Washington to declare a day to give thanks for the adoption of the new Constitution in 1789, he obliged by naming November 26. Over the years, presidents made similar declarations, though the days and even months varied considerably. Lincoln seems to have established it definitively in 1863 as the last Thursday in November.
Fast forward 70 years, when Franklin Roosevelt begins his first term. As he sets forth on his ambitious agenda for the country, he starts to get letters from retailers in the fall of 1933, noting that Thanksgiving will fall as late as it can, on November 30. They are concerned that that will make for a very short shopping season, and suggest that maybe, perhaps, FDR might do something to help them out by moving it back a week. This seems to be one of the earlier acknowledgements of the critical nature of what we all know as Black Friday. Nothing happened that year, but in 1939 the same date loomed, so Roosevelt decides, in August, to nonchalantly mention in a news conference at his summer home on Campobello Island that he's going to reschedule Thanksgiving, emphasizing that there's nothing sacred about the date.
Today, we'd call this a wedge issue, and sides were chosen almost immediately. It makes the front page of the next two days' New York Times, along with a story quoting the mayor of Plymouth, Massachusetts as "heartily disapproving" of the change. The disapproval didn't end there, and got quite creatively snarky. A store in Kokomo, Indiana, put up a sign: "Do your shopping now. Who knows, tomorrow may be Christmas." New Hampshire Senator Bridges suggested while he was at it, the president could abolish winter. Newsweek printed a petition from a man in South Dakota suggesting that the shopping season could be extended even further by celebrating Roosevelt's January 30 birthday instead of Christmas. And if you're a movie fan, remember that animated scene of the turkey jumping back and forth between Thursdays on the calendar in Holiday Inn. The mayor of Atlantic City coined the lovely term "Franksgiving" to cover the whole mess.
A Gallup poll revealed that Democrats narrowly approved of the idea, while Republicans and independents didn't, and by the end, 21 states made the change, while 23 didn't. Even individual cities made their own decisions, although Ocala, Florida, nearly wound up with November 13 because of a typo in the mayor's proclamation. The governor of Texas, ever the statesman, declared that they would celebrate both days, which must have made everybody happy.
Somewhat more seriously, calendar makers, who printed months in advance, were left with a whole lot of incorrect calendars, except for the lucky Defiance Sales Corporation of New York, which had mistakenly printed and shipped 100,000 with the wrong, now right, date marked for the holiday.
In much of the press coverage from the time, one other source of concern features prominently, from a somewhat unexpected source: football. In a world where a national college championship is held well after New Year's and the Super Bowl often drifts into February, it seems positively quaint to think that, in those days, the final, rivalry, games of the college football season were played on Thanksgiving, so changing the calendar would mean last-minute rescheduling, not to mention the spectacle of students attending college forced to decide when to go home for a holiday that might now be a week earlier or later in their hometown.
The deed was done, though, and by means of a presidential proclamation. These are undefined in the Constitution or in statute, and they, along with executive orders, occupy a murky place in federal law, though generally they have been determined to be within the executive powers somewhat loosely laid out in Article II. Proclamations now are largely ceremonial in nature, like declaring National Forest Products Week in October or May as National Mental Health Awareness Month. To date, there have been something over 9,000 presidential proclamations and not quite 14,000 executive orders; FDR alone issued over 3,500, by far the most.
It's quite extraordinary, today, to think that not only did all this go on, but that it went on at the same time the whole world was going to hell. The New York Times front page, 2 days after Roosevelt's press conference, revealed Germany's demand for the return of Danzig and resolution of the Polish Corridor question and also featured headlines such as "Italy Warns Poles Not To Fight Reich" and "Japanese Occupy Hong Kong Border." Within two weeks, the German army had crossed the Polish border and Europe was at war. It also played out as speculation was rising that FDR would violate tradition and run for a third term in the 1940 election, which no doubt complicated the political aspects here.
This all went on until the spring of 1941, when Roosevelt admits that the expected boom in holiday sales never materialized – actually about ¾ of stores in New York said it worked against them because of the differences between states - so he was going to shift back to the traditional date for 1942. Congress decided to make sure no further mischief was made, and the House passed a bill in October officially establishing Thanksgiving as a federal holiday for the first time, on the last Thursday of November. The Senate, however, amends the act to make it the fourth Thursday, as FDR had repositioned it. The fact that that amendment was passed 2 days after Pearl Harbor remains a bit of a head-scratcher.
And there things stayed until 1968 with the passage of the Monday Holiday Act, which established Columbus Day, and moved Memorial Day and Veterans Day to Mondays along with Washington's Birthday (not President's Day – there is no such federal holiday), to create three-day weekends for federal employees; Veterans Day reverted to the traditional November 11 in 1975. Martin Luther King Day was added, also on a Monday, in 1983. The government is careful to point out that "federal holidays" are just that, for federal employees and the District of Columbia, and that states determine their own legal holidays.
OK, that's enough of that. Do yourself a favor, take a moment now to think of something or someone you're truly thankful for, and express that gratitude over a turkey sandwich. I'll leave you with a few lines from 1939:
Thirty days hath September, / April, June, and November. / All the rest have thirty-one / Until we hear from Washington.