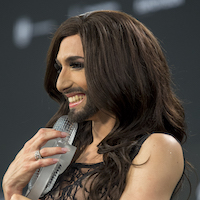 Eurovision Song Contest, 1956
May 14, 2019
The European Broadcast Union (EBU) was founded in 1950 to promote broadcast cooperation across Europe, replacing a system that collapsed in the wake of WWII. These turgid legal statutes, designed to "serve the cause of international understanding," have — logically — resulted in a kitschy song contest among 40-odd countries broadcast every May to an audience of 200 million.
Transcript
What do all of these have in common? Russian grandmothers singing while baking bread, a Ukrainian man running in a hamster wheel, Polish women seductively churning butter, rapping astronauts from Montenegro, an Irish turkey puppet, Moldovans on unicycles wearing dunce caps, an Azerbaijani man contorting in a glass case full of blowing rose petals, and an Austrian drag queen with a beard. And the pope. If one or more of those – other than the pope – sounds familiar, you already know exactly where we're going and if not, hoo are you in for a ride as we explore one of the most watched annual spectacles in the world that many of you have never heard of, grounded in a truly boring and absolutely necessary document that brings together, ever so briefly, a continent in constant change, in song.
A document that changed the world: statutes constituting the European Broadcast Union, better known as "Eurovision," first adopted in Torquay, England, 1950.
I'm Joe Janes of the University of Washington Information School, and I freely admit this episode is completely self-indulgent, but I promise there's a document story in here too. The EBU is one of myriad international organizations that deal with all manner of things from the World Meteorological Association to the Organisation for the Prohibition of Chemical Weapons to the International Telecommunication Union, founded in 1865 to promote cooperation for the emerging telegraphy networks and now responsible for the technical standards that allow for communication interoperation. Countries that don't speak to or even recognize each other's existence – 193 in all – are members, which tells us that even if you don't talk, you want to be able to communicate.
The ITU divides the world into regions, and any public broadcaster – think the BBC - in the European Broadcasting Area, extending broadly as far south as Egypt and west to Azerbaijan, can join the EBU. There are currently about 6 dozen member broadcasters representing over 50 countries and another 30 or so associates in other nations including all the major American TV networks, and National Public Radio, but not PBS. It has no connection to the European Union or any other continental organizations, and membership provides access to shared content including licensing of sporting events like the World Cup, as well as participation in technical, lobbying, and other shared expertise.
It followed an earlier similar group, the International Broadcasting Union, founded in the '20s to arbitrate matters of frequency interference for radio broadcasts, which collapsed in the wake of the Second World War. In a postwar Europe full of high-mindedness, yearning for peace, stability, and security, the EBU was intended to "serve the cause of international understanding" even though discussions over the several years leading up to its establishment were marked by Cold War suspicion, politics, and concerns about control, and thus Eastern Europe wound up with its own parallel organization which got merged in in 1999.
The statutes that constituted the EBU were signed on February 12, 1950 in the English seaside resort of Torquay, 2 weeks after Harry Truman announced the intention to build a hydrogen bomb, 4 days after the founding of the East German Stasi secret police, 3 days after Joseph McCarthy's first speech about Communists in the US State Department, and 3 days before Disney's Cinderella is released. Those statutes, since revised and updated most recently in 2015, are exactly what you think they are – a couple of dozen pages of turgid legalistic prose, establishing the organization, its structure, members, rules, officers, meetings, and so on, mind-numbing to almost everybody, and also critical for the functioning of any organization particularly when something goes wrong or a crisis emerges and then everybody dives for the founding document to see what the rules are to, say, kick out a member for misbehavior or not meeting their financial obligations.
The first broadcast was later that same year, in August using a temporary and experimental microwave transmission from Calais to England. The first major coup, probably the first international broadcast of a live event, was in June of 1953 with a relay of the coronation of Elizabeth II to France, the Netherlands and Germany. The first officially designated "Eurovision" transmission – the name coined by a British journalist in a newspaper article and it stuck – was a 1954 broadcast featuring the Montreux Narcissus Festival parade followed by a 90 minute tour of the Vatican culminating in a Latin homily from Pope Pius XII.
OK, now we've got that over with. When you hear "Eurovision," you might immediately think "kitschy song contest that you can't imagine anybody liking", or "kitschy song contest you can't imagine not loving" or, if you're from North America, "what?". I speak here of the Eurovision Song Contest, by far the best known, but by no means the only, product of the EBU. (From here on, when I say "Eurovision" I mean the contest, because who pays attention to anything else?). The first Contest was held in 1956, in Lugano; Lys Assia won for the host Switzerland despite forgetting the words mid-song. That, and the fact the scores have never been revealed, are among the many, many aspects of Eurovision lore pored over by hordes of fanatical Euronerds.
How to describe today's Eurovision to those poor unfortunates yet to experience it? The basics: participating countries can each select a 3-minute song and artist to represent them at each year's contest in May, hosted by the country who won the previous year. Two semi-finals winnow the field down to a somewhat manageable 26 or so entries in the Grand Final, broadcast across Europe and around the world to an audience of 200 million, one of the most reliable audiences in the world, greater than that for the Super Bowl and the Academy Awards combined. Entries are judged by professional juries in each of the eligible nations as well as by public televoting. A nation's favorite song – you can't vote for yourself – gets 12 points, the second favorite 10 points, then 8, 7, 6, all the way down to 1, and the most points wins. Among the signature features of the show, after all the acts are completed and voting finished, is presenters from all 40-odd countries announcing their jury votes, often in front of landmarks, fountains, cityscapes, etc, usually with some bit of excruciating business and a perfunctory "congratulations on a great show" which gets really old really fast. "Serbia gives its 12 points to …Croatia!"
Which isn't surprising. Greece gives points to Cyprus and vice versa, usually with little regard to the actual song involved. Malta gives points to the UK. Ditto Portugal and Spain, the Nordic states, the Balkans, the Baltics, the other former Soviet countries, all based partly on geography but also on immigrant and even refugee populations voting for their homelands from abroad. The songs must be new and can't be overtly political, an unevenly enforced rule. Where Eurovision goes, though, politics and controversy inevitably follow: the Finnish entrant kissing another woman to protest the country's same-sex marriage ban, the barring of the Russian entry from competing in Kiev after having performed in occupied Crimea, the calls for a boycott of the 2019 contest in Tel Aviv, and so on.
The most internationally famous winner, by far, was ABBA in 1974 with "Waterloo", Celine Dion won for Switzerland in 1988 and it tails off pretty fast from there. For a while countries were required to sing in their national language; that was relaxed in 1999 and since then at least a few entries have been in invented or nonsense languages. Australia began broadcasting the show in 1983, in the wee small hours of the morning, and were allowed to compete as a special event for the 60th contest in 2015 and came 5th, and now they seem to be in permanently.
One of the few things practically every European can agree on is that they want the United States to have no part whatsoever in Eurovision. I can put their minds to rest on that score, it engenders next to no interest here – but they're right, we would ruin it. It's an interesting thought experiment, though, to imagine how this might operate in an American context, say state by state; undoubtedly it would rapidly get wound up in regionalism, football rivalries, red state/blue state nonsense and it's already too painful to consider any further. Let's just stay out of it and let them have their fun.
There is something delightful about a competition where teensy San Marino and ginormous Russia can compete or more or less equal footing, even though everybody knows San Marino doesn't stand a chance, and yet they have an equal voice in how it all comes out. This is, in fact, the largest pan-European election. Almost every European state is represented, far more than membership in the EU or the Euro Zone. It's had profound impact on the continent's music industry and to some extent beyond, but it's also lodged firmly in the popular consciousness. The concept of "giving 12 points" (or "douze points" as it's dutifully repeated) is now a metaphor for full support, and the awful prospect of scoring no points at all, a complete failure, is referred to with horror as "nul points" which isn't good French but an object of dread nonetheless.
This has all made great fodder, in recent years, for analysis of Eurovision as not only an entertainment show but also an object of study from political, historic, sociological, gender and other perspectives. Even the "postcards", the minute-long wordless videos showing the next act frolicking in the countryside or exploring traditional foods and crafts, while the stage sets are rapidly changed, are an object of scrutiny.
And oh my god the batshit crazy stuff that has gone on. Everything I described at the beginning has happened, as did the Italian satire on modern Western society that involved breakdancing with a guy in a gorilla suit, the Belarus act that started with a video of a naked man howling next to a holographic wolf, and a monster-makeup heavy metal band that won for Finland in 2006. Why? Because Eurovision. To be fair, though, the aforementioned Austrian drag queen, stage name Conchita Wurst sang perhaps the best Bond-movie theme song ever to win in 2014, and the 2016 winner for Ukraine retold the sad story of the Soviet deportation of Crimean Tatars in 1944.
So let's give Eurovision its due. Each year's contest has some meaningless, feel-good slogan like "building bridges" or "come together" which is fine though completely eye-rolling. And yet, for a few hours each spring, much of Europe does just that, sharing an increasingly rare common experience. From about the '20s on, a radio or TV broadcast would mostly be heard or seen simultaneously; our fragmented media world seems to indicate that that might have been a temporary phenomenon lasting only a few decades. For all the sniping about vapid songs, political voting, overblown productions and whatnot, an apolitical organization, born in a deeply political way, in a Europe that continues to struggle with national and continental identities, runs a competition that nevertheless manages to be one of the last cultural communal moments.