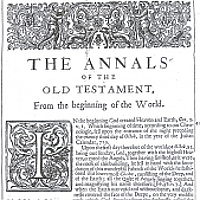 Annals of the World, 1650
July 29, 2015
When did it all start? James Ussher sought to answer that question in his "Annals of the World." His answer, that the world began roughly 6,000 years ago, was forged by scholarship and has had a lasting effect in popular thought.
Transcript
When did it all start? We're always told that good stories have a beginning, a middle, and an end. "Begin at the beginning," the King of Hearts tells the White Rabbit, "and go on till you come to the end: then stop." There has to be a beginning, a first scene, a first page, a first note – a first day.
But what about the beginning, the beginning of everything? The definitive first day? Most ancient cultures didn't acknowledge any such thing; the Babylonians, the Greeks, the Hindus, thought that the universe is eternal and cyclical, perhaps mirroring the movement of heavenly bodies. Recall, if you will, that whole Mayan calendar cycle thing in 2012, which we all seem to have survived unscathed, if you don't count that horrible John Cusack disaster porn movie.
One tradition, however, firmly believed that there was a specific start to the universe, and moreover that it wasn't all that long ago, which we find in the Old Testament. Figuring out when that was, as methodically and precisely as possible, became the life work of an Irish bishop and scholar who gave us a date and for that matter a time that held sway for a couple of centuries, and for many people, still does.
I'm Joe Janes of the University of Washington Information School. James Ussher had an unusual upbringing. Besides the story of being taught to read by two blind aunts, he was raised Protestant in heavily Catholic Ireland, was one of the first scholars at Trinity College Dublin at age 13, and ordained at 20. He was deeply involved in the development of the Church of Ireland, made a bishop in 1621 and primate four years later. His career included work both sacred and secular, becoming a member of the Irish Privy Council, and helping to articulate the tenets of his church. He was widely acknowledged for his thorough and impartial scholarship, based on scrupulous work with as many primary sources as possible; as early as 1624 he was invited to preach before King James I. His writings covered a range of historical and theological topics, and over time he drifted away from administration and toward scholarship as his primary activity.
Ussher made numerous trips to England, to visit, research and obtain books for the Trinity library; the last was in 1640 when he got stuck, never to return, after the Irish uprising the following year. This left him homeless, penniless and dependent on the charity of his friend and benefactor the Dowager Countess of Peterborough. He was a fervent royalist at a time when that wasn't always healthy; several versions are told of his witnessing Charles I's execution from the roof of the Countess' home and either fainting or weeping or just silently turning away. The regard in which he was held was, however, high enough that Cromwell paid for most of his state funeral in 1656 and allowed him to be buried in Westminster Abbey.
His masterwork, and the one for which he is remembered today, is a massive chronology, laying out the dates of important events both biblical and historical, and incidentally specifying the date and time of the creation of the universe: nightfall on Saturday, October 22, 4004 BCE. This was the Annales Veteris Testamenti, 20 years in the writing, though there are suggestions he was thinking about it since childhood, published originally in Latin in 1650 and in English translation as Annals of the World 8 years later. The work ran to 1,300 pages with 14,000 footnotes, each paragraph numbered and indexed for handy reference.
While Ussher is widely credited for pinning Creation 6,000 years ago, he wasn't the only one or even the first; indeed, that cosmological age was, in effect, common knowledge in the 17th century. Augustine's City of God had firmly established a definite creation in the Christian mindset nearly 1,500 years before, and it stuck. It also echoed scripture: 2 Peter 3:8 says "one day is with the Lord as a thousand years" so six days of Creation might imply the Earth would exist for 6000 years. There were numerous estimates already around, including from the Venerable Bede, Luther, Kepler and Newton who pegged it at exactly 4000 BCE. Each of them, though, had different dates, so which one was right?
Ussher set about to find out. He scoured libraries and bookstores for different versions of the Bible, each of which would have its own slightly different chronologies and genealogies, as well as other historical texts and artifacts, including a wide range of sources from a variety of societies, civilizations and faiths. Using all of those, he worked backwards from the birth of Christ, which he correctly placed at 5 BCE based on the writings of the Roman historian Josephus, tracing lifespans, kingly reigns and whatever else he could. He places the Exodus in 1491 BCE, Abraham's birth at 1996 BCE and the Flood at 2348 BCE, eventually reaching back to the beginning with a capital B on that fateful Saturday evening.
That date and time can seem oddly specific to modern ears, but let's remember that they're based on a desire to get it right, as right as he possibly could, paying attention to astronomical and religious sources in determining what the season of the year, day of the week and time had to be; for example, he believed it had to be in the autumn, since that was the beginning of the Jewish calendar year, and on a Saturday evening for the Sabbath.
The original printing sold well. Had things gone differently, his chronology would have been noted for a time and then forgotten as so many others would, were it not for Thomas Guy, a London bookseller who saw a market opportunity for a Bible in 1675 with lots of bells and whistles including engravings of, ahem, bare-breasted women, along with … a handy chronology in the margin. The Church of England pushed things along as well in 1701 when the bishop of Worcester authorized printing another edition that incorporated it.
Ussher, and his Annals, is rather too cavalierly dismissed today as a crackpot, or alternately embraced, equally mindlessly, as a stalwart symbol of what's now known as Young Earth Creationism, though I think neither is really justified. He deserves to be more than just a rim shot or caricature. He was a careful and thoughtful man, well schooled in his faith and in history, and as many have pointed out, including Stephen Jay Gould, he was trying to do the best he could with the tools and knowledge available to him at the time.
Over the last few decades, new tools have been introduced to the search for the beginning, from geological to astronomical, which have pushed the temporal boundaries further and further back. As always, though, old ideas die hard and Ussher's chronology and dates still resonate today. One website deplores that, people have "started trusting in the latest secular findings based on fallible dating methods, instead of the only absolutely reliable method—consulting the history book provided by the Eyewitness account (the infallible Word of God)."
Public opinion surveys over the last several decades have consistently found that about ¾ of Americans believe that God played some role in human development, and just under half believe the age of the Earth and of humanity to be between 6,000 and 10,000 years. Separate surveys also show that a quarter believe the sun goes around the Earth, and a third that the mother's gene determines the gender of a child.
Modern archaeological scholarship places the 40th century BCE in what's known as the Copper Age, between the Stone and Bronze Ages in Europe, the Uruk period in Mesopotamia, and the El Omari culture in predynastic Egypt, as the horse and water buffalo are becoming domesticated, the plow is coming into use and beer is starting to be brewed. I'm not sure what Bishop Ussher would make of contemporary estimates: the age of humanity at something over 200,000 years, of the earth at about 4.5 billion, and the universe at around 13.75 billion years. I'd like to think he'd have a mind as open as the breadth of his vision and scholarship.
So now one has to ask oneself: are we doing the best we can with the tools at our disposal? The answer, as is so often the case, depends on where you stand, and where you begin.