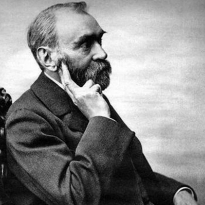 Alfred Nobel's Will, 1895
April 23, 2015
Do you ever wonder what you'll leave behind? For most of us, it'll be our friends and loved ones' memories, and for many, our families will be our legacy.
Transcript
Do you ever wonder what you'll leave behind? For most of us, it'll be our friends and loved ones' memories, and for many, our families will be our legacy. Some will be remembered for our important achievements, and a very few of us will live on for generations and centuries based on the works and ideas that survive us, for good or for ill.
Each of us, though, no matter how grand or humble, has the opportunity to leave one thing behind, one last word, that in most cases has to be heard, and obeyed: a will. Much as people don't like to talk about or even contemplate it, making a will gives us all a chance to make our wishes known about our worldly goods and how they should be dispensed, with perhaps also a chance to get in one final dig or demonstration of affection.
One will, penned in firm black ink, doing just about everything wrong and constructed so poorly that it should likely never have been honored, nevertheless changed the fortunes of nearly a thousand beneficiaries its author could never have imagined, and of their benefactor as well.
A document that changed the world: a will, written by Alfred Nobel in his own hand, signed and witnessed in Paris, 1895
I'm Joe Janes of the University of Washington Information School. You've seen it a dozen times; Great Aunt Hildegarde has finally croaked, so now the greedy, ne'er-do-well family gathers to find out who got what from the old girl at the reading of her last will and testament. In early England, these two things were actually different: the "testament" was for personal property, the "will" for real property, and originally referred to the declaration itself, only over time coming to mean the document. So a last will is precisely that, your "last will" about how to dispose of your stuff.
In reality, those readings are the purview of lazily written scripts, though there remains here a hint of ancient history: the earliest Roman wills were made in public, by male heads of households, in an oral ceremony before the comitia calata, a body of witnesses convened twice a year for just such a purpose; then upon death, the seals were broken and the document read aloud.
The functions of a Roman will feel very familiar. Then, as now, the law dictates what happens when a person dies without a will, or intestate. So a will is a means to deviate from that pattern, to more specifically designate who gets what, to favor some, disappoint or even disinherit others, to name guardians for minor children, and so on. It's a final mechanism for control, of one's property, no matter how seemingly bizarre or capricious, and it's also a one-way street, with no opportunity for rebuttal or negotiation other than legal challenge of its provisions. According to one estimate, this accounted for between 60 and 70% of all Roman civil litigation.
Requirements for making a will today vary by jurisdiction; in general, though, the person making one has to be of a certain minimum age, free from duress or influence, be capable of reasoning and making decisions, and have it witnessed by people who aren't named in it. Signatures or marks are often but not always required and in some cases handwritten or even oral ("nuncupative") wills can be acceptable as well. It's not hard to find fascinating tidbits in the history of will-making; in the late 19th century it was common for state laws to explicitly address inheritance rights of illegitimate children and whether or not married women could even make wills. Louisiana today has a provision for forced heirship; you can't disinherit your child without a reason, like if he ever hit you, accused you of murder or got married as a minor without your permission.
There are limits, but laws generally give the maker of a will quite a bit of leeway. Good news for Alfred Nobel, in his own words, "a misanthrope and yet utterly benevolent [with] more than one screw loose yet…a super-idealist." An inventor from an early age, he patented dynamite at the age of 35, shortly after a brother was killed in an explosion in their experimental shed. When another brother died in 1888, the obituary mistakenly named Alfred and was titled "The merchant of death is dead." That would get to anybody; in Alfred's case it seems to have contributed to a morbid fear of "apparent death" and a desire to have his veins opened after he died, followed by cremation in a bath in hot sulphuric acid.
It may well also have led to his writing of a new will, his third, in 1895, about a year before his death. This was quite the impromptu affair; he seems to have grabbed four men in the Swedish Norwegian Club in Paris and asked them to witness the will he had just written out. Frankly, it's a mess, running some four pages (and now locked in a vault at the Nobel Foundation in Stockholm), with writing up the sides in the margins. It leaves small bequests to nephews and nieces, servants, and to the former Sofie Hess, an Austrian flower salesgirl with whom he had the longest relationship of his life, though he never married. Then, in a sharp turn, he specifies that the bulk of his estate, amounting to something like $200M in current dollars, be invested in a fund, "the interest on which shall be annually distributed in the form of prizes to those who, during the preceding year, shall have conferred the greatest benefit to mankind."
Which is a lovely thought, except for a few minor difficulties. The executors didn't find out they were named until after his death, the will was contested by several family members who felt shortchanged, the press criticized it for being unpatriotic since the prize money wasn't reserved for Swedes, the institutions he named to choose the prize winners had not been consulted, and, most seriously, there was no foundation, no institution, no place, for the money to go; he had only established what would become the Nobel Foundation in the will itself.
Thus began the saga of making all his dreams into reality, which as we all know did happen, though not without the spectacle of the executor gathering up Nobel's securities and assets in secret in the Swedish embassy, and driving away with them in a horse drawn cab through the streets of Paris to the Gare du Nord, revolver at the ready to protect himself from thieves and perhaps the relatives, to spirit the loot out of France and into Britain and Sweden where the will would eventually be probated.
In any event, the deeds were done, and the prizes started to flow in 1901, including to Wilhelm Rontgen for Physics for his discovery of X-rays, made just weeks before Nobel wrote his will. The bitching started almost immediately as well, criticizing the first Literature award to the poet Sully Prudhomme rather than Tolstoy. For all the worthiness of Marie Curie and Martin Luther King and Mother Teresa and Malala Yousafzai, there's also been some notable clunkers: a 1927 Physiology or Medicine award for "discovering" that injections of malaria parasites might help in treating syphilis, and another in 1949 for development of the prefrontal lobotomy. Not to mention the omissions: Gandhi, Eleanor Roosevelt, Chekhov, Joyce, Proust, Rosalind Franklin. These things happen.
There's one other curious omission that has drawn some speculation over the years. With awards given in Physics, Chemistry, and Medicine, why is there no prize in Mathematics? The most popular story is based on Nobel's supposed bitterness because his wife either had an affair or ran away with a mathematician. Salaciously delicious, yes, though sadly false, because, as we know, Nobel never married. So what's the deal? Apart from the outside chance that Nobel's occasional paramour Sophie was carrying on with one Gosta Mittag-Leffler, it seems more likely that he just gave money to things that interested him or he thought worthwhile or practical, or because King Oscar II of Sweden had already endowed a mathematics prize. You can rest assured that there is a major prize for them now, the Fields Medal, given every 4 years. It's a nice medal, but unfortunately, no cash.
Since Nobel kept his last will secret, we don't know for certain what his motivations were. His prior will, from 2 years earlier, also had provisions for prizes and a donation to the Austrian peace association, though no prize in literature. It's easy to say that the inventor of dynamite regretted its misuse and thus wanted to atone somehow, though dynamite was used mainly at the time for construction purposes, and he's said to have thought his inventions might end war since the consequences of using such powerful weapons would be too horrible to contemplate.
We can only speculate how Alfred Nobel would be remembered today, if at all, had he not written that third will and had it not been made to work. But succeed the will did, perhaps beyond his imaginings. Consider the Fields Medal, established in 1936. Or the Turing Award in computer science in 1966, the Pritzker Prize for architecture, even the Darwin Awards or the Ig Nobel Prizes for seemingly trivial achievements. Apart from the prizes themselves, they also likely helped to give rise to the notion of acknowledging and rewarding intellectual or professional achievement in general.
While we might not know what he really intended, we know what he got; in a word, not what he wanted. So often, hopes and dreams and wishes are bound up in what's in a will; who gets the car, the house, the silver, the love. For a man who shunned publicity and wanted peace, he got neither; the world stumbles on in its familiar chaotic and bloody way, and Nobel's name lives on, year after year, a symbol for over a century that you can't always get, or leave behind, what you want.
References
Champlin, E. (1989). Creditur Vulgo Testamenta Hominum Speculum Esse Morum: Why the Romans Made Wills. Classical Philology, 84(3), 198–215.
Full text of Alfred Nobel's Will. (n.d.). Retrieved March 8, 2015, from http://www.nobelprize.org/alfred_nobel/will/will-full.html
LacusCurtius "Roman Law" Testamentum (Smith's Dictionary, 1875). (n.d.). Retrieved March 8, 2015, from http://penelope.uchicago.edu/Thayer/E/Roman/Texts/secondary/SMIGRA*/Testamentum.html
Laws Governing Estate Inheritance for Children in Louisiana. (n.d.). Retrieved March 8, 2015, from http://info.legalzoom.com/laws-governing-estate-inheritance-children-louisiana-21808.html
Nobel Prize. (2015, March 7). In Wikipedia, the free encyclopedia. Retrieved from http://en.wikipedia.org/w/index.php?title=Nobel_Prize&oldid=650269550
Shammas, C., Salmon, M., & Dahlin, M. (1987). Inheritance in America: from colonial times to the present. New Brunswick [N.J.]: Rutgers University Press.
snopes.com: No Nobel Prize for Math. (n.d.). Retrieved March 8, 2015, from http://www.snopes.com/science/nobel.asp
Statutory Requirements for a Valid Written Will. (n.d.). Retrieved March 8, 2015, from http://nationalparalegal.edu/willsTrustsEstates_Public/ExecutionValidityComponentsOfWills/StatutoryRequirementsForWill.asp
The Will. (n.d.). Retrieved March 8, 2015, from http://www.nobelprize.org/alfred_nobel/will/