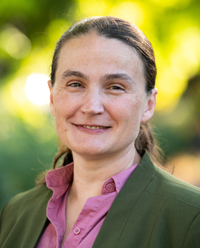 Catherine McMullen, MLIS '08, can tell you that librarianship and public office have a lot in common. After more than a decade working for public libraries, last year McMullen campaigned for the role of clerk of Clackamas County, just south of Portland, Oregon. 
"It was a long journey, but a lot of fun," McMullen says. "And one of the most enjoyable parts is meeting the voter where they're at and having conversations with voters about how processes work." She considers her election to have been "one of the largest job interviews with the most interviewers."
McMullen and her campaign knocked on more than 8,000 doors, and she won, taking office in January of 2023. McMullen is now the lead elections administrator for the county's 315,000 voters and is responsible for keeping official records for the county. "Good information management came in handy," she says of her library training.
Before becoming an elections official, McMullen served in librarian roles including as a reference librarian, a bilingual project librarian, and a regional librarian. Working for public libraries "led to a set of ethics and standards, and to wanting to help people where they're at with what they're working on," she says.
"When I looked at the job description, I said, 'They need a librarian, they just don't know it yet.'"
Serving her community has long been a part of how McMullen approaches library work. She cites the influence of University of Texas at Austin Professor R. David Lankes, who "talked about librarianship being an active role and being active in your community," she says. "I see that as helping people be successful, for themselves, for their families, or for their communities, however they define that. So my role is to provide resources.
"That really transferred over well," she says, when she took a position leading and starting Oregon's first county-level voter education outreach program. "When I looked at the job description, I said, 'They need a librarian, they just don't know it yet.' It was being in the community, it was providing access to resources. It was adult education, building partnerships, all of those things that we do as librarians both inside and outside of our libraries."
McMullen soon realized that she could have an even greater impact in the role of county clerk. "I live here in Clackamas County and wanted elections to be better — more accurate, transparent and inclusive. So I needed to run for office," she says. 
One of her priorities has been ensuring that seniors, veterans, English learners, people with disabilities and other citizens with less access to a traditional voting infrastructure could participate as voters. 
McMullen initially decided to pursue her MLIS "to become a librarian with a capital 'L,'" she says. She now credits her Master of Library and Information Science degree from the University of Washington Information School, as well as her Executive Master of Public Administration degree from Portland State University, with preparing her for the many facets of elected office. 
The projects McMullen took on as a student provided strong training for a life of librarianship and public service. She worked with a group of students on the first self-checkout system at a Portland library. Her group created a training guide on the new service, and she says she had a lot of fun in the process. 
For McMullen, it comes down to service, education, community and democracy. "Libraries and elections are different pillars of democracy," she says. "Local government touches people's lives in many different ways, from getting married, to buying a house, to voting. And it's important that folks have the information they need."
Officiating weddings, a service she brought back to the role of Clerk, is an enjoyable part of the job. McMullen frequently uses social media to share the wedding photos and to provide information to her constituents.
"I always say that, 'You can take the librarian out of the library, but you can't take the library out of the librarian,'" McMullen says. "Being willing to be there for the community is key."