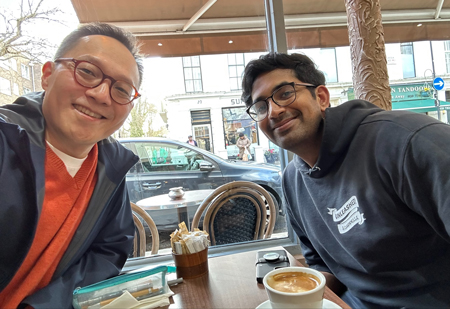 As a child, Aditya Ramani dreamed of a career in medicine. But when he had to dissect a pig in his 10th-grade science class, he learned he didn't have the stomach for some aspects of the medical field.
"After having to do the dissection, I remember thinking, 'I can't be a doctor. I need to find a different way of helping people,'" said Ramani, '20. "So when I started exploring computer science, I found it to be a way for me to still give back to my community but through technical skills."
Ramani's interest in a career in technology brought him to the iSchool to major in Informatics, but his passion for public health was in the back of his mind. Childhood trips to India planted a seed that stayed with him.
"Visiting my grandpa's clinic in India, I saw him help whoever came to him, whether they could pay or not. Seeing his generosity inspired me to help people through the medical field," said Ramani.
Ramani has held on to the inspiration from his grandpa's clinic and recently graduated with a master's in epidemiology from Imperial College London. He is set to start as a research associate in mathematical modeling with a public health consortium in London.
Ramani first came to the iSchool convinced that a career in computer science was the right path for him. While completing the Data Science track within the Informatics program, Ramani took a health informatics class with Mike Freeman. This course got him interested in health metrics and evaluation.
"I grew interested in learning more about quantifying the burden of diseases on people's lives," said Ramani.
Ramani did his Capstone project on a database of neglected tropical diseases for the Gates Foundation, allowing him to further delve into his interest. Toward the end of his senior year, the iSchool introduced a new Health & Well-Being focus area to Informatics as well. While it was too late to switch his track, Ramani nonetheless took advantage of some of the courses offered to gain more insight into the intersection of public health and technology.
Circumstances during the COVID-19 pandemic led Ramani to accept an offer as a software developer for Amazon rather than pursuing a master's right after graduating from the iSchool. But he knew his heart was still in public health.
With the guidance of iSchool Lecturer Nam-ho Park, Ramani took a leap and applied for epidemiology programs around the world, including the London Imperial College.
"In the long run, I just hope to make people's lives easier and reduce the burden of different diseases," said Ramani. "I finally feel like I'm at a place where I can do that."