How do you get people to contribute their stories to a community archive when the concept itself can be confusing?
That's one of the challenges a UW Information School team faced while working with staff from Tacoma Public Library to develop their Community Archives Center. Their goal was not only to make Tacoma's archives successful but also to create a toolkit that other libraries can use to establish their own community archives.
The two-year project, which wrapped up recently, was made possible by a grant from the Institute of Museum and Library Services, said Chris Jowaisas, a senior research scientist with the iSchool. Jowaisas was part of the iSchool team, which also included senior research scientist and project lead Jason Young, Assistant Professor Marika Cifor and Ph.D. candidate Sarah Nguyễn.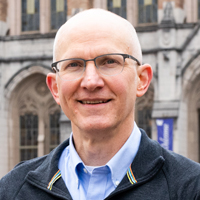 Like librarians across the country, the staff at Tacoma Public Library had identified a deficit in its local history archives, Jowaisas said. A sizeable part of the community hadn't been included or their contributions have been under-investigated.
"They knew there were some obvious gaps," he said.
Immigrants, people who are racially minoritized, and those living in certain neighborhoods of Tacoma often were left out of the history of the city, Jowaisas said. Shining a light on their stories was part of the purpose of the project. But the community archive also seeks to capture various perspectives of recent events such as the COVID pandemic and racial injustices.
"People think that community archives are people talking about the past," Jowaisas said.
To break through those misconceptions, the team turned to community organizations for help. Jowaisas credited Tacoma staff for its strong connections to the community. Feedback from those organizations led the iSchool team to change its communication about community archives after the first public event garnered less participation than desired.
Anna Trammell, Tacoma Public Library's manager for archives and special collections, also emphasized the importance of working with community partners, who helped them narrow their focus. Primarily, they heard that the Hilltop and Eastside neighborhoods have been underserved.
"What we heard loud and clear from the community was they wanted us to focus on neighborhoods," she said. "If their story has been told, it's been through an external perspective."
Trammell noted a shift in momentum within the community once they realized they could share their stories, not just photos and artifacts. Tacoma Public Library has compiled 280 individual recordings of community members' oral histories.
"We did not describe oral history as a major component in the grant, but people were excited about sharing their stories," she said.
Partnering with the iSchool team provided Tacoma's library staff with a different perspective, Trammell said. "It allowed us to focus on the day-to-day business of making the community archive project work."
Although the grant funding for the project has ended, work on the community archive continues. The library has a community archive exhibit that's traveling until May 2024 around Tacoma to different library branches and community spaces. The library also received local funding to have an Eastside Storyfest in May 2024, which will be an opportunity for the community to share and celebrate stories of that neighborhood.
"There's a lot of momentum around this project," Trammell said.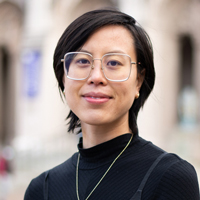 Nguyễn, who is working on her doctorate, joined the team during the second year of the project to help compile a community archives toolkit for other libraries and organizations. While it's based on the team's experience with Tacoma, the toolkit was developed to be adaptable to different libraries' needs, Nguyễn said.
"The toolkit does the handholding for librarians who are wearing so many hats," she said.
Unlike Tacoma, many libraries won't receive additional funding to take on a community archive project, so librarians likely will scale down the scope of their work, Nguyễn said. The toolkit provides step-by-step instructions, tricks and tips, as well as standardized release forms in multiple languages, and potential interview questions for oral histories. It's available in a PDF format or online.
The iSchool team will edit the online version, based on feedback from other libraries. They also intend to do a case study with five to seven libraries who use the toolkit, she said.
"It's a continuous conversation," Nguyễn said.
Although the toolkit has been made available publicly only recently, Nguyễn will measure its success on whether public libraries outside of the Seattle region use the toolkit and share their experiences. She also would like to see elements of the toolkit incorporated into academic programs in other universities and colleges and used by community organizations and nonprofits.
Meanwhile, Trammell hopes other libraries will see their success in Tacoma and be inspired to use the toolkit to start their own community archives projects.
"I think the main value of the toolkit is that it shows this work can be done," she said.
Pictured at top: Felix Strozier shares his story with interviewers collecting oral histories during the Hilltop Story Fest in Tacoma. (Photo by Mikayla Heineck, courtesy of Tacoma Public Library.)