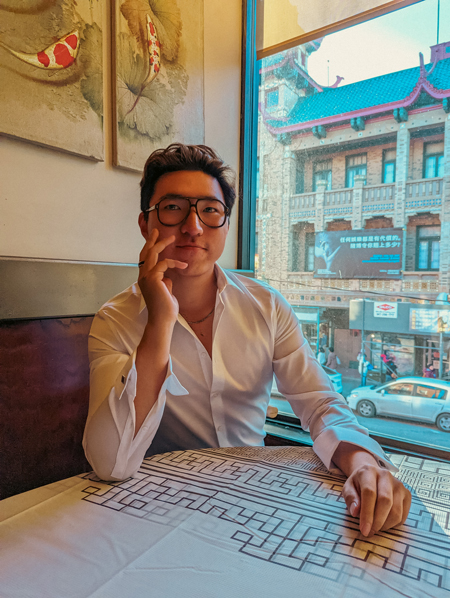 iSchool Ph.D. student Marx Wang is presenting at the 2023 Science Summit at the United Nations General Assembly. His compassion for others and interest in technology has led him to advocate for mental health and well-being on a global platform. 
The central theme of the Science Summit, taking place Sept. 12-29, is the role and contribution of science in helping support the U.N. Sustainable Development Goals. Wang is hosting two sessions on Sept. 15, a virtual event and an in-person one. 
The virtual session addresses the critical need for comprehensive mental health education and empowering youth worldwide as change makers for well-being. The in-person event is more focused on mobilizing grassroots youth for advocacy by bringing together 9 leading youth advocates in mental health, climate change, and youth empowerment and having them discuss their experiences in educating youth about digital well-being, interpersonal communication and mental-health-care skills.
"The core philosophy of these sessions is that simply 'fixing' mental health is not enough. We need people to care, to connect and through that process participate in self-organizing," said Wang. 
Wang's presentations are largely informed by his work as executive director of the youth-led international NGO ForYouPage.Org. Wang founded the organization with the purpose of creating a global coalition of youth advocates. It addresses mental-health issues by empowering individual advocacy and providing resources, opportunities and community support. 
"Mental health is not an isolating issue. We just want to help people recognize their agency when it comes to tackling mental health," said Wang. "We see all the existing minds and organizations that are looking for something to do and get engaged in advocacy, so our purpose is to get these people connected and involved." 
Sahith Kancharla, the president of Active Minds at Virginia Tech, only had good things to say about working with Wang. 
"Marx reached out to me over the summer to collaborate with me to improve the mental health state on campus," Kancharla said. "He is a great friend that I was lucky to meet and an incredible worker who has a system for everything."
In addition to directing a non-profit on equity and mental health, Wang is taking his advocacy one step further at the iSchool by pursuing a Ph.D. in technology and human flourishing with Alexis Hiniker as his advisor. 
"UW is one of the few schools that offers a program like the iSchool that studies the intersection of psychology and technology," said Marx. "I hope to use this knowledge and research to improve people's well-being. My biggest career goal is very simple. I just want to make people happy."