The transition from the academic world to a career is always going to come with a learning curve. The University of Washington Information School helps make that transition easier, however, by ensuring students get real-world experience while they're earning their degree.
That includes online Early-Career Master of Science in Information Management students like Tommy Huynh, Akeel Qazi and Jennifer Thao. Part of their real-world experience was a Capstone project to help libraries.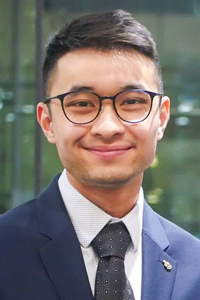 They worked in partnership with Chris Jowaisas, a senior research scientist at the iSchool's Technology & Social Change Group, to find ways to increase libraries' participation in E-Rate, which helps libraries get funding and discounts on services such as broadband and reliable Wi-Fi. However, approximately 40 percent of libraries are not participating in the program.
The students worked to understand and address roadblocks to joining E-Rate. One of the hypotheses was that because the program is so complicated, library staff don't complete the application process because the time required doesn't seem worth it.
The team did a survey and used the results, as well as the real-world data on E-Rate participation, to make a prototype for an app that would help libraries understand the potential benefits of the program and help them navigate the process.
Their Capstone project, which stretched over three quarters, challenged the students to find creative solutions and put their skills from the iSchool to use, including wrangling a lot of complicated data.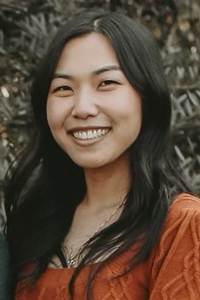 "In class, there usually is a right or wrong answer," Huynh said. "In Capstone, there is not a right or a wrong answer. You have to do your own analysis. And in class, the data for our projects is tidied up for us. When we did our Capstone, however, it was real raw data and we could do whatever was best with it based on what we learned from the iSchool."
A solid understanding of how to collect and interpret data is valuable in any organization, and the MSIM program prepares graduates for careers in a variety of fields. And just as graduates end up in a wide range of jobs, they come to the iSchool with their own backgrounds and needs. With that in mind, the iSchool offers both an online and residential MSIM. The program is adaptable to work for students in different locations or at different points in their careers.
"What students get out of Capstone is hands-on experience. It helps them build their resumes, which can be very useful for people switching careers or for showing a new level of experience in their field," said Heather Whiteman, an assistant teaching professor and the interim MSIM online program chair. "The realistic nature of the project teaches a lot of teamwork and management skills. … The online program is also a good example of how our students are learning to work in the new normal of teleworking and distance communication."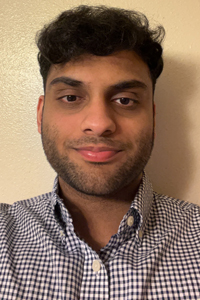 Huynh, whose undergraduate degree was in Geographical Information Systems, works in property development. He chose the MSIM program because he wanted to do more with technology, and the online option meant he could continue working. He hopes to use his new skills in a technical, program-management position.
"I have a demanding job," he said. "It would be hard to commute to campus from where I live. The online program has been a lifesaver by allowing me to work and continue my education."
Thao lives in Colorado, which made the online program appealing — and possible. She studied sociology as an undergrad and said the MSIM program will help her shift to a new profession. She appreciated that her MSIM education has opened doors to an internship doing program management with the Colorado Department of Transportation.
"That's something I wouldn't have been able to get into if it wasn't for this program," she said. "Now that I have that experience with program management, it opens doors to different career paths."